NFL Stock Watch: AFC flips the script on NFC in conference battle
The NFL Stock Watch takes a look at who's up and who's down around the league each week.
You buying or selling? Stock Watch takes you through the highs and lows of the NFL each week. Send questions, complaints and stock tips to Twitter @WillBrinson.
Before the 2013 NFL season began, it was obvious how superior the NFC was to the AFC. Whoops. Three weeks into the season -- a reasonable enough sample size -- the AFC's flipped the script and whipped its national counterpart.
Week 3's performance by the AFC was particularly dominating with the conference's teams going 6-2 against the NFC. The lone NFC victories were the Seahawks walloping of the expansion-level Jaguars and the Bears primetime beatdown of the now 0-3 Steelers.
That gives the AFC a year-long record of 11-3 against the NFC with the NFC's only other victory being Chicago's Week 1 sneak by the Bengals. The AFC's got some quality wins among that list too, with a pair that really stand out coming in Week 3.
First was the Colts taking down the 49ers at Candlestick. Three days later that game is still a mind-bender. Think what you want about Ahmad Bradshaw and Trent Richardson as running back talent, Indy wasn't supposed to have the personnel to out-physical the 49ers on the road. They did it anyway and whipped the defending NFC champs.
The Dolphins also made a statement win with their home-opening victory over the Falcons. Yeah, Atlanta's beat up and was missing Sam Baker, Kroy Bierrman and Sean Weatherspoon. But teams who start the season 3-0 make the playoffs 75 percent of the time and that's where Miami sits after an incredibly impressive comeback by Ryan Tannehill Sunday.
With those two teams and the surprising 3-0 Chiefs (who have two NFC wins, beating both the Cowboys and the Eagles) a wild-card contingent previously perceived as weak is suddenly quite strong.
Division-wise we were wrong too. The NFC East isn't the SEC of the NFL; it's the worst division in all of football. Aside from Jacksonville, the AFC South -- a division everyone thinks of as weak -- is pretty impressive. And in the AFC West there hasn't been an easy out yet this season. The Chargers and Raiders could have a combined five wins if things broke right. Look at the young quarterbacks in the AFC East all you want, but that division's undefeated against non-conference foes.
The elite teams might match up all right, but the dregs of the league are located in the NFC. The AFC might have the Jaguars and Steelers, but the NFC sports the Giants, Redskins, Buccaneers and Vikings, all four of whom look like terrible, winless squads.
It might not stay this way the entire year, but the AFC flipping the script is a perfect example of how we routinely know nothing before the football is actually played.
Jay Cutler, QB, Bears -- How good do you think a 2.9 sack percentage feels for Cutler right now? Cutler hasn't been in this territory since 2008 when he had a 1.8 sack rate, threw for 4,526 yards and made the Pro Bowl. That was the best year of Cutler's career but he's got a chance to make a run at a career-best season in 2013. Cutler's completing 67.3 percent of his passes -- his previous high was 63.6 in 2007 -- and is on pace for 32 touchdowns, which would be a career best. Not bad timing for a contract year. Jay has got to remain healthy but staying off his back in Marc Trestman's offense will be a major help toward that.
Jimmy Graham, TE, Saints -- You'd think Graham's stratospheric stock couldn't get any higher. You'd be wrong. Graham also finds himself in a contract year and dude is going to get paid. Through three games this year, he's clearly Drew Brees top target and the two appear to have the best connection of his young career right now. Graham's averaging 7.7 receptions per game and a ridiculous 116.3 receiving yards per game through three games. The only tight end in NFL history to average more than 90 yards per game was Kellen Winslow Sr. in 1984. (Only two people in NFL history averaged more than 115 yards per game receiving over a full season -- Calvin Johnson and Jerry Rice.) Maybe Graham's numbers come down. Or maybe he puts up a historical season and qualifies as a wideout under new contract negotiations.
Jordan Cameron, TE, Browns -- Another tight end here who isn't a fluke. Cameron's got 269 yards on the year and 20 catches and it's not like someone's focusing in on him here. He's caught passes from three different, um, quarterbacks, with Brandon Weeden, Brian Hoyer and punter Spencer Lanning all dialing his number.
The latter two hit him for a trio of teeters on Sunday. Cameron has the leaping ability of a former basketball player but also a refined game that allows him to make intelligent moves and critical catches. The return of Josh Gordan should only improve his production as teams are forced to key on more than one weapon in the passing game going forward.
Cameron Jordan, DE, Saints -- If you don't believe the Saints resurgence on defense is believable, you need to rethink your stance. They're not a perfect unit but they have talent to rush the passer, specifically Jordan, who has three sacks in three games from the 3-4 DE position. Jordan's been Rob Ryan's fulcrum of mischief and destruction for the New Orleans defense this year, penetrating opposing offensive lines and, per Pro Football Focus, creating a whopping 12 quarterback hurries and two quarterback hits in addition to the sacks. There's a reason Jordan ranks out as PFF's No. 2 3-4 DE -- behind only J.J. Watt -- and if you're looking for why New Orleans defense is so vastly improved this year, he's the biggest reason why.
Jake Locker, QB, Titans -- I'm still very much questioning Locker's long-term viability as an NFL quarterback. He's an athletic, inaccurate passer. (Without opening up a can of worms here, it would be interesting to see the perception of him if he wasn't a white kid from Washington state.) But after a stunning comeback win against the Chargers on Sunday it warrants wondering if he can take the next step towards justifying his draft position. Admittedly when he took over with two minutes left and needing a touchdown, I was convinced Locker couldn't pull it off. His game-winning strike to Justin Hunter, though, was a thing of beauty.
Tony Gonzalez, TE, Falcons -- It might sound like Gonzo had a great game, but 11 catches and 93 yards is actually his line for the season. He's on pace for 496 yards this year, which would be the second-worst total of his career behind only his rookie season with the Chiefs in 1997. Gonzo's not a part of Matt Ryan's plan right now and it's questionable whether or not he's ready to make a major impact. The Falcons need him badly with Steven Jackson and Roddy White out and he's not producing right now.
Colin Kaepernick, QB, 49ers -- At the risk of having Kap put me on his motivation- or revenge-driven list here, it's almost impossible not to see the 49ers quarterback's stock trending downward. In his first game he threw for 421 passing yards against the Packers while completing nearly 70 percent of his passes and throwing three touchdowns. Since then? Kap's completed less than 50 percent of his passes and thrown for just 277 passing yards with four interceptions. Yeesh. With a lack of weapons he's definitely got some built-in excuses. Not sure I'd hop on Twitter and start yelling at him that you want Alex Smith just yet though: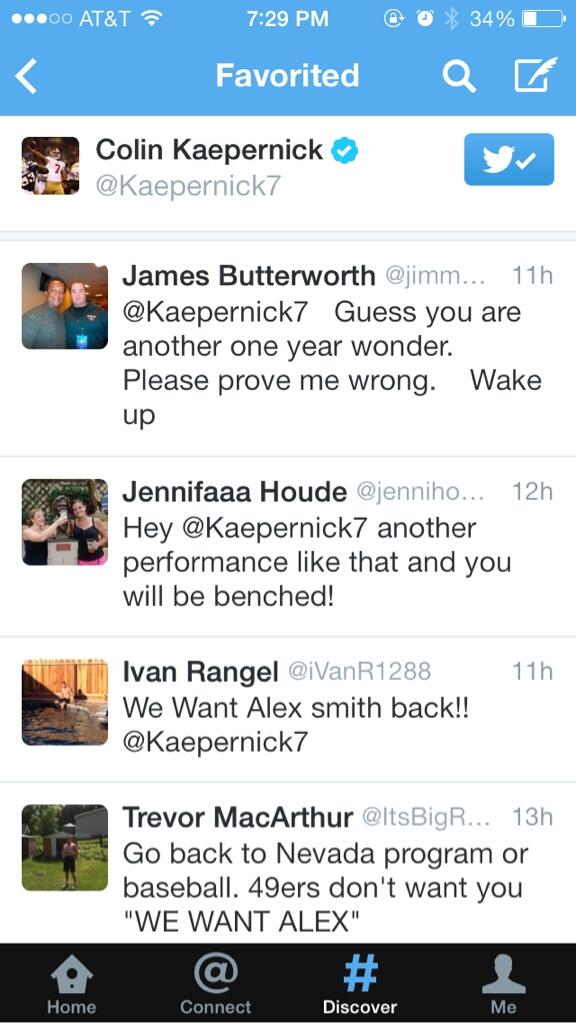 St. Louis Rams, Offense/Defense -- What a disappointing pair of games for this team after an interesting opening-game win. Jared Cook's been a non-factor the last two weeks. Sam Bradford's leading the league in passing attempts but is only piling up stats during garbage time. Where is Tavon Austin? The defense -- supposedly a strength, particularly up front -- has given up 62 points in the last two weeks. Cortland Finnegan and Janoris Jenkins aren't shutting down opposing wideouts at all.
Tom Coughlin, HC, Giants -- I'm not of the opinion that Coughlin deserves to be on the hot seat. That might not matter though now that the Giants are 0-3 and saved only by the Jaguars from the ignominy of being the worst team in the NFL. The Giants have an embarrassing -61 point differential -- only Jacksonville at -61 is worse through three weeks -- can't generate any running game, can't generate any pass rush, can't stop anyone's passing attack and Eli Manning can't stop turning the ball over. It's almost unfathomable that this could continue, but this start seems pretty impossible in and of itself.
Michael Vick, QB, Eagles -- Last Thursday seems like forever ago. But we should still remember it: Vick struggled badly in Chip Kelly's offense. The Chiefs have a potent defense but 43 percent completion percentage? That's no muy bueno. Vick rushed for 99 yards but for most of the night against his old coach he looked like the old Mike Vick. That's not something Philly wants to see. And they'll need Vick at their best come Sunday if they want to upend the best team in the AFC -- and probably the best team in the NFL -- the Broncos in a tough road game.
Josh Freeman, QB, Buccaneers -- As if things couldn't get much worse for Freeman, he went from being a quarterback completing less than 50 percent of his passes to a quarterback completing less than 50 percent of his passes who just got benched for Mike Glennon. The drama between Freeman and Greg Schiano seems to have maxed out at this point and now the 25-year-old Freeman (he's only 1 year and 11 months older Glennon!) has to figure out what's next. Best guess on what that might be? A trade if Tampa can find any takers, otherwise it's going to be a long year for Mr. Freeman.
The Raiders RB sat through the 'Star Spangled Banner' but stood for the Mexican anthem on...

Plus the Eagles' formula for winning late, the AFC playoff mish mash and a budding young Vikings...

Here are the Week 11 grades for every team that played Sunday
The Eagles move to 9-1 after beating the Cowboys by four touchdowns

Peterman threw five interceptions in the first half before getting yanked

The Vikings' coach addresses the team's cloudy quarterback situation after their eighth win...