Pete Prisco's Midseason All-Pro team
Pete Prisco names his midseason All-Pro team including Peyton Manning, J.J. Watt, Calvin Johnson and Jimmy Graham.
Offense
QB -- Peyton Manning . Denver Broncos   -- The guy is on a pace to come close to throwing for 6,000 yards. He has 29 touchdown passes. Unreal.
RB -- LeSean McCoy , Philadelphia Eagles -- He leads the NFL in rushing with 733 yards and has been special in the Eagles' wide-open offense. He is a true "air" back.
WR -- Calvin Johnson , Detroit Lions -- He has nine touchdown catches and is averaging 17.5 per catch. Did you see him against the Cowboys?
WR -- Jordy Nelson , Green Bay Packers -- He has seven touchdown catches and is averaging 16.6 per catch on his 39 catches.
Slot receiver -- Wes Welker , Broncos -- He has nine touchdown catches and 50 receptions. Manning loves him.
TE -- Jimmy Graham , New Orleans Saints -- Despite having foot problems, he continues to put up big numbers. He is a receiver playing tight end.
LT -- Joe Thomas , Cleveland Browns   -- He's done an exceptional job in pass protection. That's why I give him the edge over some other tackles.
LG -- Evan Mathis , Eagles -- He's a battler who will fight and move and does a solid a job in the run game in pass protection. He never lets up.
C -- Manny Ramirez , Broncos -- He moved over from guard because of injuries and has done a great job in a complicated offense for centers. He's smart, and it shows.
RG -- David DeCastro , Pittsburgh Steelers -- He has become the physical mauler the Steelers thought they were getting when they drafted him in the first round last year.
RT -- Sebastian Vollmer , New England Patriots -- It's too bad he went down for the season with a leg injury. He was playing at a high level and was my pick at right tackle over Andre Smith .
Defense
These players play in a 3-4 system 
DE -- J.J. Watt , Houston Texans  -- He isn't on pace to get his 20-20-20, but he's still having a special season. He sees a ton of doubles.
NT -- Dontari Poe , Kansas City Chiefs -- He's been a force against the run and has 4 1/2 sacks. He's one of the most-improved players.  I picked him over Damon Harrison of the New York Jets .
DE -- Muhammad Wilkerson , Jets -- He has seven sacks and has been a force against the run. He will be spending a lot of time in Hawaii the next decade.
OLB -- Robert Mathis , Indianapolis Colts -- He leads the NFL in sacks with 11 1/2.  At 31, he isn't slowing down.
OLB -- Justin Houston , Chiefs -- He is tied for second in the league with 11 sacks. He's also good against the run.
These players play in a 4-3 system 
DE -- Michael Johnson , Cincinnati Bengals -- He isn't piling up sack numbers, but he is playing at a high level. He gets pressures, he's good against the run and he will be paid a lot of money as a free agent next spring.
DT -- Jason Hatcher , Cowboys -- He has seven sacks from his tackle spot. That's impressive.
DT -- Ndamukong Suh , Lions -- Forget all the stuff he does in terms of being dirty, he's a heck of a player and he's playing at a high level.
DE -- Robert Quinn , St. Louis Rams -- He has 10 sacks in eight games and showed Monday night against Seattle how good he is rushing the passer.
OLB -- Lavonte David, Bucs -- He is one of the few bright spots for a team that is winless. He plays hard all the time and has a nose for the football.
OLB -- Vontaze Burfict , Bengals --  What a pleasant surprise he's been for this team. In his second season, he has emerged as a star in the making.
MLB/ILB -- Sean Lee , Cowboys -- He is having a special season, He can play the run and he's really good against the pass.  He has four interceptions.
Secondary
CB -- Vontae Davis , Colts -- He's done a great job in coverage. You saw it firsthand against DeMaryius Thomas a couple of weeks ago.
CB -- Richard Sherman , Seattle Seahawks -- He is brash, loud and backs it up. I love the way he plays.
Nickel corner -- Tramaine Brock , San Francisco 49ers -- He took over as the nickel corner when Nnamdi Asmougha went down and he isn't going to give the job back. He has three picks.
SS -- T.J. Ward , Browns -- This kid impressed me last season, but he's been even better this time around. He's made a lot of plays.
FS -- Devin McCourty , Patriots -- He is proving what I think will be a trend: The best free safeties will be converted corners. He is always around the football.
Special Teams
K -- Matt Prater , Broncos -- He hasn't missed a kick yet and he's 3-for-3 from 50-plus yards.  He also leads the league in touchbacks on kickoffs.
P -- Brandon Fields , Miami Dolphins -- He leads in net yards and gross yards.
Returner -- Cordarrelle Patterson , Minnesota Vikings -- Did you see him fly down the field on that 109-yard kickoff return Sunday night? It was his second touchdown return of the season.
Special Teams Player -- Marcus Easley , Buffalo Bills -- He has made 12 tackles so far and seems to show up in coverage a lot.
After Further Review: Jason Hatcher
Pete Prisco takes a look at why Jason Hatcher, a 31-year-old out of Grambling, toiled in anonymity the early part of his career but is having a breakthrough under Monte Kiffin.
It would have been easy when picking my midseason All-Pro team to focus on a Peyton Manning or a Calvin Johnson or some of the other bigger-name players who made the team.
But in picking out the one player I wanted to highlight here, a player who has earned his spot on the team with an impressive first half, I wanted to choose somebody you might not know, a player you should watch closely the rest of the season.
His name is Jason Hatcher. He is a 31-year-old defensive tackle for the Dallas Cowboys , and he has taken his game to a new level this season, earning a spot on my team.
Who is Jason Hatcher? He leads the Cowboys in sacks with seven after spending much of the early part of his career with the team just wanting to get on the field more, hoping for a start.
In the new 4-3 scheme implemented by new coordinator Monte Kiffin, Hatcher has moved from a 3-4 end inside to a 4-3 tackle, and he has flourished. He is good against the run. He can penetrate to get pressure, and he is athletic enough to get sacks on looping stunts with his quickness.
Not bad for a guy who was little more than a role player for much of his career. Drafted in the third round out of Grambling, the Cowboys considered this former tight end a bit of a project. They thought he could be a player who could come in and help as a 3-4 anchor in their system. But he didn't start a game until 2010 and was viewed as a bit of a disappointment.
Then in 2011 he re-signed with the Cowboys and was inserted as a starter in Rob Ryan's defense. In 2012, he was the best down lineman on the team, and finished with four sacks.
The move inside in the new scheme has helped him show off his skills even more. He is a natural in the new role, a force in the middle of the Dallas defense.
On a Dallas unit that is without Anthony Spencer , Jay Ratliff and now DeMarcus Ware , Hatcher has excelled and kept the front together. It's scary to think where they would be without him.
At 6-6, 300 pounds, he is strong enough to hold up against the run and agile and quick enough to get pressure in one-on-one situations. He can also bull-rush if need be or take big loops to get to the quarterback.
The timing of Hatcher's strong play couldn't be any better. He is in the final year of contract and while 31 is considered old for some positions it isn't for an interior tackle. The Cowboys have said they would love to keep him, but that might be tough to do.
I pulled out four plays to highlight Hatcher here on tape, showing off a different variety of his skills.
The first play came in the opener against the Giants this season. Hatcher (yellow circle) was lined up in the guard-tackle gap between Chris Snee and Justin Pugh. At the snap, Hatcher took a hard inside move against Snee and crossed his face. Snee, as you can see by the second picture, had to grab onto Hatcher just to have a chance to keep him off Eli Manning. That didn't even work. Hatcher was able to shed Snee (who was called for a hold) and sack Manning for a loss.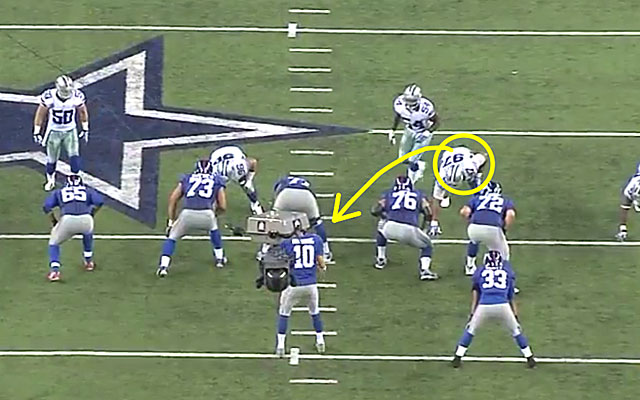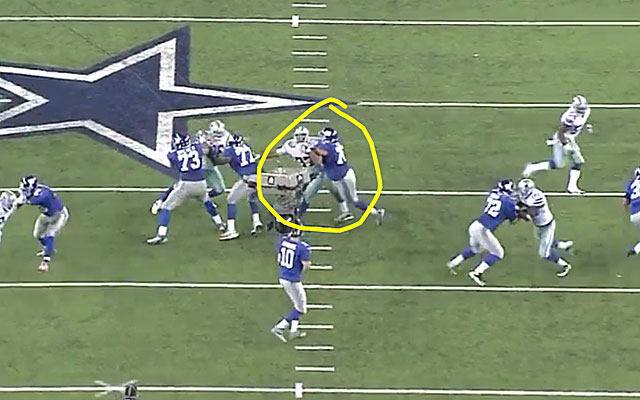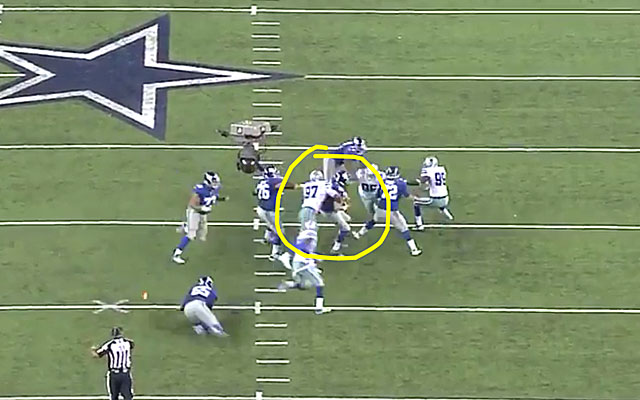 Here's a run play that caught my eye against the Rams. The play was a run to the right for Tavon Austin . Hatcher (yellow circle) was lined up outside the right shoulder of guard Harvey Dahl , a physical mauler. At the snap, Hatcher charged inside a bit and center Scott Wells tried to help with a double. With Austin taking the run wider, it forced Hatcher to move back to his left, shed Dahl, and stop Austin for a 3-yard gain. That play was a show of his power as well as his ability to get off a block and move down the line to make a play.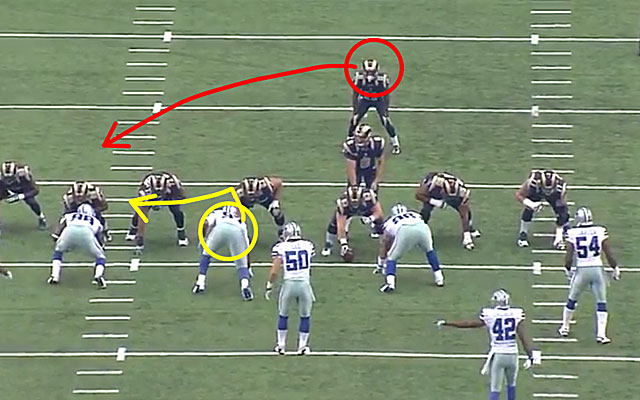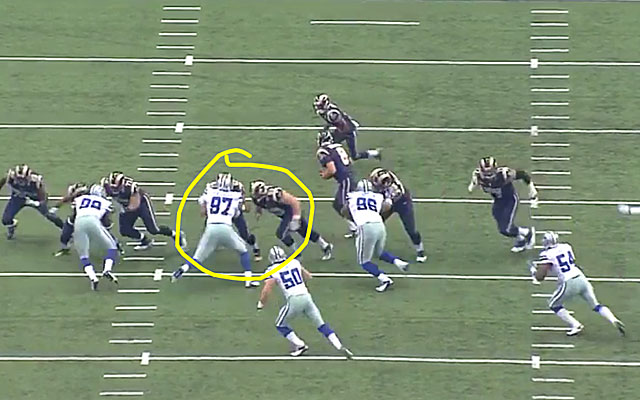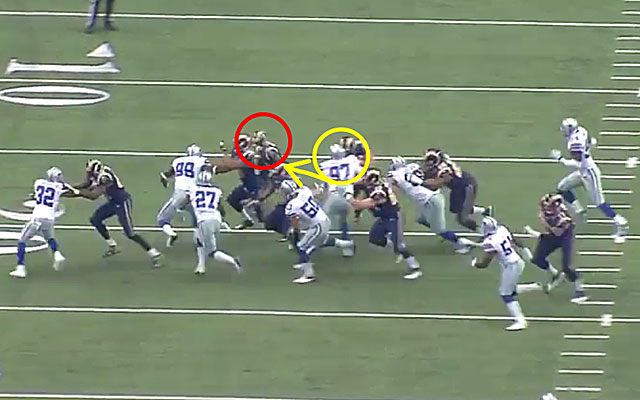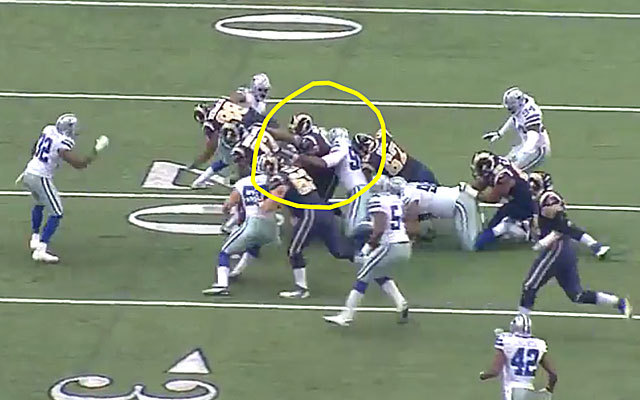 Here's another gem in the run game that came against the Redskins. Hatcher was lined up on the outside shoulder of right guard Chris Chester. The Redskins ran a draw to Alfred Morris. There appeared to be a huge hole between center Will Montgomery and Chester. But Hatcher was able to use his strength to get inside on Chester, which forced Morris to bounce it outside. When Morris did that, Hatcher did the same and made a big stop in the run game. That was the type of dominant plays he's made in the run game. He handled the inside gap, then jumped outside to make the tackle. Impressive.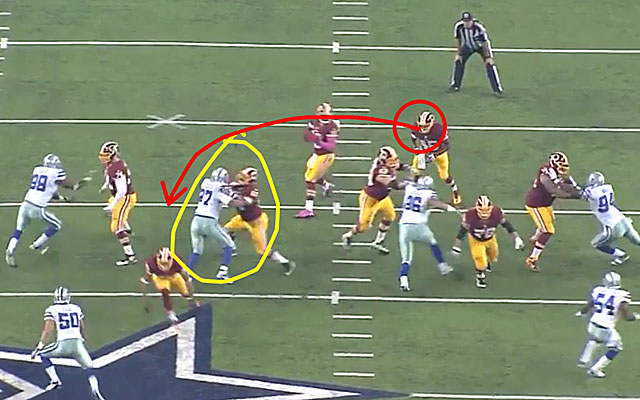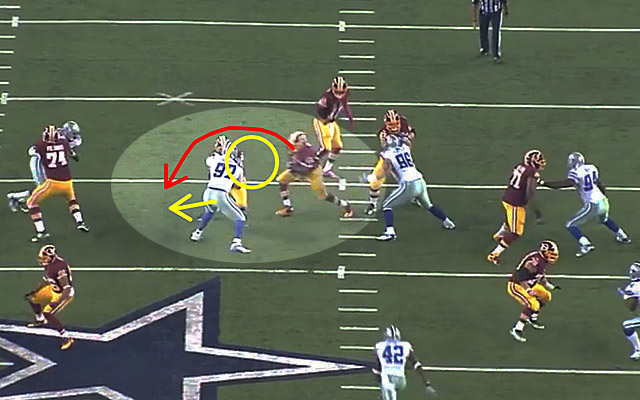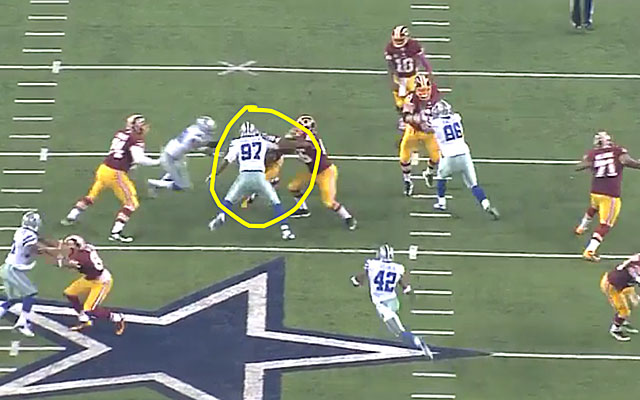 The last play I want to highlight came last week against the Lions. It was a sack he got late in the game. Hatcher lined up shaded outside of center Dominic Raiola . At the snap, he took a false step to the right and hesitated to make it look as if he were rushing toward left guard Larry Warford . As he made that move, both Nick Hayden and George Selvie crashed inside from the left. When they did, Hatcher looped around them and was able to close quickly and sack Matt Stafford.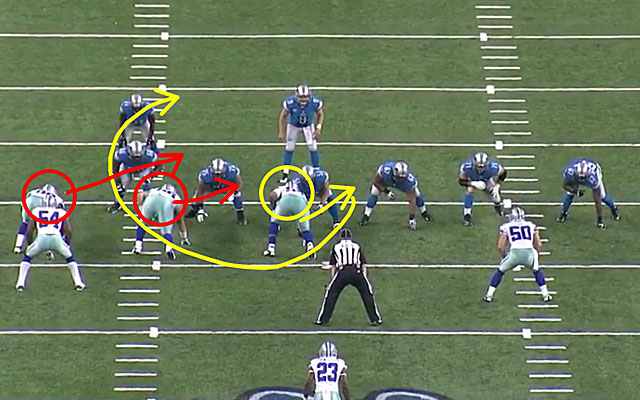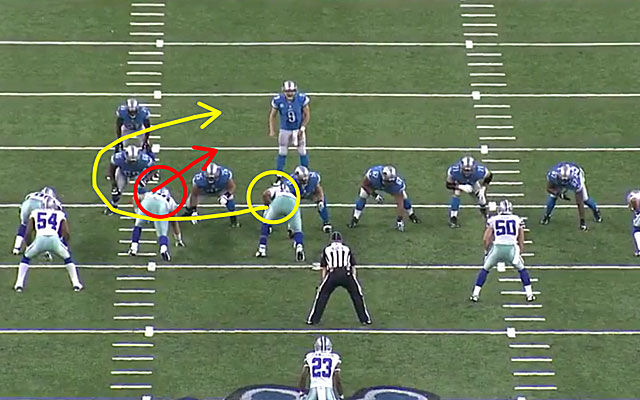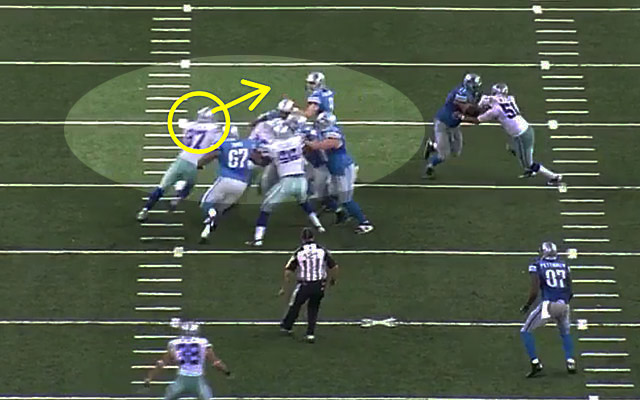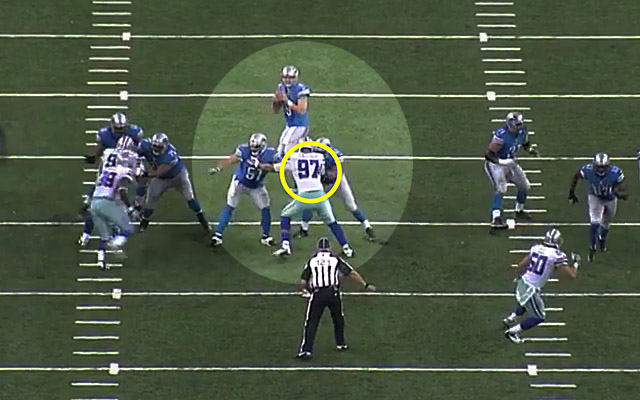 As you can see by the examples above, Hatcher can do a lot of different things. That's why he's a member of my halfway All-Pro team, and a guy I chose to highlight here. As the season moves on, and Dallas makes a playoff push, his play inside will be key.
The Seahawks defensive end believes someone from 'the other side' needs to step up

Our annual Madden sim is all kinds of crazy, from the Pats not winning the division to a wild...

Madden season is almost here again. Here's everything you need to know.
The youngest coach in NFL history isn't coming off as someone out of his depth -- just the...

Henry is ready to take on a more substantial role in the Titans' run-heavy offense

In the past week, Marshawn Lynch and Michael Bennett have both sat during the national ant...