Sorting the Saturday Pile: Patriots run by Colts 43-22
Patriots running back LeGarrette Blount broke a few franchise records as New England ran by Indianapolis 43-22 on Saturday.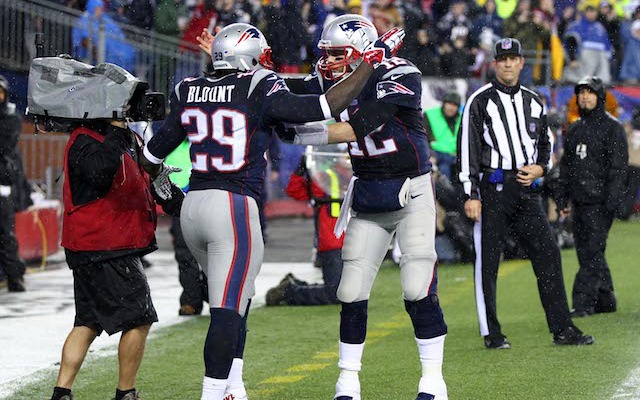 Recap: Patriots 43, Colts 22
*Here's a list of things Tom Brady did on Saturday in New England's 43-22 win over the Colts: Brady completed 13 passes, he threw for 198 yards and he even held on a couple of extra points. 
Here's a list of things Brady didn't do that you probably thought he would do: throw a touchdown pass. That didn't matter though because the Patriots didn't need him to. LeGarrette Blount rushed for four touchdowns and Stevan Ridley added two more as New England ran by the Colts. The six rushing touchdowns were the most in franchise history and the second most in NFL playoff history, trailing only the seven touchdowns the Chicago Bears ran for in the 1940 NFL Championship Game. 
The Patriots' 234 rush yards were the second most in the team's postseason history, trailing only the 255 yards the 1985 team ran for in the AFC Championship Game against the Dolphins. 
A large chunk of that 234 rushing yards came on Blount's 73-yard touchdown run in the fourth quarter, which was the second-longest scoring run in Patriots playoff history. Blount had more yards on that one run than the Colts had in the entire game (69). 
Blount tied Curtis Martin's franchise record for most yards rushing in a playoff game (166) and set the team record for most rushing touchdowns in any Patriots game, ever. Things went really well for Blount, except in the fourth quarter when a ref almost beat him up. 
If you forgot how Blount ended up in New England, here's a refresher: the Buccaneers traded Blount to the Patriots for a seventh-round pick and Jeff Demps in April. Demps ended up playing in two games this season for Tampa Bay. 
*Ridley may not have been the best Patriots running back on Saturday, but he definitely had the best haircut. It looks like he has four stars shaved into his head. My only theory on this right now is that Ridley said he would shave four stars into his head if Blount scored four touchdowns. The Broncos or Chargers could be in trouble next week if Ridley has six stars. 
#ReasonsToSmile Ridley's hair pic.twitter.com/owP4lAQ93m

— Chy (@loveisevol716) January 12, 2014
*The unsung hero for the Patriots was kicker Stephen Gostkowski. Or is that punter Stephen Gostkowski? After New England's regular punter, Ryan Allen, went down in the second quarter, Gostkowski had to handle the team's punting duties and Gostkowski might be the best punter on the team. The kicker handled a total of five punts and put two of them inside of the Colts' 20-yard line. Allen's injury also led to another position change -- at holder. Tom Brady had to handle holding duties after Allen went down. 
Brady could have panicked and pulled a Tony Romo, but he didn't. Brady got two clean holds down and Gostkowski made both kicks.
Tom Brady Holding on Extra Point pic.twitter.com/ihB6Q8arHy

— 3030 (@jose3030) January 12, 2014
It's not the first time that Brady has served as a holder. Just ask Cardinals kicker Jay Feely. Brady held for Feely at Michigan, and that was literally the last time Brady held for a kicker in a game. Brady confirmed after the win that his last stint as a holder came in the Orange Bowl in January 2000.  
@Nick_Underhill @ganders76....brady at Michigan holding for jay feely pic.twitter.com/YXy5ESkcMl

— Don Cosey (@cosey86) January 12, 2014
*The game wasn't all bad news for the Colts. Well, actually it was, but Indianapolis did have a couple of bright spots in wide receivers LaVon Brazill and T.Y. Hilton. Brazill caught two passes in the game and they both just happened to go for touchdowns. The second-year player caught a 38-yard touchdown pass in the first quarter and a 35-yarder in the third. 
Something just not right about LaVon Brazill having as many playoff TD catches as Marvin Harrison (2) had his whole career.

— Scott Kacsmar (@FO_ScottKacsmar) January 12, 2014
Brazill had as many touchdowns against the Patriots as he had during the entire regular season. 
It was a good thing Brazill stepped up because the Patriots were doing everything they could to shut down Hilton.
TY Hilton: "They double and triple teamed me. They threw everything at me." Take note Andy Reid.

— BostonHeraldHS (@BostonHeraldHS) January 12, 2014
They threw everything at him, so if you saw a kitchen sink on the field, that's why. Despite being double- and triple-teamed, Hilton still finished the game with four catches for 103 yards.
*It was a weird night for Andrew Luck. He threw four interceptions and when he wasn't throwing interceptions, he was trying to make it rain on the sideline. If you're ever next to Luck in an elevator, you may want to put on a rain coat -- or grab an umbrella.
Luck's postseason stats might become a hot topic of conversation this offseason. In two playoff games this year, he threw seven interceptions. It's almost impossible to win a game when your quarterback is just giving the ball away. Although in Luck's defense, he does have a playoff win, something a certain red-headed quarterback who's only 90 miles away from Indianapolis doesn't.
On a completely unrelated note, Luck seems to have a lucrative future as a Civil War re-enactor. As everyone on the Internet seemed to notice, Luck looks like a Civil War general. Tom Brady couldn't pull this look off, that's for sure. 
Dearest Mildred, We fought hard, but the front line of the patriots opposing us was too ferocious for our men. pic.twitter.com/36T8PsLF9S

— SB Nation (@sbnation) January 12, 2014
*It looks like the Browns officially won the Trent Richardson trade. Sure, this is Cleveland we're talking about and the Browns could draft the next JaMarcus Russell with the first-round pick they're getting from Indy. Speaking of Russell, Richardson only had one more rushing yard than him on Saturday. T-Rich finished the game with 1 yard on three carries. 
Patriots trade a 7th for LaGarrette Blount. Colts trade a 1st for Trent Richardson. Who got the better deal?

— Gabe (@GabrielJarboe) January 12, 2014
*Let's end with a picture of this guy, because this might be the last chance we get to see this beard.
#ColtsNation member Michael Johnson (a competitive beard grower) sent in this pic of his "LUCKy Horseshoe Beard." pic.twitter.com/W1kjMlEiH3

— Indianapolis Colts (@Colts) January 10, 2014
---
Follow John Breech on Google+ or you can even sometimes find him on Twitter
CBS All Access allows viewers to stream every NFL on CBS game in their local market

CBS All Access allows viewers to stream every NFL on CBS game in their local market

Two NFC East divisional foes face off this weekend in a big battle for both teams
Owners and CEOs from several teams released statements in response to Trump's remarks in A...

Nick Kostos won big on Monday nights last season and gives his best 3-team NFL parlay for Week...

CBS All Access allows viewers to stream every NFL on CBS game in their local market