Maryland, ACC settle fight over exit fee; conference will keep $31M
Maryland will pay about $31.3 million in exit fees to the ACC as part of a settlement reached with the conference. The ACC had sought $52 million.
• 1 min read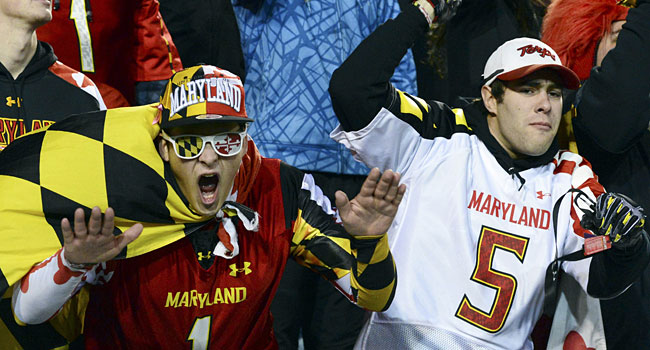 More college football: Jon Solomon | Dennis Dodd | Latest news
Conference realignment is officially closed for business -- for now.
The fight over Maryland's $52 million exit fee after leaving the ACC for the Big Ten in 2012 was the last piece of business from the four-year wave of major-conference expansion, but the ACC on Friday announced a resolution that allows the league to keep about 60 percent of the fee.
That's $31,361,788, which had been withheld by the league while resolving lawsuits filed in North Carolina and Maryland.
Maryland gets to walk away without paying about 40 percent of the money. That's quite the discount.
Seems nobody got hosed here, but if picking a winner, go with the Terps because the Big Ten Network is an ATM. They won't be crying over $31 million.
The ACC didn't recoup $21 million, but it did get to save face and can wave goodbye to an ugly breakup. Maryland wasn't going to get off without paying something. Receiving a fee in excess of $31 million is still a lot.
The ACC was always willing to spend millions on legal fees to protect the concept of the exit fee, though I'm told this fight didn't cost the league all that much since they had legal work on retainer from previous business. 
Miami president Donna Shalala, also the ACC Council of Presidents chair, is happy to "move forward, returning our focus where it belongs – on our student-athletes, intercollegiate athletic programs and institutions of higher learning."
"There is great excitement surrounding the ACC and its 15 member institutions and we extend our best wishes to our colleagues at Maryland as we all look ahead to the upcoming academic year," Shalala said.
After Maryland's 61 years in the ACC, it's better the two sides could hug it out, even if that mediation room was bitter and cold.
"Today's agreement helps usher in exciting new eras for both the University and the ACC. We wish the conference and our ACC university colleagues well," Maryland president Wallace D. Loh said.
Expectations are high for Charlie Strong at South Florida, and Houston looks to take the next...

There are new names to learn every season, and here are five to keep an eye on from the AA...

Taking a close, detailed and opinionated look at the AAC a week before the start of the 2017...
These Jayhawks got a tremendous surprise they weren't expecting

Jovon Durante announced on Twitter he's headed to FAU

From Week 1 through the title game, everything runs through Atlanta this season