Misdemeanors will cost Sammy Watkins some playing time, eventually
Clemson's sophomore star will sit this fall, but for how long? And against whom?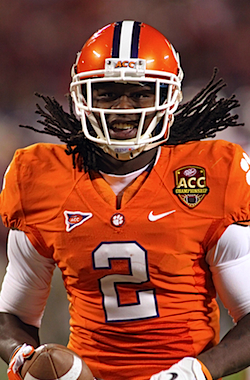 In 2012, a
misdemeanor drug charge
almost certainly is not going to cost Clemson All-American
Sammy Watkins
any accolades on campus or any money when he decides to take his enormous, dreadlocked talents to the
NFL
. According to coach Dabo Swinney, though, it almost certainly
is
going to
cost his star receiver some game time
 this fall. From the Charleston (S.C.)
Post & Courier
 (emphasis added):
Swinney declined to announce plans for Watkins' punishment Tuesday other than to say Watkins will likely miss some game time following the freshman's arrest last month on drug charges.
[…]
"Is there a chance he doesn't miss any time? Probably not," Swinney said. "I'm not going to make any decision until we get closer to playing time, and the main reason for that is Sammy has a process he has to deal with; some things he has to fulfill this summer. A lot of that is going to depend on how he responds and so far he has hit a home run in every category of how he has responded to this situation."
Watkins was arrested in May along with Clemson soccer player Amadou-Tidiane Daniel Dia after an officer saw Watkins' car scrape against a curb on campus and subsequently found marijuana and two pills that Watkins did not have a prescription for inside the car. He was booked and released on $1,620 bond.
By himself, Watkins is a cruise missile awaiting launch from anywhere on the field: He emerged almost instantly last year as an elite deep threat and return man – and not a bad running back, in a pinch – eventually finishing first in the ACC and third nationally with 2,294 all-purpose yards. As part of an arsenal that also includes All-ACC quarterback Tajh Boyd, All-ACC tailback Andre Ellington and veteran targets Jaron Brown and DeAndre Hopkins, he figures to have plenty of opportunities against spread-thin secondaries.
The relevant questions now are: a) How much time will Watkins miss? and b) Against whom? If the answer to b) is the first opponent on Clemson's schedule, Auburn, the answer to a) may be as little as a quarter, or even a series. If Swinney decides the discipline can wait a week or two, Watkins could miss all of the Tigers' subsequent dates with Ball State and/or Furman and hardly be missed at all. But after watching him shred their defense for 199 yards and two touchdowns last year as a true freshman, Auburn fans should not expect much reprieve in the opener.
As we're parsing Dabo-ese, of course, it's entirely possible Swinney meant Watkins was missing thyme – you know, as part of one of those crazy new diets. What, you thought that meant he wasn't going to be on the field? Please. Nobody thinks marijuana is that bad.
The 2021 Chick-fil-A Kickoff Game will feature Louisville and Ole Miss

The Fornelli 50 ranks teams based on nothing but their performance in 2017

Penn State better have its eyes wide open with a trip to Iowa City on deck this weekend
Ohio safety Javon Hagan has a rather unique personal tradition during games

Mississippi State has been good to Mullen, but he should be the next Bulldog to upgrade

Cowart was the No. 3 overall recruit in the 2015 class but has not panned out yet for the...