A statue for Joe Paterno? Are memories really that short?
There was already one statue of Joe Paterno that was dragged away in the wake of the Sandusky scandal? Now a group wants to erect another?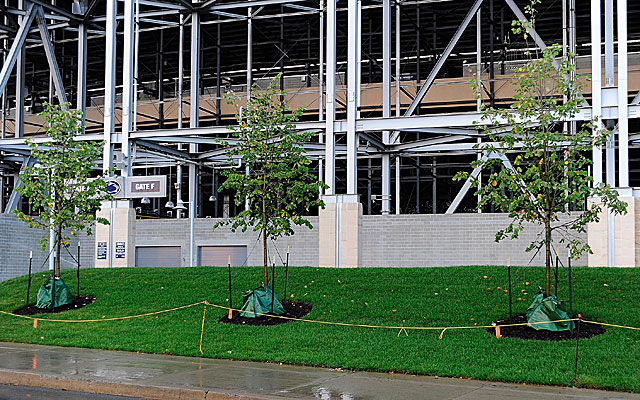 More college football: Dennis Dodd | Jeremy Fowler | Latest news
They're speaking for "the community" in State College, and for "alumni," and for the "whole town." They're speaking for all of those poor put-upon souls by vowing to raise money for another statue of Joe Paterno.
And so here I am, like one of Pavlov's dogs rousted by this ringing bell, speaking for the other side.
You know. The children.
And what I want to know on their behalf, on the behalf of the 10 or more victims of Jerry Sandusky -- and it was more; it was a lot more -- is whether these people speaking for "the community" and for "Penn Staters" and for the "whole town" are really speaking for everyone in those groups. What I want to know is, does that entire community think that funding and presenting a statue of Joe Paterno, sitting on a bench and reading The Aeneid, is the right thing to do?
Do any of you have the guts, the compassion, the soul, to raise your voice in protest?
I will. Dammit somebody should, and not just the angry people on message boards below this story on my website and others, stories where Paterno supporters are quoted as saying they represent "the community" and "the whole town."
Do they?
This brings it all back, that whole horrible tragedy for those of us lucky enough to be inflicted only with the knowledge of Sandusky. For the victims of Sandusky, they don't need this to bring it back. They live it every day, his victims and their family members. Imagine being one of those kids. Imagine being one of those parents.
Imagine being Joe Paterno, and having a trusted assistant and former player, Mike McQueary, showing up at your house after talking to his father, showing up on your doorstep because he had to tell you in person about what he had seen. What had he seen? The details are vague, and Paterno's supporters thrive in those shadows, but we know enough to know this:
Paterno was told that McQueary had seen something troubling, something wrong, involving Jerry Sandusky and a child, both naked, in the showers of the Penn State football building. We know Paterno and his cronies at Penn State, including the president and athletics director, never went to city or state police or even made clear to Sandusky's charity, The Second Mile, what Sandusky had done in that shower. Nope, Paterno and his cronies did the legal minimum -- they told another Paterno crony, vice president Gary Schultz, who oversaw campus police but never did anything about it. Why? We don't know why, but we can guess: Because he's a Joe Paterno crony. And this whole Sandusky thing was a bad look for the program Joe built. Better to brush it aside. Who would care enough to make sure Sandusky had been investigated?
Not Paterno.
This is the man being honored by the community, the whole town, the alumni. They think what they think, and they drink what Kool-Aid they drink, and this story isn't addressed to them at all. Einstein's definition of insanity is repeating the same steps and expecting different results. Those people kicked and screamed when the university showed compassion for the victims by removing the Joe Paterno statue outside Beaver Stadium in July 2012.
Do I expect the Joe-Bots to read this story and finally realize, two years later, that their game-winning hero was actually a flawed and gutless man who chose the easy route as it relates to Sandusky, and that his decision paved the way for countless new victims? No. They think what they think, I think what I think, and it would be insanity to expect either of us to change at this point.
But there is a new wrinkle here: The community of State College. The whole town. The alumni. People claiming to speak for you say it's time, and it's right, to honor Joe Paterno with a statue.
If these people speak for you, fine. Continue to sit silently and let this unfold.
That's the Joe Paterno way.
It's probably better to just buy your shoes online these days

How to watch the Professional Rodeo Cowboys Association's 2017 National Finals Rodeo event

John John Florence and Gabriel Medina will look to catch the wave to a championship
Settle in for the holidays by watching other people do grueling obstacles like the Funky M...

Talladega is all decked out in white and all of Twitter wants to see some snow tire racing

CBS is excited to announce that Jordan Peele is producing a reboot of 'The Twilight Zone'