2014 team preview: Atlanta Braves
Let's break down how the reigning NL East champs figure to fare in 2014.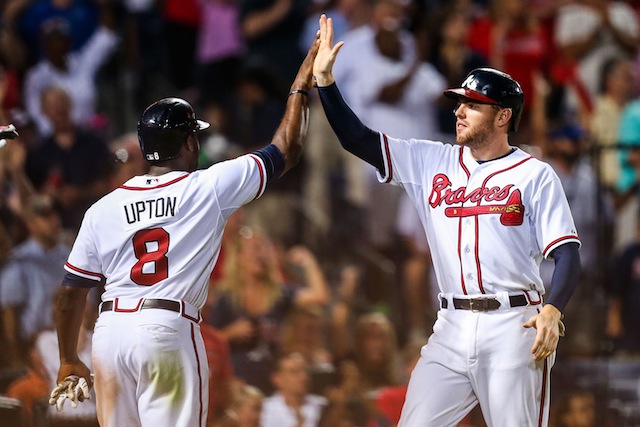 More: Likes, dislikes | Over/unders | All Team Previews | Spring Training
Last season, the Atlanta Braves barged to 96 wins, a +140 run differential and a division title. What does 2014 have in store for Atlanta? Let's have a look ... 
Probable lineup
1. Jason Heyward , RF
2. Justin Upton , LF
3. Freddie Freeman , 1B
4. Evan Gattis , C
5. Chris Johnson , 3B
6. Andrelton Simmons , SS
7. Dan Uggla , 2B
8. Melvin Upton , CF
Bench - C Gerald Laird , 1B/OF/C Ryan Doumit , INF Ramiro Pena , OF Jose Constanza , OF Jordan Schafer
The Braves last season ranked fourth in the NL in runs scored and third in weighted runs created+ (wRC+). So the offense was a strength last season. In 2014, the Braves will be hoping for, among other things, better health from Heyward and improvement from B.J. Upton and his tweaked swing. 
Elsewhere, Uggla's generally rising K% and infield pop-up rate suggest he's not often making quality contact these days -- i.e., his struggles last season were probably more than just bad luck. Will Chris Johnson's .394 BABIP come down a bit? Quite possibly, although his base-line is high. Evan Gattis's power isn't going anywhere, obviously, but can he get his OBP up to adequate levels while shouldering most of the innings behind the plate? Gattis is a quality player, but Brian McCann will of course be missed. Andrelton Simmons's contact skills and power are in his favor, but his walk rate needs work, as does his tendency to try to pull everything. 
Probable rotation
1. Mike Minor
2. Kris Medlen
3. Julio Teheran
4. Brandon Beachy
5. Alex Wood  
Sure, there's not an established frontline ace in the bunch, but this is potentially an impressive lot. To put a finer point on it, here, in the order shown above, are the 2014 ERAs that the ZiPS forecasting system projects for these five starters: 3.41, 3.31, 3.39, 3.76, 3.29. Should those figures come close to hitting, you're going to be talking about one of the best rotations in baseball. More on that in a moment. 
Probable bullpen
Closer - Craig Kimbrel
Setup men - David Carpenter , Luis Avilan
Middle men - Jordan Walden , Anthony Varvaro , Luis Vasquez
Long man - Corey Gearrin 
Kimbrel is the best closer in baseball, without debate. Even given last season's modest decline in his peripherals, that remains the case. Backing up Kimbrel you have a solid corps, and keep in mind that lefty Jonny Venters (second Tommy John surgery) should be in fighting shape for the second half. Don't be surprised if Jordan Walden emerges as the primary right-handed bridge to Kimbrel. 
Under-the-radar offseason transaction
Gavin Floyd . In terms of bringing in new faces, the Braves didn't do much this winter. (They of course did quite a bit when it comes to locking up the young talent already in place.) Still, the signing of Floyd, the veteran right-hander, could be a canny one. Of the five starters listed above, two -- Medlen and Beachy -- have Tommy John surgeries in their recent or semi-recent past, so health is not to be assumed (as is the case for pretty much every pitcher). As for depth outside of Floyd, there's Freddy Garcia and David Hale and not much else of note when it comes to pitchers ready to contribute soon. Floyd is coming off May Tommy John surgery, so it's possible he'll be rounding into form in advance of the break. Since the composite projections at RotoChamp tab him for an ERA of 3.91 over 69 innings, he could be a useful spare part down the stretch. Signed to a modest $4-million contract plus incentives, Floyd could also provide a healthy return on the dollar. 
Fantasy sleeper: Alex Wood
"You wouldn't know it from the relative lack of hype, but Wood's career has mirrored  Tony Cingrani 's up to this point. Both were passed over in the first round of their respective drafts because most teams considered them relievers coming out of college. Both lack major league-caliber breaking balls but still managed to put up eye-popping minor-league numbers because of their deceptive left-handed deliveries. Cingrani of course did what he did last year. Wood had a 2.18 ERA, 1.11 WHIP and 8.7 strikeouts per nine innings in his first seven starts, but when he faded over his next three, the Braves shifted him to the bullpen, removing him from the spotlight and casting doubt over his future role. But in doing so, they made him dual-eligible in Fantasy. Clearly, they want him starting long-term, but the surplus of fallback options will keep some Fantasy owners from taking the plunge. Still, Cingrani-like numbers out of the relief pitcher slot win championships in Head-to-Head points leagues. Even if Wood begins in the bullpen, it's likely just to preserve his innings for later in the year." -- Scott White [Full Braves fantasy preview]
Biggest strength
Run prevention. Last season, the Braves led the NL in fewest runs allowed. On a component level, they ranked first in the NL in bullpen ERA, fifth in rotation ERA and third in defensive efficiency (i.e., the percentage of batted balls in play that are converted into outs). That all added up to, as noted, the stingiest run-prevention corps in the senior circuit.Given rotation health, that should again be the case.
Speaking of the rotation, yes, the free agent losses of Tim Hudson and Paul Maholm hurt in terms of depth, but bear in mind that Hudson and Maholm were two of the Braves' least effective starters last season.
Defensively, there's also room for more "tactical aggressiveness," as the Braves in 2013 were one of the teams least likely to employ the defensive shift but also enjoyed excellent results when they did employ the shift. 
Biggest weakness
Production up the middle. To be sure, Simmons is a mega-elite fielder would provide value even if he put up basement-level numbers at the plate. With that said, throw in Simmons's and Gattis's OBP concerns with Uggla's and B.J. Upton's awful 2013 seasons, and you have serious concerns up the middle, at least in terms of offensive output. 
Outlook
It's a two-team race in the NL East. The Braves will be there again, and the Nationals are poised for a bounce-back after their disappointing 2013. While I certainly expect improvement out of Washington, I can't get away from the fact that the Braves were 14 "games" better in terms of run differential. I'll err on the side of health in the Atlanta rotation and say Gattis keeps his head above water as a full-timer. Two playoff berths will come out of the NL East, but the Braves will claim the flag again.  
---
Coming Saturday: Previewing the Miami Marlins
The Cubs foundation is still strong, but Theo Epstein and company have work to do

Stylistically, the Dodgers seem to match up better against the Yankees and here is why

Hernandez also set a new LCS record with 7 RBI
The 2017 World Series begins Oct. 24

Magic was watching his Dodgers take care of business in the NLCS while at the Lakers game

The Dodgers advance to the World Series for the first time since 1988