Closers matter, but the Tigers won Sunday without one
Jim Leyland believes in closers, but he also believes in what works. What worked for Leyland's Tigers in Game 2 of the ALCS was staying away from Jose Valverde and allowing Phil Coke to get the final six outs in a 3-0 win.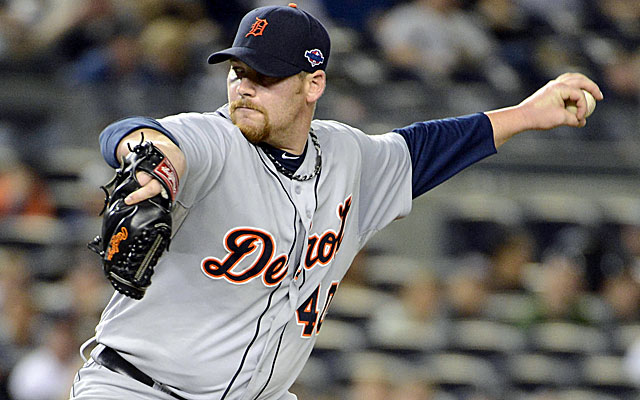 Reliever Phil Coke got the last six outs for the Tigers on Sunday. (US Presswire)
NEW YORK -- Closers matter, as Jim Leyland tried to remind people Sunday.

Good closers matter, anyway, as Leyland tried to point out when he referenced Mariano Rivera in a discussion that began with questions about Jose Valverde.

If you don't have Rivera, and your closer is struggling (as Valverde is), you do what Leyland did in Game 2 of the ALCS.

You go with what works.

Leyland didn't say beforehand who would close, because he didn't know how the game would play out. As it turned out, he used Phil Coke to get the final six outs of the Tigers' 3-0 win, in part because the Yankees have so many left-handed hitters (Coke is a lefty), and in part because when Coke got to the mound, he proved to Leyland that he deserved to stay there.


More playoff coverage
ALCS: Tigers vs. Yankees
NLCS: Cardinals vs. Giants
"He said he was going to leave me out there for at least one [batter in the ninth inning], maybe more," Coke said. "More's good. I was absolutely determined to show him more was fine with me. I was stating my case for more."

When Coke struck out Raul Ibanez to begin the ninth, Leyland decided more was fine with him, too. Coke followed by striking out Russell Martin, allowed a single to Alex Rodriguez, then struck out Curtis Granderson to end the game and record his second career postseason save.

It worked. But that doesn't mean the Tigers plan to forget Valverde. As Leyland pointed out Sunday, it's hard to make it through a postseason if you're afraid to use one of your 10 pitchers.

Pitching coach Jeff Jones believes he discovered a flaw in Valverde's mechanics, and the two spent part of Sunday watching video and then working in the bullpen.

Jones said he believes the next time Valverde gets into a game, he'll look much different from the guy who blew saves on Wednesday in Oakland and on Saturday against the Yankees.

"I truly believe that," Jones said. "I do."

Valverde stood in front of his locker after Sunday's game with his usual smile, with no sign at all that he was upset with temporarily losing his job.

"What I want right now is to win," he said. "It doesn't matter who's the closer."

The Tigers won the first two games in New York, going one better than they did in last year's Division Series matchup with the Yankees. Back then, when the Tigers won Game 2 after losing Game 1, Valverde famously said, "It's over already. . . . The Yankees have a good team, but that's it for them."

Valverde went lighter on the guarantees Sunday.

"A little over," he said with a smile.
If the MLBPA wants to fix MLB's economic system, it should push for more money for young p...

Fans aren't happy Gerrit Cole and Andrew McCutchen have been traded away

Acuna is arguably the best prospect in baseball
Kent had a good career, particularly with the bat

This would undoubtedly be the worst trade in Miami Marlins history

The Pirates recently shipped Gerrit Cole and Andrew McCutchen to Houston and San Francisco,...