Mariners give Lloyd McClendon a chance he deserves
At a time when many teams are going for managers with no experience, the Mariners are giving Lloyd McClendon his second shot. He's ready for it, and he has earned the chance at it.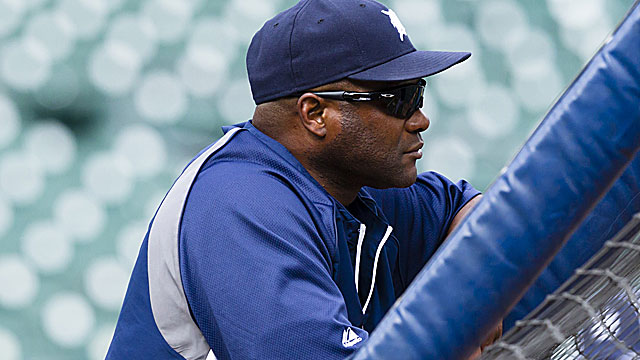 Every year, Jim Leyland would ask the same question. Every year, I had no good answer for him.
"Why isn't Mac getting a chance?" Leyland would ask.
Lloyd McClendon is getting a chance with the Mariners, and while the uncertain status of general manager Jack Zduriencik makes the job less desirable than most, McClendon's not going to complain. Nor should he.
He's waited for this, for a second shot at managing, for an opportunity to take everything he learned from those five years with the overmatched Pirates and everything he learned from eight years at Leyland's side with the loaded Tigers.
In other years, we'd be calling him the perfect candidate, a guy with all the right experience and all the right people on his side.
"He's the real deal," Leyland said Tuesday.
Leyland and McClendon are close. The two of them would sit in Leyland's office after games, along with Gene Lamont. They would talk about the Tigers, and they would talk about managing.
McClendon was the Tigers' hitting coach, but he was more than just a hitting coach.
"He's had a lot of impact, and been a big part of our success," Leyland said.
But at a time when the trend has gone towards hiring the brightest new face, McClendon was perhaps a little too familiar. The Tigers considered him as Leyland's replacement, but instead went with a new face of their own, turning to Brad Ausmus.
Ausmus should do fine. He's every bit as qualified as Mike Matheny was when Matheny took over the Cardinals.
But McClendon will do well, too. The Mariners job is challenging. The team hasn't had a winning season since 2009 (and only two since 2003), free agents have made a habit of turning the Mariners down and Zduriencik's future is hardly guaranteed.
When Eric Wedge left at the end of the season and said he wouldn't have stayed even if the Mariners offered him a five-year contract, it seemed to be confirmation that the Mariners were a mess that couldn't be fixed.
But messes that can't be fixed sometimes get fixed a whole lot quicker than anyone expects. One of them just won the World Series last week.
The Mariners don't have the returning talent or the payroll that the Red Sox do, but the Sox are a perfect advantage of how the right manager can help change the entire outlook of a franchise.
McClendon was the right guy for the Mariners three years ago. Some in the organization were said to favor hiring him then, only to be overruled by those who favored Wedge.
In the three years since, McClendon has helped the Tigers to three straight appearances in the ALCS, and another World Series. The Mariners have had three losing seasons, and have had trouble establishing their young talent at the big-league level.
Even so, the Mariners are a far more talented team than the one McClendon took over in Pittsburgh in 2001.
His opening day starter then: Todd Ritchie.
His opening day starter now: Felix Hernandez.
"He had no chance [with the Pirates]," Leyland said. "Absolutely no chance. All he could do was make a good impression."
McClendon did that. Not everyone regarded him as a great manager then, but most believed he was much better than the Pirates' records indicated.
There's every reason to believe he'll be better now, every reason to think he benefitted from the experience with the Pirates and from the eight years with Leyland and Lamont.
The Mariners interviewed plenty of candidates. We find out about more of them every day. Just Tuesday, hours before the news broke that McClendon was getting the job, new Angels third-base coach Gary DiSarcina told reporters that he interviewed in Seattle.
The Mariners considered almost everyone, from DiSarcina to Chip Hale to Rick Renteria to Tim Wallach to Dave Valle and Joey Cora.
Some of the names on that list are impressive. Not one of them belongs to someone with the experience of managing in the big leagues.
It used to be that experience like that was worth something. It still should be.
Plenty of managers have done better at their second stop than at their first. It stands to reason that you learn as you go on.
Lloyd McClendon should do better, too, perhaps significantly better.
He just needed a chance.
Now he has one.
The Yankees may not be done collecting stars

The team could instead use a closer by committee approach

Both Seung-Hwan Oh and Trevor Rosenthal are free agents
The Yankees may plug their third base hole with a familiar face

Darvish's poor World Series hasn't scared the Dodgers away

GM Sandy Alderson said he followed his manager's recommendation