R.I.P.: 2014 San Diego Padres' season
The Padres were recently eliminated from playoff contention, so it's eulogy time.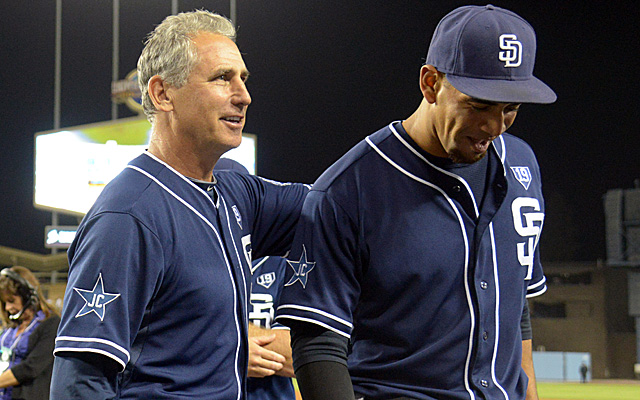 The San Diego Padres were recently mathematically eliminated from the 2014 playoff race. Let us eulogize the season that was, as is customary in these parts.
What went right
Tyson Ross was a deserving All-Star in his breakout season in the Padres' rotation. He's young enough (27) and under team control long enough (through 2017) to be a fixture here. Before being shut down, youngster Jesse Hahn was also solid in the rotation while Andrew Cashner was mostly dominant when he was healthy enough to take the ball.
The Padres' bullpen has mostly been good as well, with Dale Thayer, Joaquin Benoit, Kevin Quackenbush, Alex Torres and others (Huston Street before he was traded) putting together noteworthy seasons. 
Overall, the Padres entered Friday ranking second in the NL in team ERA at 3.28.
Seth Smith has been up and down, but overall he's had a very good season at the plate. Offensively, though, that's about where it stops.
What went wrong
The Padres are the worst offensive team in baseball and it's not particularly close. They rank last in the majors in average, on-base percentage, slugging percentage, runs, doubles and several other categories.
So we could talk about offensive failings from the likes of Jedd Gyorko, Chase Headley (before being traded), Yonder Alonso (when healthy), Will Venable and a host of others, or we could succinctly note that they sucked all year in the batter's box.
It didn't just end there, though. There were injury issues again. Cashner was again hampered, sitting with only 17 starts total right now. In all, they had 12 different pitchers start a game this year. Alonso was limited to 84 games, Everth Cabrera is hurt and has legal woes, Cameron Maybin was popped for 25 games for a positive amphetamine test and, not surprisingly, Carlos Quentin only played 50 games.
Not only that, but GM Josh Byrnes was fired in late June and the Padres didn't hire a new GM until after the trade deadline, leaving interim GMs to deal with being a trade deadline seller. Not that they did an awful job or anything, but that's less than ideal for a new GM to come in six days after the trade deadline, as new hire A.J. Preller did.
MVP: Ross. The Padres got him (and another player) for Andy Parrino and Andrew Werner prior to last season. He's thrown close to 200 innings and ranks in the top 10 of NL ERA.
LVP: Cabrera. At the midway point of the 2013 season, the Padres had a 26-year-old, All-Star shortstop. Since then he's been suspended for ties to Biogenesis, had a terrible 2014 season on the field (hitting .232/.272/.300), is out with lingering hamstring issues and got nailed for a DUI (marijuana).
Free agents to be: SP Josh Johnson, SP/RP Tim Stauffer
Gameplan heading into the offseason
This will be Preller's first offseason ever as the man in charge, so we don't have a blueprint of his to study. We do know that the Padres have the tools to have a good enough pitching staff to compete for the playoffs while needing a ton of offensive help. We also know that Preller isn't expecting to undergo a huge rebuild, as he recently made comments that he expects to compete in the NL West fairly soon. Finally, we know that the Padres can't operate with a large payroll.
With so many arbitration cases, baseball-reference.com estimates that right now, the 2015 payroll looks to be $68.5 million without any additions. This season, it was $65.9 million, so there's little to play with unless trades are made.
Unfortunately, it's hard to see anyone being excited about taking on Quentin's $8 million deal for 2015, though it can't hurt to ask around the AL for teams wanting a DH. Maybe they could eat half of the deal and save some money there. Otherwise, Joaquin Benoit could be dealt for savings. He's set to make $8 million in 2015 himself and he has value. Finding good relievers in Petco Park isn't too difficult, so it would make sense to deal him.
Starting pitching-wise, they're fine. They could head into 2015 with a rotation of Cashner, Ross, Ian Kennedy and Jesse Hahn with a host of workable fifth-starter types (like Odrisamer Despaigne and Cory Luebke, if he returns from his second Tommy John surgery).
As far as the offensive needs, outfield upgrades in right and center couldn't hurt -- and it wouldn't be surprising to see Maybin traded. It's possible they're comfortable with Yangervis Solarte at third, but there's room for improvement there, too. They should probably hand the keys to Alexi Amarista at short and just cut ties with Cabrera while hoping that Alonso is healthy enough for a bounce-back season next year at first. Gyorko should be better at second and they have enough behind the plate in Yasmani Grandal and Rene Rivera.
Some cheaper free agents that could be on the radar: Kelly Johnson, Alberto Callaspo, Josh Willingham. What about Colby Rasmus? He seems like a decent candidate to go for cheap money with the potential to breakout.
Cuban outfielder Yasmani Tomas has also been connected to the Padres in rumors, so he's a possibility. It might seem that they could be outbid by a larger market, but remember the A's grabbed Yoenis Cespedes.
I wonder what they could get back for Cashner in a trade? His upside is gigantic and an opposing team might be excited about that, but he just can't stay on the field for an entire season. I'd at least see what kind of offers came back.
Finally, there is the status of Bud Black. He's long been respected around the league and doesn't have a very talented roster, but it's a new GM and they haven't been in contention since 2010. Black's been at the helm for eight seasons and has zero playoff appearances.
Ridiculously premature prediction for 2015
This is boring, but it'll probably be more of the same. The franchise will be transitioning under Preller as he starts to put together his plan for the future. Meanwhile, they'll pitch well and hit poorly. They'll again miss the playoffs and fail to reach .500, but won't be awful. Third or fourth place, between 72-78 wins.
The coveted right-hander would certainly be a fit in Milwaukee

We rate the best mustaches from random baseball cards because, why not?

Colon wants to break a Dennis Martinez record
The Twins have been rumored to be interested in Darvish all winter

Rolen is one of the best third basemen of all time, but you wouldn't know it based on this...

Neither Josh Donaldson nor Brian Dozier have talked about a new contract extension