The Lineup: How about those Pirates?
Independence Day has long been my favorite holiday for many reasons. Among them are baseball, fireworks, warm weather (scalding hot, this year) and celebrating how much we love this country. This day was no different. And while we're here, let us celebrate a baseball team who has its entire fan base much happier than usual on the fourth of July.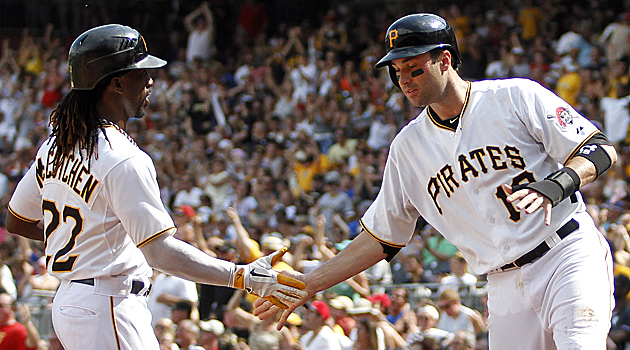 Independence Day has long been my favorite holiday for many reasons. Among them are baseball, fireworks, warm weather (scalding hot, this year) and celebrating how much we love this country. This day was no different. And while we're here, let us celebrate a baseball team which has its entire fan base much happier than usual on the fourth of July.
Full Wednesday scoreboard with recaps and box scores for every game








3 UP

The Pittsburgh Pirates: Beating the Astros isn't a big deal, but what the Pirates are doing right now is. They've won three in a row and seven of their last eight. In fact, going back a bit, the Pirates are 24-12 since May 23. Overall, they now sit nine games over .500. The last time they were as many as eight games over .500? Try 1992. Seriously. The Pirates got to seven games above .500 last season and in 2002, but otherwise have not been this far above the break-even point in a season since they won the NL East in 1992 -- that club managed by Jim Leyland and powered by the likes of Barry Bonds, Andy Van Slyke and Doug Drabek. The best part of all is when you look in that picture at the top of this article, notice all the fans in the background with arms raised in pure glee. That's what professional sports are all about: The fans. Soak it in, Pirates fans. This is a lovable team.

Chris Tillman, Orioles: The 24-year-old right hander hadn't started a major-league game since August 11 of last season. He came into his Wednesday afternoon start against the Mariners with a career 5.58 ERA and 1.58 WHIP. All he did was take a one-hit shutout into the ninth inning. After an error and a strikeout, Tillman gave up a double before being pulled, leaving runners at second and third. Closer Jim Johnson allowed both inherited runners to score, so Tillman was charged with two runs in the ninth. Still, both were unearned, so he has a 0.00 ERA and 0.48 WHIP through 8 1/3 innings. Tillman was optioned back to the minors after the game, but don't fret that move. With the All-Star break coming, he's just going to stay on his normal rest with one minor-league start before coming back to the bigs after the break.

Aaron Harang, Dodgers: Against his former team, Harang allowed only three hits and one earned run in seven innings while striking out five. And just like that, the Dodgers are back in first place. This has the makings of a big-time fight throughout the second half, but the Dodgers have to feel good about climbing back into first without Matt Kemp or Andre Ethier.

3 DOWN

The Red Sox road trip: Just when the Red Sox seemingly got things figured out, they went out West and lost five of seven to the Mariners and A's. Before that, the Red Sox had won 11 of 14. They managed only 15 runs in the seven games after heading West as one of the most prolific offensive teams in baseball. The A's aren't awful -- though they're still a game under .500 after the three-game sweep of Boston -- but the Mariners pretty much are. This was a trip to forget for a legitimate contender.

John Axford, Brewers: The Ax Man is having a pretty rough season. After closing down 46 of 48 save chances last season, he's now blown five of 19 opportunities this season. Worse yet, after coughing up a chance Wednesday against the Marlins, he's now accrued four saves and four blown saves in the past month.

Ervin Santana, Angels: He has so much talent, but the bad is far outweighing the good this season. Santana only lasted 1 1/3 innings against the Indians Wednesday, giving up six hits, three walks and eight earned runs. He's now 4-9 with a 5.75 ERA on the year. Heading into the season, my rationale for picking the Angels to win the World Series was that I believed they would make the playoffs, first, and then they'd have four stellar starting pitchers for the playoffs. As things stand right now, they actually "only" have two. We'll see if  Dan Haren gets his back issues worked out and/or if Santana finds a way to harness his talent in the second half. Until then, it's C.J. Wilson and Jered Weaver.








Keep the line moving: The Pirates look to stay on a roll as they go for the four-game sweep of the Astros Thursday. Jeff Karstens (1-2, 5.25) gets the nod, and though his numbers aren't very good just yet, keep in mind he has only thrown 24 innings due to injury. Also, he was very good last time out, holding the Cardinals to four hits and two runs in seven innings. The Astros, meanwhile, are heading the opposite direction. They've lost seven in a row and greatly resemble the 106-loss team from a year ago. Bud Norris (5-5, 4.90) gets his chance to put an end to the losing streak. 7:05 p.m. ET

Cain vs. Red-hot Nats offense: As I wrote Wednesday afternoon, the Nationals' offense has caught fire. When teamed with the stellar pitching staff, it's a scary combo. We'll find out if Giants ace Matt Cain (9-3, 2.53) is up to the task Thursday, as he squares off against Ross Detwiler (4-3, 3.30) and the Nats. 7:05 p.m. ET

South Side Sweep? The Rangers were the best team in baseball through baseball's first half, but the leaders of the AL Central are making some serious noise. After embarrassing the Rangers Tuesday night, the White Sox came through with an extra-innings victory Wednesday evening and have a chance to sweep the mighty Rangers Thursday. The young Jose Quintana (3-1, 2.19) of the White Sox will take on All-Star Matt Harrison (11-3, 3.16) in a sneaky-great pitching matchup. 2:10 p.m. ET








• The "odd couple:" The 2012 season has thus far felt like one of the most exciting and action-packed in recent memory. Bats blog of nytimes.com may have zeroed in on why -- the "odd couple: no-hitters and home runs." It's been a combination of great pitching and great hitting. Not only have we seen five no-hitters, including two perfect games, but the strikeout rate is the highest in baseball history. At the other end of the spectrum, 10 players are on pace for at least 40 homers. Last season, only two had at least 40, just as in 2010 and 2008. Five guys hit at least 40 homers in 2009. So we're getting incredible pitching with an increase in home runs? That's a crowd-pleaser.

• Passing the torch: Now that Chipper Jones is in the All-Star Game, Bryce Harper has a chance to win the NL Final Vote. I argued Sunday that the decision was between the past (Jones), present (Michael Bourn) and future (Harper). With Jones already in, there's a situation where the torch can be symbolically passed. Mike Harris of the Washington Times urges Nats fans to hammer that "vote" button on MLB.com to make it happen.

• David Ortiz's ageless season: David Ortiz is having an amazing season. We knew that. But just how amazing? Beyond the Box Score points out Big Papi is projected to finish with the ninth-highest slugging percentage ever for a 36 year old, among many other amazing factoids, including several advanced metrics.

• Ben Sheets (remember him?) on the comeback trail: The four-time All-Star started for the Double-A Mississippi Braves Wednesday night. He worked five innings, allowing five hits and four earned runs. He struck out six and walked one. (MiLB.com box score)

• The correct mindset: The Cubs have won seven of their last nine games, so does the team believe it has a chance to get back into the race? In a word: No. "You'd like to have a goal of playing .500 baseball the second half with the team we have," manager Dale Sveum said. "Just to get a respectable record, to play over .500 baseball, would be a nice goal to have." That quote came from ChicagoTribune.com, and writer Paul Sullivan noted last season the Cubs went into the All-Star break 17 games under .500 and still were talking about how they were going to win the division. A winning mindset is good. Lying to yourself creates unreachable expectations. This is a rebuilding project, and it's refreshing to see a club admit where they are in the process. The second half will be a time of growth for the entire organization. If winning in 2012 is a focus, the future is compromised.

For more baseball news, rumors and analysis, follow @EyeOnBaseball on Twitter, subscribe to the RSS feed and "like" us on Facebook.
The Tigers are very early in their rebuild and they're counting on Miguel Cabrera to rebound...

The Grapefruit League and Cactus League seasons started on Friday

Data will be collected and then used to determine whether humidors are necessary in 2019
Spring training play began on Friday, and the Stoneman Douglas tragedy was on the mind of MLB...

Baseball players forced to take pictures usually lead to fun for all of us

One of the most celebrated programs in baseball is looking to continue its run