The Tigers have a rotation built for October, and it's showing
We never talk about the Tiger rotation, in part because we talk so much about Justin Verlander, and so much about how the Yankees have melted down. Now the Tigers starters have an 0.94 postseason ERA, and the Tigers are two wins away from the World Series and in total control of the ALCS.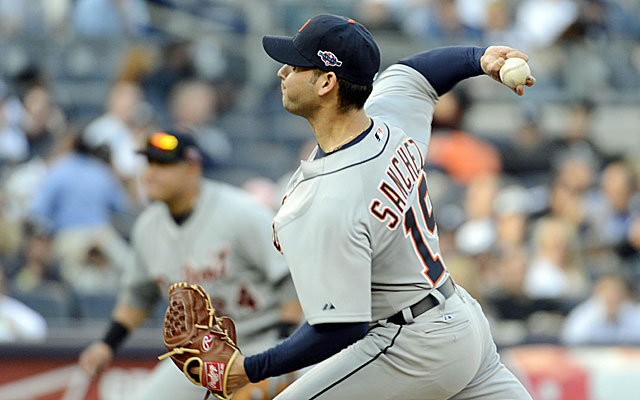 Anibal Sanchez, the Tigers' No. 4 starter, shuts down the Yankees on Sunday. (US Presswire)
NEW YORK -- There's a theory about winning in October, an idea that power pitching will play big, that you win with big starters who can stop big bats.

The 2010-11 Phillies will remind you that it doesn't always work. The 2012 Tigers are in the process of showing that it still can.

The Tigers are two wins away from the World Series, two games into this ALCS and in total control. You'll read in plenty of places that they got here because the Yankees have melted down, and there's some truth to that.

The other side of it is that the Tiger rotation is doing exactly what it was built to do.
More playoff coverage
ALCS: Tigers vs. Yankees
NLCS: Cardinals vs. Giants

"These four guys have the capability of shutting down anyone, when they're throwing good," Tigers general manager Dave Dombrowski said, after Anibal Sanchez did just that to the Yankees in Sunday's 3-0 Game 2 win. "They can pitch in a big game. They can shut down good lineups. I like going out there [in October] with strong starting pitching."


He needed it Sunday, needed it on a day when Yankee starter Hiroki Kuroda was perfect through five innings and didn't allow a run through six. He needed it, and Sanchez delivered, allowing just three hits in seven shutout innings.

That's Sanchez, the Tigers' fourth starter.

We rarely talk about the Tiger rotation as a whole, in part because ace Justin Verlander is so good that he tends to overshadow everyone else. But as a whole, the Tiger starters had the second lowest ERA in the American League during the season (3.76), and in the postseason they've been even better (0.94).

For all the talk about how Alex Rodriguez can't hit and Robinson Cano can't get a hit, the Tiger starters are simply doing to the Yankees what they first did to the A's. For the last four games -- one trip through the rotation -- the A's and Yankees have combined to hit .163 off Tiger starters, with just one run, which was unearned.

Dombrowski has always favored power pitching, to the point where his scouts sometimes joke about how they could never dare to recommend a soft thrower. He likes to point out that they do have some variety in the rotation, since Doug Fister doesn't throw as hard as the others, but even Fister averages right about 90 mph on his fastball.

Sanchez can go higher, as high as 95 mph on Sunday against the Yankees, according to PitchFx data. Max Scherzer topped out at 96 mph on Wednesday in Oakland, while Verlander averaged 95 and was up as high as 98 the next night in his Game 5 shutout.

Velocity isn't everything, but it sure helps against the better lineups you see in October (and yes, despite this week's evidence, the Yankees still qualify).

There's a reason that the Red Sox wanted to make Daniel Bard a starter (an experiment that failed miserably), a reason the Rangers have tried so hard with Neftali Feliz and Alexi Ogando as starters (with no definite success yet).

The Rangers and Cardinals made it to the World Series last year, despite rotations that underperformed much of the way. But Dombrowski viewed that as the exception to the rule, and many would agree with him.

When the Tigers were having their troubles in July, wondering why it was they couldn't pull away from the White Sox and Indians in the weak American League Central, Dombrowski knew they needed help at second base but also wanted an upgrade for the back end of the rotation.

The deal with the Marlins for Sanchez and Omar Infante was mostly about making sure the Tigers got to October, but when scout Mike Russell recommended the deal, Dombrowski asked him a question about Sanchez.

"If we get to the postseason, will he be one of our four starters?" Dombrowski asked.

"Yes he will," Russell told him. "You'll have the same comfort level when he goes out there as you have when Doug Fister and Max Scherzer do."

It didn't happen right away. Sanchez was 1-3 with a 7.97 ERA in his first four starts after the trade. He had a 2.15 ERA from that point on, and now in 13 1/3 innings in the postseason, he has allowed just two runs.

"We're getting the Anibal we thought we would," catcher Gerald Laird said. "This is the guy we thought we got."

When Sanchez turned the corner, the entire Tiger rotation seemed to fit into place. They had a combined 4.17 ERA through the middle of August, but pitched to a combined 2.60 ERA over the season's final 41 games.

In October, they've been even better.

Dombrowski credits the pitchers, but he also credited manager Jim Leyland. Leyland strongly believes in keeping pitchers in rotation during the season, rather than skipping a starter after an off day so that Verlander can pitch more often.

"These guys are strong, come the postseason," Dombrowski said. "And that's partly because of how Jim Leyland handles them all season."

The Tigers obviously believe in their pitching plan. Exactly what that plan is, though, they'd rather not say.

"I don't want to go too deep into the thought processes we use," Dombrowski said. "But I like our pitchers."

Two wins away from a World Series, who wouldn't?
The Twins have already fortified the bullpen with Addison Reed, and now they want to address...

The Orioles likely want pitching, and the Indians have plenty of it

Halladay died in a November plane crash off the coast of Florida
The power-hitting outfielder is headed to Toronto

Martinez could add some power to a Boston lineup void of it

It's almost that time of the year again, time for the Tebow madness to return