2014 Offseason Report: Miami Heat
The Miami Heat will not be what we've seen over the last four years, but they still found a way to make themselves competitive in the East.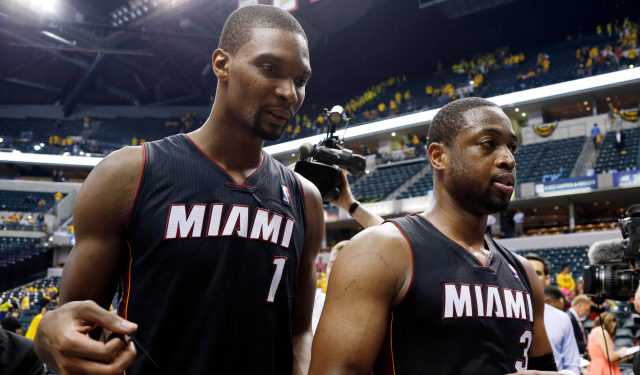 CBSSports.com's Eye On Basketball is taking a team-by-team look at the 2014 NBA offseason. We continue with the former kings of the East, the Miami Heat.  Check out the rest of the offseason reports here.
How they finished 2014: The Miami Heat finished the 2013-14 season by being completely outplayed by the San Antonio Spurs in the NBA Finals. It's hard to blame them for two reasons. First, a fourth straight year of making the NBA Finals was joining rarified air and being able to keep up the physical and mental focus of trying to win a championship for four straight years pushes athletes to the brink. Second, the Spurs were just flat-out better and playing a level of basketball we've rarely seen. Even if the Heat had been at their best during the Finals, it's hard to say they would have stopped that Spurs team. They just ran into perfect basketball and were overmatched.
The signs of the Heat breaking were there all season, too. LeBron James was phenomenal for the entire season but even his defense seemed to be a step or two behind what we were used to seeing. The team's defense overall rarely showed the intensity and crispness of the 2012 or 2013 runs. Dwyane Wade had a solid season when he was on the court, but he also missed 28 games due to injuries and rest. Chris Bosh was asked to carry the load on defense once again and the team's experiment of trying to get bigger for the playoffs by rebuilding Greg Oden never actually mattered in the postseason.
The role players for the Heat weren't bad, by any means, but they also looked incapable of giving the consistent production and support needed to help the stars on the team maximize their winning potential. All of this may seem to nitpicking a team that made the NBA Finals and won 54 games in the regular season, but those are the expectations the Heat built over this four-year run. 
Offseason needs: The first need was to convince LeBron James, Chris Bosh, and Dwyane Wade to come back for another round of basketball contracts. Losing Wade wasn't much of a concern and Bosh leaving only seemed like a possibility if LeBron was going to leave. But LeBron and the Cleveland Cavaliers were going to be heavy into talks and the Heat had to convince him not to go home just yet. 
The second need was finagling the contracts of those three to allow the cap space for a "big get" as a fourth player or a couple of key contributors. There were rumors of all three players taking significant pay cuts and bringing in Carmelo Anthony or Kyle Lowry or Marcin Gortat or Luol Deng. They were also going to need discounted role players to put around everybody again with Norris Cole and their first round pick being the only players under contract for 2014-15 heading into the summer.
Pat Riley was going to have to work some pretty heavy magic in the offseason, but he had done it before.
The draft: Heading into the draft, LeBron James was a big fan of Shabazz Napier's game. With the Heat possessing the 26th pick in the first round, they had a great chance to grab him and make LeBron happy. They struck a deal with the Charlotte Hornets on draft night to ensure they got the man LeBron seemed to really like. The Hornets received the draft rights to P.J. Hairston (No. 26), the draft rights to Semaj Christon (No. 55 pick), a 2019 second round pick, and cash. Charlotte selected Napier with the 24th pick and sent him to the Heat. With Cole under contract as the only point guard on the roster and Mario Chalmers in free agency, Napier fulfilled a need at the backup point guard position.
Free agency and trades: This is where things went nuclear for the Heat. After trying to convince LeBron to re-sign with them and try to grab a couple more titles, he left for the Cavaliers. The Heat looked like they were going to fall completely apart with Bosh being pursued by the Houston Rockets to be their third guy, and it looked like they'd be stuck with an obligation to re-sign Wade and strike out on so much. Lowry wasn't coming to town and neither was Gortat. They had chosen their next contracts before LeBron ever made his decision. 
And while they missed out on the biggest name in free agency and had real cap issues that were going to limit just how much they could improve the roster, Pat Riley rallied really well in keeping this Heat team from becoming a total joke. They convinced Bosh to stick around in Miami for five years and $118 million. Wade's pay cut settled around two years and $31 million after opting out of $42 million over the next two seasons. Wade wasn't good in the Finals but the tales of his demise have been exaggerated quite a bit.
From there, the Heat re-signed Udonis Haslem (two years, $5.5 million), Chris Andersen (two years, $10.3 million), and Mario Chalmers (two years, $8.3 million). They also brought in Luol Deng (two years, $19.8 million), Josh McRoberts (four years, $22.6 million), and Danny Granger (two years, $4.2 million) to be key contributors. Deng will fill in for LeBron defensively and provide a fair bit of scoring. McRoberts plays into what Erik Spoelstra likes to do with bigs spreading the floor and moving the ball. Granger still has to prove he has something left in the tank after sputtering the last few seasons due to knee and leg injuries.
The Heat also brought in their 2013 second round pick James Ennis over, after he spent a season in the Australian league.
Overall grade and accomplishments -- D-plus: You can't possibly feel good about what the Heat did this summer, overall, because they lost the best player in the world. It's a harsh way to judge their offseason, but this is their basketball culture and these are their basketball expectations since the Big Three came together in South Beach in 2010. Losing LeBron ended their run of being considered a title contender in the NBA.
But working out of that situation and ending up in the D-plus range for the offseason is quite the accomplishment. They really do have a team capable of being top 4 in the East this season. Wade has apparently lost a lot of weight and that could help prevent him from needing to sit out so many games this coming season. A combination of Bosh and Wade gives opposing defenses plenty to worry about, enabling the role players surrounding them to step into the Heat's identity under Spoelstra.
There is plenty of concern with whether or not they have enough 3-point shooting. This was a team that thrived off spreading the floor and the addition of Deng doesn't doesn't help that need. But if Chalmers can bounce back into being a solid point guard, and the boost in McRoberts' shooting from outside last season remains to be something you can count on, they may have just enough shooting to get themselves into the second round of the playoffs.
The Heat also did something pretty clever by giving themselves a lot of flexibility for the summer of 2016. Bosh, McRoberts, and Napier are the only ones scheduled to be under contract and they'll presumably have more than $30 million in cap room. We've seen Riley work magic with that cap room before and with Kevin Durant on the horizon, maybe they have their sights set on grabbing the next best player in the world in a big free agency summer.
Thomas took to Twitter to let the Celtics know he doesn't want to ruin Pierce's night

The Hall of Famer's jersey was retired by the Celtics in 1982

It's rare to see a legit punch in an NBA fight, but this was definitely one of them
We've got all the scores, highlights and news from an NBA Tuesday

The former Slam Dunk Contest champion will take his talents to Tri-State

Do NBA players have look-a-likes from famous paintings? We found out on the new Arts & Culture...