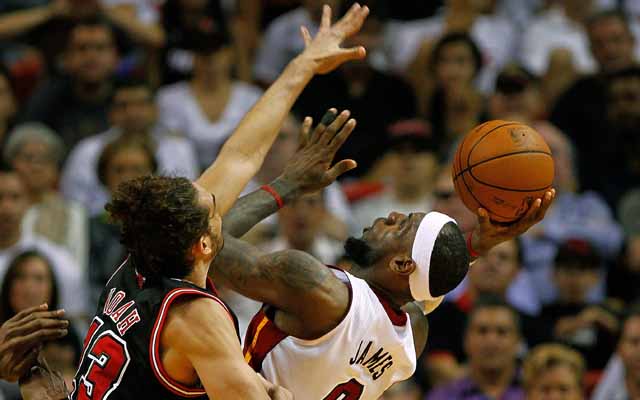 You might even say he won the East award this week going away.
(Getty Images)
This week, just the weekly awards. Our season awards will be released on Wednesday, and you should be very excited.
Eastern Conference Player of the Week: LeBron James
31 points, 8 rebounds, 6 assists, 1 steal and 1 block this week for James. Ho-hum. Another absolutely dominant week, and had he played against the Wizards, there can be no doubt the
Heat
would be in prime position to steal homecourt from the Bulls. With James on the floor over the past four games, the Heat have a 94.7 defensive rating, and his lockdown work has been impressive. Sunday it was
Goran Dragic
down the stretch, choking the life out of the
Rockets
' playoff hopes.
James needed a strong week to finish out his MVP campaign. But was it enough?
Western Conference Player of the Week: Ty Lawson
Lawson has been the driving force behind the
Nuggets
' late season surge headed into the playoffs, averaging 23 points and 7 assists over the past four games. Against the Suns, he was blistering, finding his way to the hole, setting the offense and capping off possessions with catch-and-shoot threes. His defense has been solid as well, and his speed in transition helps the Nuggets operate at another level. Lawson also deserves credit for helping
Kenneth Faried
work into being a part of the offense and not just a block machine. Lawson has the Nuggets peaking at the right time.
Dominator Award: Anthony Randolph
I know, it's nuts. But per 36 minutes over the past four games, Anthony Randolph has averaged 16 points, 10 rebounds, and 5 blocks (!). The fact that Rick Adelman can squeeze that kind of production out of Randolph, even in meaningless games at the end of the season, speaks volumes. Could Randolph be becoming an actual true big?
The Horde Award for Team You Should Fear: San Antonio Spurs
There just aren't words for how well the Spurs are playing right now. They had a +25 efficiency differential per game this week. To put that into context, for every 100 possessions, they outscored their opponents by 25 points. They beat their last four opponents by a 100 points across 400 possessions. That's insane.
They space the floor, they can attack you with size now with Tiago Splitter, their bad defenders are defending well, they have versatility, Tony Parker is playing at an MVP level, and Manu Ginobili does amazing things with a basketball. There is absolutely no reason for you to not believe the Spurs can win the title right now. They are there.
Cub Scout Troope Award for team you should not fear: Orlando Magic
The effort's there. It really is. You just see the impact of Howard missing at every level. Defensively, where teams find if they can get by their guy they don't have a monster with great positioning ready to meet them. Offensively, where the team just keeps trying to force enough passes to create an open look but no one has to really move anywhere. It's not just Howard.
Hedo Turkoglu
,
Jameer Nelson
, the list goes on and on. The Magic have just had their season ruined and despite their effort, you can tell they know it, too. Unfortunate way for the SVG era in Orlando to end.
"Searching For Bobby Fischer" Coaching Move of the Week: Carlisle goes offense
Late in close games this week, Rick Carlisle has benched Defensive Player of the Year
Shawn Marion
for offensive weaponry late in games... and it's worked. Instead of locking down defensively, the
Mavericks
have opened up the floodgates and in the past for games, their fourth quarter offense has generated an offensive efficincy of 140.5. That's an absurdly high number. By switching to lineups to feature
Vince Carter
at the 3 with a smaller and lighter
Brandan Wright
, the Mavericks have fielded a lineup scoring 3.3 points per minute.
It's a counter-intuitive move where most teams aim for lock down defense but instead the Mavericks elect to burn their engines out offensively to the end and rely on veteran playmakers. It's a pretty genius move for a pretty genius coach.
Titanic award for tanking of the week: New Jersey Nets
The Nets are frantically trying to keep their draft pick and have gone 0-4 in the past week, keeping out as many players as possible to try and get there. Sadly they are still four spots short of the top-three protection needed, assuming the lottery doesn't help them, which of course it could. But hey, they are doing a great job of helping out the Trail Blazers.