Dwight Howard Trade Buzz 7.3.12: Lakers back in play
The latest on the Dwight Howard trade rumors.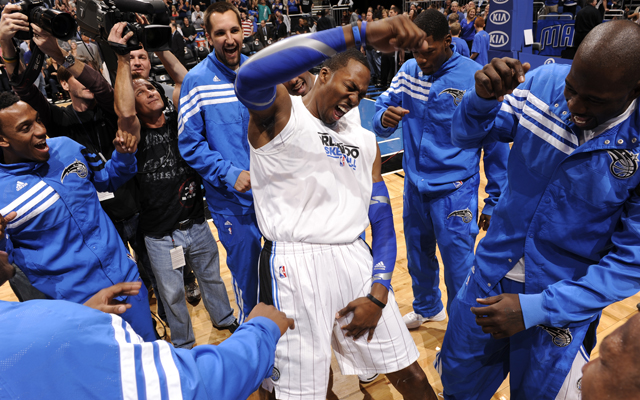 Dwight Howard could be celebrating an escape for Orlando soon.
(Getty Images)
Dwight Howard is on the table, wants out of Orlando, and the Magic are shopping him. We'll keep up to date on the latest news on the big fella as the day progresses. Check back here for the lastest. 
1:00 p.m. ET
Yahoo Sports reports that the Magic have centered their focus around the Lakers' Andrew Bynum in a potential trade for Howard. A Lakers trade for Howard makes a ridiculous amount of sense for both sides. Bynum is in the last year of his contract after the Lakers activated his option, so in reality, the Lakers would be facing the same situation with Howard that they would with Bynum, a dominant center entering unrestricted free agency, with their holding Bird rights, the biggest trump card in this process. 
The Magic would get a dominant center in his own right, younger, and who has seemingly moved past the injury issues that plagued him earlier in his career. Bynum is kind of a headache for coaches, but after Dwight Howard, anything short of the Misfits seems like a breeze. 
There had been rumors of a falling out between Kobe Bryant and Howard through phone calls due to Bryant's insistence that Howard would not be the biggest star or leader on the team. But with Bryant taking a step back, the time may be right for Howard to be obtained as his successor. 
10:04 a.m. ET
Ken Berger reports that talks are slowing down, as even Dwight's people have little faith the Nets can get this done. 
As an aside, the Warriors have reportedly dropped out of the running as of yesterday. They were thought to be one team willing to take on Howard as a rental. I'm sure if talks were to pick back up for a rental with a lowered price they'd be right back in it. 
9:17 a.m. ET
The complicated scenario that the Nets and Magic have discussed would involve the signing-and-trading of Brook Lopez and Kris Humphries as well as promising guard MarShon Brooks and multiple future first-round picks. Ideally, the Magic are looking to unload one of their bad contracts in a Howard deal, either that of Hedo Turkoglu or Jason Richardson.

The Magic, who want multiple young players, draft picks and cap relief in a Howard trade, plan to be thorough as they explore all possibilities.

In other words, step right up with your Dwight trade offers.
via Magic re-engage Nets, others in Dwight Howard talks - CBSSports.com.
A number of questions spring up here. 
The Magic will want Lopez on a small-to-medium size deal. Brook Lopez is likely to get a four-year deal in eight figures. Why do Brook Lopez and his agent play ball with this kind of deal, and if not, why do the Magic commit all that cap space towards Lopez, even if they're able to unload Hedo Turkoglu's contract?
What team is going to want to trade something (if indeed they trade something of value) for Kris Humphries when they can just sign him in free agency?
The Nets have been trying to apply pressure to the Magic for almost a year to try and work them into a trade, and the Magic at one point were reportedly considering tampering charges against them. Are they really going to take on what would not be the best deal for them just to make Howard happy?
Is this kind of offer really better than just having Howard leave and getting the cap space? 
Yahoo confirms Berger's report that the Nets are far from bowling over the Magic with this offer. 
A look at the context of the schedule and who plays who when, and how far they travel during...

Durant took on rapper Lil Dicky and actually might have lost

A report that James would once again be leaving Cleveland made the rounds on Wednesday
Known for his 'take that for data' rant, the Grizzlies coach touched on a number of important...

Wade's days with the Chicago Bulls appear to be numbered

Misty Suri will reportedly keep his job with the New Orleans Pelicans