Kobe Bryant regards himself as the best one-on-one player ever
Kobe Bryant says he doesn't think anyone can beat him one-on-one because he's Kobe.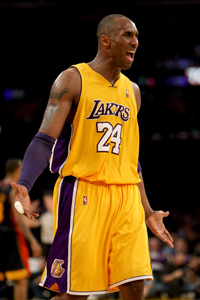 Koby says he'd hold his own with Jordan one-on-one.
(Getty Images)
In a wide-ranging interview with ESPN, Kobe Bryant makes it clear how he regards himself in terms of one-on-one play: 
Who would you most like to play one-on-one, either active or retired?

Jordan. No question.

What would happen?

I'm not sure, but he would win some and I would win some in a seven-game series. It would probably come down to the last few shots.

You vs. LeBron? Who wins?

Me. No question. As far as one-on-one, I'm the best to ever do it.

Damn. That's pretty confident.

LeBron is a terrific all-around, five-on-five basketball player who's an all-time great. But I'd get him.

Who could get you?

Kevin Durant is the guy that would give me the most trouble. With his length and ability to use the dribble, he'd be tough.

I always wanted to see you play Tracy McGrady.

I played T-Mac. I cooked him. Roasted him. Wasn't even close. Ask him, he'll tell you. When I was about 20, we were in Germany doing some promotional stuff for that other sneaker company, and we played basketball every day. We were in the gym all the time. We played three games of one-on-one to 11. I won all three games. One game I won 11-2. After the third game he said he had back spasms and couldn't play anymore.

His back bothered him for most of his career.

Well, now you know.

What about Kyrie Irving?

[Huge smile, laugh.] Kyrie's my boy, but he knows he doesn't have anything for me. He doesn't want to see me. But it would be fun. I've beaten a lot of guys one-on-one, like Reggie Miller and Grant Hill. I used to play Caron Butler all the time in practice when he was with the Lakers. When I was a rookie I used to get Nick Van Exel and Eddie Jones. They know. They'll tell you. They used to come at me hard, but I wasn't having that. I love going one-on-one with someone. That's what I do. I've never lost. It's a whole different game, just to have them right in front of you and be able to do whatever you want.
via Kobe Bryant Los Angeles Lakers interview LeBron James Michael Jordan - ESPN.
Shocker! Kobe Bryant thinks he's the best at one-on-one basketball! The sheer odds as well as second-hand accounts indicate that he has in fact lost before. But this is Bryant, in the rare unfiltered form, in his most confident (or his more arrogant, depending on how you roll) dishing on everyone he has or would vanquish. 
The LeBron quote is not surprising, but I'm trying to figure out how Bryant is going to have the strength to defend him in the post without breaking his arm.....ohhhhhhhhh. 
Anyway, Bryant also talks about having Magic compliment him, "Django Unchained," and tries to say that some guys in the park gave him the "Black Mamba" nickname, counter to most accounts of how it was developed. An interesting study in Kobetology.
Among the questionable decisions by Jackson was signing Noah to a long-term, lucrative dea...

This Akron store doesn't want their hometown hero to leave again

Milwaukee's star did not get cleared to play for his national team due to a painful knee i...
Ball, the second overall pick in the NBA Draft, is receiving even more hype

Rap mogul supports the vision the outspoken father has for his brand and sons

Deciding who to watch on League Pass can be difficult, but these rankings promise to help