NBA Offseason Report: Golden State Warriors
Over the next month, CBSSports.com's Eye On Basketball will take a team-by-team look at the 2012 NBA offseason. Next up: the Golden State Warriors. You can find our offseason reports here.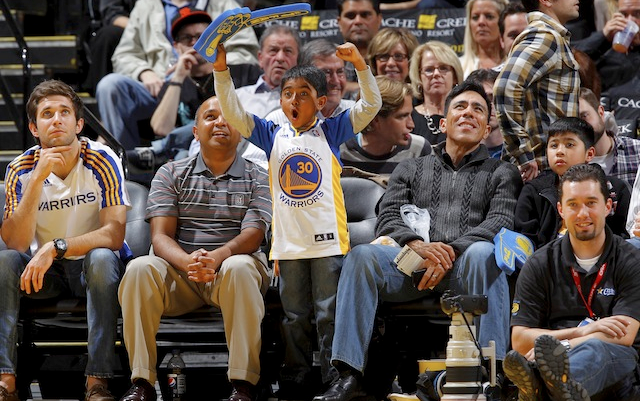 "Yes, another loss!"
(Getty Images)
Over the next month, CBSSports.com's Eye On Basketball will take a team-by-team look at the 2012 NBA offseason. Next up: the Golden State Warriors. You can find our offseason reports here.
I. How they finished 2012: Tanking their faces off.
The Warriors were in a unique position of battling against a top-seven protected pick. Anything lower than that and it was shipped to the Jazz because of protections put on it. (Utah got the pick from the Nets in the Deron Williams deal. The Nets got it from the Warriors in a trade involving Marcus Williams.)
The Warriors will tell you they weren't "tanking," but just playing younger players after shutting down David Lee and Stephen Curry, following the trade of Monta Ellis and Ekpe Udoh. Call it what you want, but the Warriors' strategy worked. They finished 23-43, losing nine of their last 10 and got the No. 7 pick in the draft.
It was an ugly, dirty finish for the Warriors as a great fan base was forced to essentially root for losses, but the end justified the means, I suppose.

II. Needs entering the offseason: The top offseason priority really was health. Between new addition Andrew Bogut, David Lee and Stephen Curry, the Warriors really simply needed to get healthy.
Not to say their roster didn't need improvements, but for the most part, a lot of it was accomplished during the season. The deal for Bogut was major as it sent franchise centerpiece Ellis out and changed the focus of the team. Gone was the explosive offensive identity and a more defensive mindset was installed. Coach Mark Jackson wasn't shy in expressing the desire to do that, but it starts with personnel.
The emergence of youngster Klay Thompson was big as it filled the gap Ellis left as an off-ball scorer. The Warriors were more traditional and made more sense, at least positionally.
After that, it was about making the right choice in the draft. Adding talent to any roster is always key but the Warriors weren't facing any glaring holes, as much as they were looking at needing a little more skill and ability.

III. The Draft: With their pick in hand, the Warriors had options at No. 7. They could go big and risky with Andre Drummond. Other than that, it was about waiting to see who was left after the first six. They didn't need a point guard. They didn't need a shooting guard. Really didn't need a power forward or center.
The only reasonable hole was at small forward where Richard Jefferson isn't a long-term piece. And the Warriors waited as Harrison Barnes fell right into their lap.
Maybe the Warriors would've preferred Michael Kidd-Gilchrist, but Barnes is a prototype NBA swingman, a sizeable, smooth small forward that can score, shoot and has the athleticism to defend and slash. In terms of filling need and grabbing talent, the Warriors made out just about as well as anyone outside of the Hornets.
With the last pick of the first round the Warriors went ahead and took the big and risky center, Festus Ezeli from Vanderbilt. Not a likely immediate contributor, but one with some upside and someone that the organization can show some patience with.
And their second round wasn't too shabby either. They picked up savvy versatile tweener Draymond Green who adds some nice depth and options off the bench.
Finally, they selected Ognjen Kuzmic 52nd overall, who we might not be hearing from again for a while.

IV. Free agency: The Warriors didn't have many remaining holes to fill after the draft, other than tie up loose ends with their own expiring contracts.
They did make two minor moves though. The Warriors signed brusier Carl Landry to add some defense and toughness behind David Lee. A smart signing that just furthers the identity and culture change within the Warriors. And they also traded for Jarrett Jack in a complicated deal that sent Dorell Wright to Philadelphia. Depth behind Curry is smart, seeing as the young point guard has fought constant injury issues in his career.
They also made the wise choice to re-sign Brandon Rush, an underrated shooting and wing scorer that certainly helps the Golden State bench. The Warriors chose to let Dominic McGuire and Nat Robinson walk, wise decisions considering there wasn't much room for them in the rotation any longer.

V. Overall grade and accomplishments: B+
The Warriors very likely could be a playoff team again. There are some major ifs that come with that statement though. If Andrew Bogut returns to form, if Stephen Curry stays healthy, if Klay Thompson continues his climb, if Harrison Barnes pans out, if David Lee rebounds from a beat up season.

But their additions and subtractions all made sense and all seem to have improved the roster considerably. Barnes was a perfect match in the draft. Re-signing Rush was very wise. Bringing in Jack made a ton of sense. And adding Landry should help.
On paper, the Warriors look pretty good. Behind their new ownership, front office and coaching staff, it seems they're pretty close to completing the culture overhaul to go from a defense-free team to a bigger, tougher, more defensive group.
The Warriors though always are an intriguing team and one that teases you into their hype. But in the NBA there's common sense and reality, and the Warriors have some real-life issues to overcome. Most notably, the health of their key contributors. They've made smart, sensible moves, but unless the players play and perform, it won't matter.
It's probably not a playoff-or-bust kind of season for the Warriors, but the team is better and more organized. At the very least, things are headed in a very positive direction for a formerly rudderless, wandering organization.
Fergie: 'I'm a risk taker artistically, but clearly this rendition didn't strike the intended...

Victor Oladipo had a successful R&B album over the offseason and Jamie Foxx is a fan

Klay Thompson makes sure he stands out during All-Star Weekend
There's no shortage of moments to choose from

The Trail Blazers almost traded for Charles Barkley, but when they didn't, it put them in debt...

The self-proclaimed ASG snub Williams may be bitter about Butler requesting to sit out Sun...