Report: Lakers, hoping for LeBron, dragging out coaching search
LA is hoping a Finals loss convinces James to leave Miami, take a paycut and even potentially join Carmelo Anthony.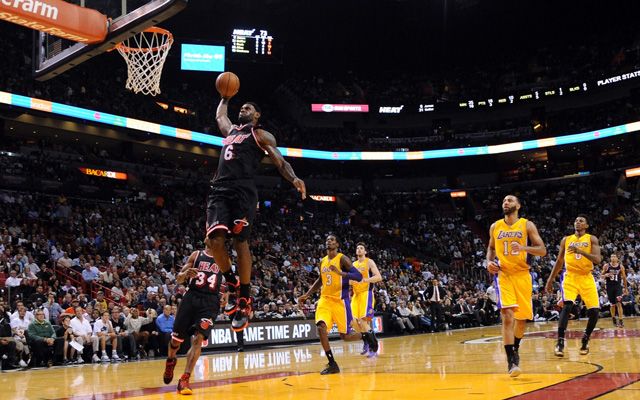 More Offseason Analysis: Coaching changes, news | Free Agency | Draft
USA Today reports that the Lakers are going slow with their coaching search in the hopes of using it to land a marquee free agent in Carmelo Anthony... or LeBron James. 
The slow pace of the Lakers' coaching search that began April 30 when Mike D'Antoni resigned has been timed deliberately with the upcoming free agency period in the NBA, according to a person with knowledge of the situation. Specifically, the idea that the Lakers could beat the odds and land the likes of the Heat's LeBron James, the New York Knicks' Carmelo Anthony or any of the other superstars who may be free agents on July 1 has led the Lakers to plod through their process so as to not limit their potential options. The person spoke to USA TODAY Sports on the condition of anonymity because of the private nature of the search.
via Lakers delay coaching hire with LeBron James in mind.
The Lakers had been thought to have given up on the chase for James for a while, holding cap space open but resigned to the unlikelihood of landing a star, given the situation. But there's been no indication that Carmelo Anthony is excited and on board with the situation in New York under Phil Jackson, who hired a guy still under contract as a player in Derek Fisher Monday. Anthony has a long-standing relationship with Kobe Bryant, and LA would give him a place with a winning history and somewhere his wife LaLa Anthony would be on board with moving (unlike, say, anywhere that isn't Los Angeles or New York). 
For James, it's an... interesting idea, I guess. Do you want to leave the organization that has given you two championships (should the Heat lose the Finals, which is considered to be a key cog in this process, spurring him to look at his options elsewhere), give up the $20 million next season when you can bring back the band for one more run next season, and go join a team whose only long-term piece is Kobe Bryant, who is making $24 million per season and is unlikely to relinquish control of the ball or the team? 
Doesn't sound exactly intriguing. But USA Today also reports that the Lakers could use their cap space to sign Anthony at a discount this summer, clear everything else, and then sign James in 2015, as James is reportedly keen on playing with Anthony at some point. The Knicks have a similar hope, looking to re-sign Anthony this summer, then add James next summer when Amar'e Stoudemire, Andrea Bargnani, and other dead weight contracts come of the books. The biggest obstacle may honestly be Bryant, whose approach to wooing free agents has been to try and make them beg, basically. 
There's a lot riding on these Finals, and big decisions ahead for James. No matter what the next Decision brings, he'll have the power and authority to shape the face of the league for the next four years. 
The Lakers would give James close proximity to Hollywood as  he looks to expand his empire as a media and entertainment entity. James has been reportedly linked to several film projects. His brand power may have hit a plateau in the league... everywhere outside of the Lakers, which are the league's most iconic, and objectively popular team. 
LeBron and Durant both responded to a newswoman's recent comments, telling them to 'shut up...

Mitchell's Slam Dunk Contest win was the icing on the cake of an incredible run of success

Dennis Smith Jr. had a great dunk contest, but the judges didn't feel the same way
Mitchell was awesome, but Larry Nance Jr. and Dennis Smith Jr. had some serious moves of their...

Silver noted that there are many factors at play with the issue affecting both the NBA and...

Jazz rookie Donovan Mitchell came in as a replacement and ended up winning the whole thing