Warriors: Stephen Curry could play more off-ball
Warriors guard Stephen Curry says he wants to be the best point guard in the league, and that idea isn't crazy.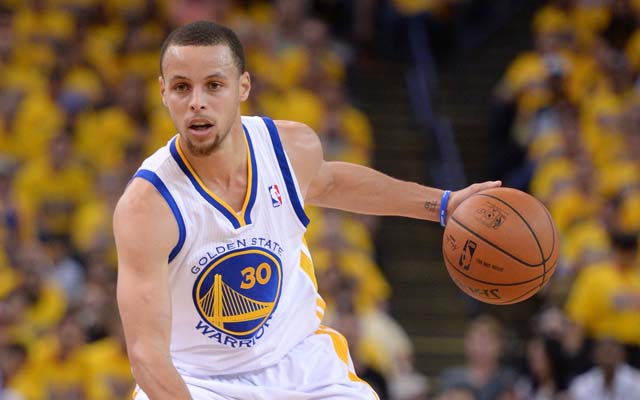 Offseason: Free Agency | Latest from Ken Berger | Rumors
Golden State Warriors star Stephen Curry is a point guard. That's undeniable. He's small, slight, ball-dominant, and he averaged 8.9 assists per game last season with a 39.9 assist rate, good for fourth-highest in the league. 
But Curry was also 16th among all players playing 30 minutes per game in turnover percentage. He had significant turnover issues last year. Furthermore... he's considered to be the best shooter in the league. So would the Warriors be better off with him playing more off-ball under Steve Kerr's system? It's a debate that continues about whether Curry should be the tip of the spear or initiate the offense. Assistant coach Alvin Gentry was on local radio in the Bay areaand the Bay Area News Group transcribed: 
"I think if you talk to Steph, I don't know if he wants the ball in his hands that much at all like it's been in the past," Gentry told KNBR. "It's one of the things we talked about with Steve Nash in Phoenix as he got a little bit older. It's very tiresome when you come down and basically have the ball 80 percent of the time and you're creating shots and everything for yourself as well as other players.

"I think we'll try to alleviate some of that with Steph as far as pitching ahead and getting the ball from one side of the floor to the other, running some pin-downs for him where he can come off and catch-and-shoot, and as I said, try to create easy baskets for him. By ball movement, I still don't think it's going to affect Steph one way as far as the shots that he gets, the assists that he has."
via Warriors' Stephen Curry to play off the ball more often in Steve Kerr's new-look offense - Inside the Warriors.
Here's where it gets interesting. Curry shot the most jump shots off the dribble last season, at 7.4 per game per Synergy Sports. Typically, those are bad shots. But not for Curry. The average percentage on jumpers off the dribble for players who took at least one per game was 36 percent. Curry shot 45 percent. The average points per shot on those attempts was .80, Curry averaged 1.11. That difference is insane. 
That's what makes the question so tough. Curry shot 50 percent on unguarded catch-and-shoot jumpers, 47 percent on guarded ones. So in those situations, he did shoot better. But having a player who can change the tone of the game so dramatically because of his ability to shoot off the dribble is simply something no one else has. When teams start seeing Curry launching and nailing shots off the dribble with no hesitation, it causes a sense of panic to creep in, because you can't guard it. 
What Gentry's talking about is more effectively about bringing the ball up the court, which takes energy, especially when teams are pressing you up the floor, something we're seeing more and more as time goes on. But the idea of taking Curry off the ball has complications. He's more efficient... but perhaps not more effective. 
As for Curry, he's targeting being the best point guard in the league. From CBS Sports Radio's Morning Show:  
"I'm trying to establish myself as the best point guard in the league," Curry said on The Morning Show. "That quest for a championship is something that I value highly. As an organization, Golden State hasn't experienced that since the '70s. Right now, I feel like we're contending for that and have a solid window to try to get that done. So that's my mission. Personal (accolades) will (only be) a part of that mission."
via Stephen Curry: 'Trying To Establish Myself As Best PG In League' « The Morning Show – CBS Sports Radio.
What's crazy is that Curry's probably not far off. Chris Paul's getting older, Deron Williams fell off a cliff, Derrick Rose has multiple knee injury concerns, and Russell Westbrook is still considered eratic. 
He may very well be the best point guard in the league in a few years. He's only going to improve. That's the truly scary part. 
Fergie: 'I'm a risk taker artistically, but clearly this rendition didn't strike the intended...

Victor Oladipo had a successful R&B album over the offseason and Jamie Foxx is a fan

Klay Thompson makes sure he stands out during All-Star Weekend
There's no shortage of moments to choose from

The Trail Blazers almost traded for Charles Barkley, but when they didn't, it put them in debt...

The self-proclaimed ASG snub Williams may be bitter about Butler requesting to sit out Sun...