X's and O's : How does Harden fit with Houston?
How does James Harden fit with the Houston Rockets?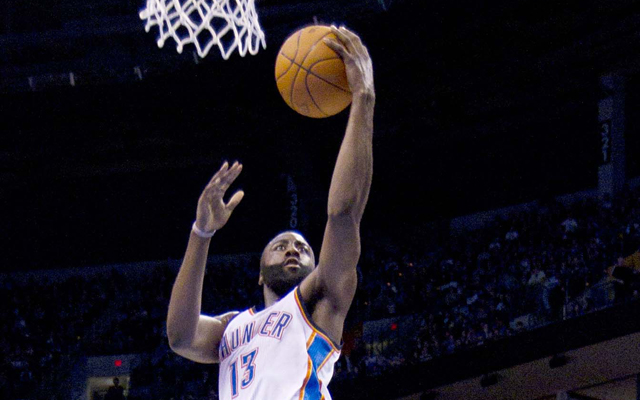 How does Harden fit with Houston?
(Getty Images)
After acquiring James Harden from the Thunder, the Rockets finally have what they feel is a superstar. In Harden, the face of the Rockets is dramatically changed. Gone is Kevin Martin , who clashed with Kevin McHale and struggled with the new rip-through rule changes. Gone is Jeremy Lamb, who was projected to take big minutes as a wing scorer. But in comes Harden.
So what do the Rockets look like now?
Well, for starters, pick and roll is about to become their game. According to Synergy Sports, they only ran pick and roll 11 percent of the time last year. WithJeremy Lin and Harden, they have two players who spend a huge amount of the time in that set. Omer Asik, Terrence Jones, Patrick Patterson, Royce White and Donatas Motiejunas, along with Greg Smith are about to be asked to run that set a ton.
Harden and Lin can work together much the same way Russell Westbrook and Harden worked together, only with Harden in the primary scoring role Westbrook played and Lin as the new Harden, a crafty facilitator. Also, they won't be as good, but that's to be expected.
Harden will also take on a much bigger isolation role and will be tasked with being the primary scorer for the Rockets. Like in OKC, he's surrounded by fast, athletic players who can get out and run (and Asik) but unlike in OKC, he's not flanked by superior scoring weaponry. Harden's usage will shoot up in the starting role, and he'll be tasked with creating offense on his own much of the time.
He and Lin can run some pick and pop action on the wing, but for the most part, Harden is the one who wants and needs the ball in his hand. Harden and Lin will instead take turns initiating, with Harden often becoming the catch-and-shoot recipient should the Rockets find a pick and roll partner for Lin who can draw help defenders.
It isn't a perfect fit. They have a fun, athletic team that can get up and down the floor but McHale rarely lets the horses run wild. He's going to demand a high level of defense from Harden, who has never had the kind of defensive pressure or workload he faces now. And while Jones presents some promise, there is not a great pick and roll big on the Rockets right now.
Many considered Harden to be an underrated star because he did so much on an OKC team with so many other options. We're about to find out if he can create that same level of production on his own.
Deciding who to watch on League Pass can be difficult, but these rankings promise to help

Veteran forward signed a one-year deal with the Knicks in offseason

Knicks forward had his truck stolen out of his driveway
The Celtics will send No. 34 to the rafters in Boston when they take on his old rival

It's never too early to look at June's NBA Draft

Cousins uses some colorful language to get his point across