2014 NFL Draft: Teddy Bridgewater handling craziness like a pro
Teddy Bridgewater's hands are small. His pro day stunk. Or so scouts say. But the poised Louisville star knows, wherever he lands, he'll get the final say on the field.
• 8 min read
More Draft coverage: Mock Drafts | Prospect Rankings | Big Board | News
NEW YORK -- The pre-draft hysteria is swirling like never before and intrigue about the quarterbacks has become dizzying just a day before Roger Goodell begins calling out selections, yet Teddy Bridgewater is calm.
After months of being poked and prodded and having his pro day dissected and his small hands over-analyzed, and at a time where it has become increasingly vogue to drop him into the second round on mock drafts, the young man's perspective is refreshing amid an increasingly ridiculous process.
No matter where Bridgewater lands -- and I maintain it could be to Cleveland with the 26th overall pick -- he understands that he will be able to live his dream of being able to prove himself as an NFL quarterback, and even should he slip out of the first round, as Geno Smith experienced a year ago, the Louisville product seems perfectly equipped to handle the situation.
"My mother told me blessings can be delayed, but never denied," Bridgewater said under a pristine sky following an NFL Play 60 event with schoolkids at Chelsea Piers this morning. "Whether I go in the first round or the seventh round, this is still an incredible opportunity."
It may sound hokey to some, but listening to Bridgewater, it sounds anything but canned. There is a sense of perspective and a sincerity to him as he recalls the last few months, and how went from someone most "draft experts" had projected somewhere around the first overall pick to a kid who now many of those same pundits project won't be taken in the first 32 picks at all. Despite not having played a game or thrown a meaningful pass in that span. Funny how this all works.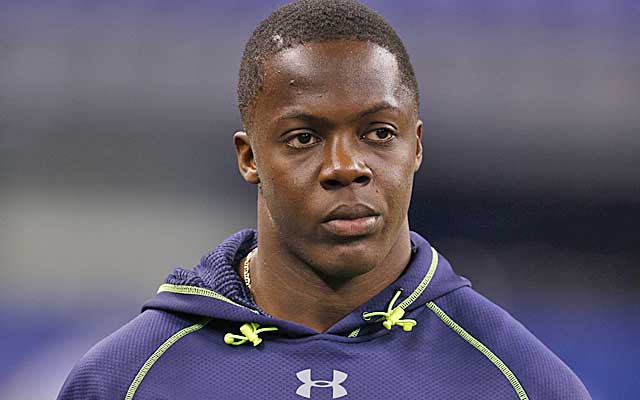 Bridgewater did, however, have a less-than-spectacular pro day, and given that these scripted exercises in futility (again, there are years of game tape on the young man leading Louisville to comeback wins and national rankings and all that sort of empirical evidence) are usually merely a stage for the quarterback to show off, the fact that Bridgewater did not excel might stir some consternation, I suppose. But then again, there is always the game film to go back to, is there not?
Regardless, it was a topic he was asked about several times during Wednesday's informal media session. Bridgewater said he has tried to use the fallout from his pro day, along with the obsession with the size of his hands and how much weight he can carry on his frame as "motivation," and that he largely tried to avoid it, but that's almost impossible in this day and age. He stayed off of Twitter for a while, tried to avoid the Internet entirely at times this spring and didn't tune in to many draft-related TV shows, but there is still that ".1 percent" of the incessant coverage that he couldn't help but fall prey to.
"After the pro day I do feel like I have something extra to prove," Bridgewater allowed, saying he enjoys playing with "a chip on my shoulder." The mock draft madness, in particular, could become a head scratcher if you let it, with stock allegedly rising and falling from week to week while teams go through the evaluation process. Bridgewater maintains that the bizarre nature of it all has actually helped further mellow out the self-described collected individual, knowing that outside of his workouts for teams much of this was well beyond his control.
"I shifted my focus and became even more laid back," he said.
Some of the criticism -- or in many cases even perceived or projected criticism -- borders on the inane and insane. The "report" that teams might blanch on having Bridgewater -- an upstanding, beloved member of the Louisville community, a clean kid whom his coaches adored, the undisputed leader of his football program in college -- as being the "face of their franchise," seemed particularly incongruous, but even that the quarterback has managed with aplomb.
"I was the face of the University of Louisville as a freshman," Bridgewater noted, matter-of-factly. "That doesn't even concern me."
The opportunity to talk football with coaches and display his knowledge when asked to diagram and detect plays on the board, and the chance to spend time in NFL facilities and soak up whatever he can has been the best part of the cycle. Like any top quarterback, Bridgewater's time was always in demand and he says he came away from all of his interactions with teams feeling comfortable, at ease and believing he made a strong impression.
"Every place I've been to I felt the same -- that could be where I spend the next 10 to 15 years of my life," Bridgewater said.
Of course, some teams like him more than others, and Bridgewater is not naïve to that. In what can be a highly reactionary, copycat league where perception becomes reality, this process has in all likelihood taken him out of the top half of the first round. Whether that turns out to be the right move by teams, only time will tell. I have continued to hear that within the Browns' headquarters, however, he has been viewed very favorably and that him tumbling a bit due to his pro day or whatever else is hardly the worst thing in the world as far as that club is concerned.
Cleveland has not been fixated on taking a quarterback fourth overall -- not even Johnny Football, contrary to some reports -- and building offensive weapons around the position, and using their gift from the Colts for the Trent Richardson trade (I'll refrain from calling it a full-fledged fleecing for another year should Richardson finally produce), that glistening 26th overall pick, is where they are thinking passer. Derek Carr, should he be on the board -- and I don't think he will be -- would also very much be in play for the Browns there, I'm told, and while some might wonder if Bridgewater has the weight and the hands to play in the elements in Cleveland, I don't believe that will deter rookie general manager Ray Farmer from following his convictions.
With Brian Hoyer a capable starter who already has incredible chemistry with emerging stud receiver Josh Gordon, Bridgewater could redshirt for a year (the Browns have made no effort to extend Hoyer to this point, who has just one year, and $1M remaining on his deal), and then step in if need be. Adding a receiver like Sammy Watkins to the mix with the fourth pick further bolsters a languishing offense (or Mike Evans if Watkins is gone) and that's a plan that makes sense for the present and the future.
Further fueling the Browns' interest in Bridgewater is an expensive and thorough analytics study the team commissioned evaluating decades of successful NFL quarterbacks and taking all sorts of variables into consideration, according to a source with knowledge of the situation. Team president Alec Scheiner was the brainchild of the study, which was then commissioned by Joe Banner, who ran the Browns until being let go when the front office was reorganized in February.
The Browns, under their former regime, were long in plans to focus on the 2014 quarterback class, unimpressed with the 2013 group and accruing additional 2014 picks to get in position to get the quarterback they desired in this draft. The quarterback study, at a cost of over $100,000, ultimately pointed to Bridgewater having the best success rate of this year's group of quarterbacks, and the trend to analytics is taken very seriously within the Browns organization.
By no means would it be the deciding factor -- and it is a part of the equation like other elements -- but this study also incorporated film review and advanced metrics and is another reason why Bridgewater's slide is less likely to get to the second round as some may think.
Is it possible Bridgewater gets past Cleveland a second time, and that no one trades up for him and he becomes part of the second-round quagmire with Tom Savage and Jimmy Garoppolo and AJ McCarron and whoever else? Sure.
But I expect four quarterbacks to go in the first round and for Bridgewater to be among them. He has none of the attitudinal concerns, or worries about his makeup, that fueled Smith's plunge a year ago, and even then, Smith ended up with a team (the Jets) who like Cleveland had three picks in the top one-and-a-half rounds of the draft and could afford the luxury of stopping whatever fall he has. And in the second round, I wouldn't expect Bridgewater to get beyond the Vikings -- who will be moving into a brand-new dome in a few years -- in that instance.
Bottom line is Bridgewater is going to be a top 50 pick in the NFL Draft -- I don't think even his biggest detractor would argue against that -- which ain't all that bad at the end of the day for anyone, even a highly decorated college star. And that would make this prolonged process -- turned even more upside down with the start of the draft pushed back two weeks this year -- all more than worth it in the end.
"The wait has been it seems like forever," Bridgewater said. "It's amazing, two weeks can feel like two years … But I've learned to be patient."
Patience will be a virtue for the big four quarterbacks in this draft I believe -- Bridgewater, Manziel, Carr and Blake Bortles -- with ultimately all of them landing in the first round. Either way, they realize they are all bonded together now, through time, as the group who didn't get drafted until mid May, who some wouldn't project as first rounders. There's some solidarity there amid the inherent desire to be the first pick of the draft or the first quarterback taken, and certainly a high level of mutual respect.
"We all have a pretty good relationship," Bortles said, standing a few feet away from Bridgewater as the media flocked their way. "We usually don't talk about what other people are saying about is and we definitely each want to be the first quarterback taken -- I know I do, having that competitive edge. But we also want to see each other do well … This is our draft class, and we'll always be lumped together."
And now, finally, in a matter of hours, the noise and predictions will end, they will find out where their professional careers will begin, and they can begin to perhaps prove the naysayers wrong.
He'll reportedly appeal the suspension

Rodgers is eligible to return after eight weeks and the Packers reportedly aren't giving up...

The Packers think the hit is dirty, but the NFL apparently disagrees
Here's every official injury designation for each NFL team for Week 7

If it wasn't already clear, the Packers are not happy with the hit that injured Rodgers on...

Passengers were treated to some explicit chants from the Oakland running back, too