Camp observations: Young (and older) Jaguars have much to prove
First-year coach Gus Bradley has much to fix with the young, unproven Jags. But Pete Prisco says expect these Jags to be in games late because they're tough, feisty.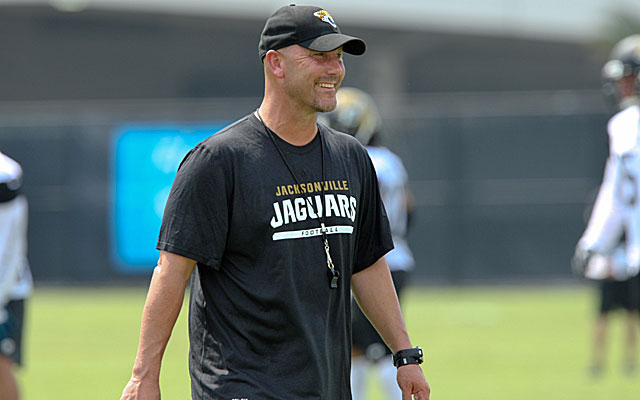 JACKSONVILLE, Fla. -- First-year Jaguars coach Gus Bradley never stops. He is a ball of energy that seems to stay on high all the time.
"I'm a little high strung, I guess," Bradley said.
A little?
"OK, let me change that," Bradley said laughing. "A lot."
And it might be getting even more noticeable. Bradley was recently diagnosed with sleep apnea and now wears an apparatus on his face to help him sleep. Better sleep means more energy.
"Holy cow, talk about energy," Bradley said.
Bradley said his sleep habits showed he was waking up a lot and too early. Now he gets a full night's sleep -- and he's even more up-tempo than he was in the past. That energy helps as he tries to turn around a team that many scouts and personnel around the league say has the worst roster in the NFL.
"That's just noise," Bradley said. "I don't pay attention to it. My effort is on getting the guys we do have better."
Bradley took the Jaguars job after helping transform Seattle's defense into one of the best last year. He could have stayed with Seattle, and some league people wondered why he didn't. Why take a job with so much work to do?
"It's because of the ownership and the general manager," Bradley said "We understand the situation. Now let's go get it done."
•  The Jaguars look to have a future Pro Bowl player in first-round pick Luke Joeckel. The second player drafted last April has come in an impressed with his footwork, his toughness and his ability to lock onto defenders and keep them off the quarterback. Joeckel is playing right tackle with Eugene Monroe at left tackle. When Monroe sat out practice Friday, Joeckel stepped in at left tackle and did a heck of a job. Monroe is in the final year of his contract, so that's something to watch. But I think the Jaguars would love to keep Monroe and pair the two together. In the AFC South, you better be good on the right side of the line to help face J.J. Watt of the Texans.
•  One of the guys getting rave reviews in camp has been rookie receiver Ace Sanders. The fourth-round pick out of South Carolina will likely be an opening-day starter. With Justin Blackmon suspended for the first four games, Sanders will start opposite Cecil Shorts, who has also had a big camp. Sanders will move inside when Blackmon returns. Sanders does not have great speed, but he is quick and he plays faster than his 40 time. The Jaguars were going to use him on returns, but that might change now that he's such a big part of the offense. Young player Mike Brown is a possibility inside, and he's also impressed in camp. But he has to keep moving forward. He's flashed before and then leveled off.
•  Running back Maurice Jones-Drew, who is coming off foot surgery, has shed the extra 20 pounds or so from his body and looks to have his quickness back. Jones-Drew, who is in the final year of his contract, put up some impressive numbers last season before suffering his foot injury. He is one of those prideful players who is driven to prove people wrong. And the talk now is that he is coming to the end of his career, a notion he disputes by saying he was a part-time player early in his career, so he hasn't taken as many shots as some other backs.
•  Denard Robinson received a lot of attention when he was drafted in the fifth-round -- including some foolishly saying he would be the best rookie in 2013. Robinson, a converted quarterback, is being used by the Jaguars as a running back, receiver and is listed as an offensive weapon. They have put in a lot of trick plays for Robinson to use all his abilities. But he has had a tough time adjusting to all the different positions, which has forced him to think more than just react. Even so, expect him to give the offense some explosive ability and expect some trick plays when he is in the game.
•  The Jaguars will have two rookie starters in the secondary. One is corner Dwayne Gratz, who has flashed throughout camp, and the other is safety Jonathan Cyprien. He impressed most of the offseason, but has not been a part of camp after injuring a hamstring before it started. He is expected back soon, and when he does get into the mix, expect him to start.
•  One player who needs to pick it up is defensive end Andre Branch. The Jaguars used a second-round pick on him in 2012, with the idea he could be a 10-12 sack guy, but he struggled as a rookie and so far has not done enough for anybody to think he will have a breakout season as a pass rusher.
•  There have been some impressive younger players so far who could make the roster. Among them are defensive tackle T.J. Barnes, end Abry Jones, linebacker LaRoy Reynolds, receiver Tobias Parker, tight end Ryan Otten and corner Marcus Burley. What do they all have in common? All were signed as undrafted free agents in April. When the draft ended, I said this would be a great spot for players who didn't get picked. That now could end up being true in a big way.
There, I said it
•  The Jaguars will be in a lot of games in the fourth quarter. They will be feisty and tough, which should help them compete.
•  The Jaguars are playing games in London, but they are not going to move there -- no matter what you might think.
•  I am not a fan of the two-tone helmet. I do like their new uniforms.
•  Blaine Gabbert will throw 22 touchdown passes this season.
•  This is Maurice Jones-Drew's last season in Jacksonville.
The Chiefs took a big step toward winning the AFC West title

The Lions cruised to a victory but will need to win out to have any chance of reaching the...

Here's every official injury designation for each NFL team for Week 15
This might go down as the best catch of Week 15

Our computer model simulated every Week 15 NFL game 10,000 times with very surprising resu...

Ryan Shazier and the Steelers were the big winners in Pro Bowl voting that was unveiled on...