Monday Observations: Cousins, Cutler shine under scrutiny
Jay Cutler and Kirk Cousins get the job done under intense scrutiny and make their coaches look good in the process. Elsewhere, the Pats miss Gronk big-time in a tough loss.
• 7 min read
No quarterbacks were more under the microscope in Week 15 than Jay Cutler and Kirk Cousins. Not one.
Cutler was thrust back into a starting role after Josh McCown kept the Bears in the playoff race in his absence, with the season on the line, against a tough defense, with many in his organization believing switching starters now was an accident waiting to happen. Cousins, meantime, was caught up in Mike Shanahan's Theatre of the Absurd in Washington, anointed starter against the Falcons amid a coaching controversy with Shanahan opting to shut down a healthy Robert Griffin III one year after leading the team to an improbable playoff appearance. Consider it an open audition for any quarterback-needy team and, many believe, a ploy by Shanahan to try to hasten his departure from Redskins Park.
In the end, both quarterbacks -- the veteran and the upstart -- fared quite well, all things considered, but it was a tale of two halves for them. Cutler came out shaky, as one might expect after a prolonged absence and in a tough spot, with the kind of turnovers that have led to the Bears not making another long-term investment in him to this point. But he settled down in the second half, began spraying the ball around, received some tremendous efforts from his receivers and the Bears kept their season alive with the win.
Cousins came out firing, making big downfield throws, commanding the offense, running a traditional pocket-passing system and not the hybrid read option stuff the Redskins often favored with RG3. He had the Redskins poised for a win, but then Atlanta made a few adjustments in the second half, Cousins began contributing to his team's seven -- yes seven -- turnovers. Cousins' interception from his own end zone shifted the game in the Falcons favor and the Skins could not quite recover.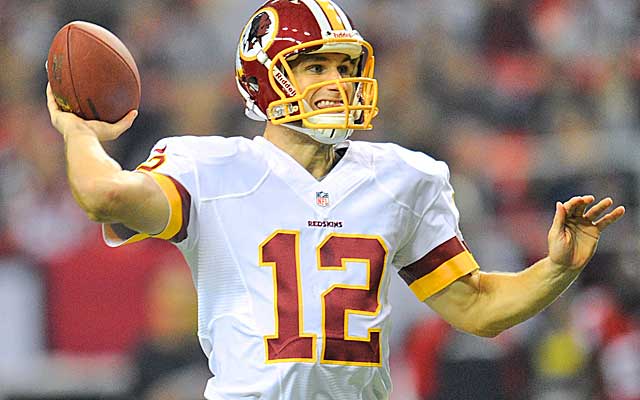 In all, Cousins showed well enough to continue to have QB-starved general managers watching his film closely leading up to the combine (when deals like this are often consummated, though they can't become official until the start of the new league year in March). He threw a nice deep ball, exhibited considerable touch, the game never seemed too big for him and his infectious attitude and rallying presence was obvious with players gravitating to him.
But he remains a work in progress, as well, with some of his decision-making miscues not out of the mold of what RG3 has exhibited in this lost season. We certainly saw new faces emerge in Washington's passing game with a new quarterback at the helm -- tight end Fred Davis and receiver Josh Morgan returned from the abyss -- and Cousins' first-half numbers were sublime (13-of-20 for 248 yards, two touchdowns, no interceptions, a rating of 141), hitting seven different targets in the process.
In the second half, however, things took a decidedly different turn. Even against Atlanta's horrific defense, Cousins looked much more like the novice professional that he is. In the second half he was 16-for-25 for 133 yards, one touchdown, two picks, and a passer rating of 57.6. He still very much looked the part of a budding NFL starter, and this performance won't hurt his case as a viable trade option in what is becoming a thinned-out college quarterback class and given the lack of free-agent options at this most important position.
Cousins is a sponge -- an eager learner who will only benefit from the reps he gets in practice the last few weeks of the season. I suspect his stock continues to rise to the point where the Redskins can get a second-rounder for the former fourth-round pick, which they could badly use given their lack of a first-round pick in 2014 from the RG3 trade. There is a ton to like about this kid, and one would think he would only benefit from a change of scenery from the toxic environment in Washington, especially surrounding the quarterback position.
As for Cutler, well, at halftime Bears coach Marc Trestman must have been sweating some, even in the frigid climate in Cleveland. Cutler threw an early pick on a deflection, tossed a pick-six when he overthrew Brandon Marshall, and was less than productive in the first half, as was the Bears offense. He missed badly on a second-and-15 attempt and Chicago sputtered away a fourth-and-one with a false-start penalty and they couldn't get a play when they needed one.
The Bears entered the half tied at 10 with the slumping Browns with Cutler 13-of-19 for 168 yards, one touchdown, two picks and a rating of 73.9. In the second half, the Bears dominated on the ground, Cutler was efficient on third down when needed and went 9-of-12 for 97 yards with one touchdown and no interceptions (126 rating). Alshon Jeffrey and Marshall made excellent plays for him and the Bears rushed 16 times for 122 yards in the second half after gaining just 57 yards on 15 first-half carries.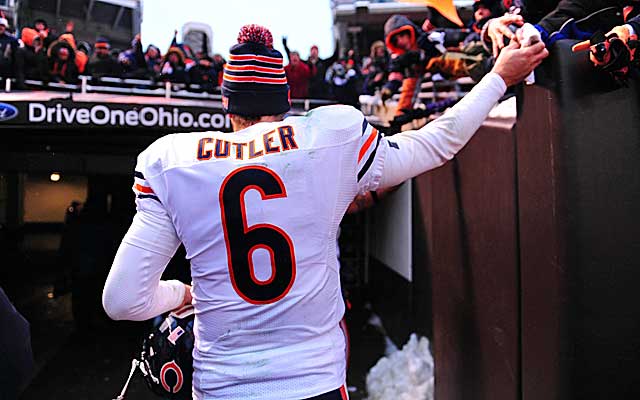 Did Cutler provide the often dynamic aerial display we saw from Air McCown during his spin at the wheel of the Bears' offense? No. Not quite. But it was efficient enough to do the job against a weaker foe, and, like Cousins, I expect Cutler to be sharper from the get-go next week in a huge game against the Eagles. Throwing early picks, however, against a potent Eagles team that can score in bunches, will be much more difficult to overcome, and Trestman's decision remains very much under review.
If you combined Cousins' first half with Cutler's second-half, you'd have a pretty superior day, and overall both responded well under the circumstances.
Patriots missing Gronk, and it shows
For everyone wondering to what degree the absence of Rob Gronkowski might limit the Patriots offense, Sunday's loss at Miami provides just how significant his loss is for New England. It showed up everywhere, in most critical moments, and especially late in the game with the Pats needing a touchdown to win and Brady lacking that massive target in the back of the end zone. Want to know how much it impacted New England? If Gronk plays they win the game.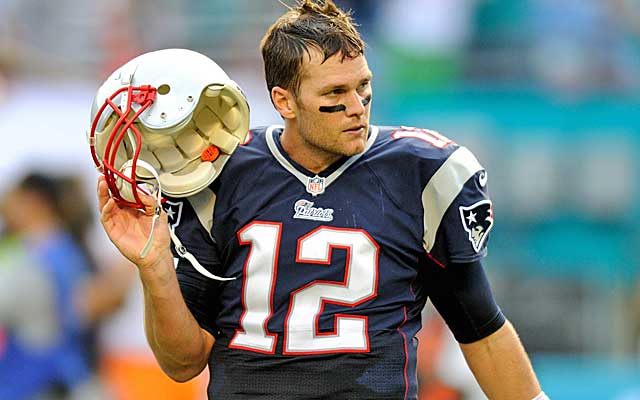 Go back to the quick slant run by replacement tight end Michael Hoomanawanui in the end zone on third-and-five in the dying seconds. Yes, he was being interfered with, but you aren't always going to get all the calls, not even Tom Brady. This target was a good four inches shorter than Gronk, lacks his unique heft and size, and the ball went incomplete, a little high in tight coverage, If Gronk runs that route it's a TD and a win.
With no outside presence at all, and lacking Gronkowski's presence, New England was all dink and dunk to the smallish slot guys -- Danny Amendola and Julian Edelman. They accounted for 23 of Brady's 34 completions and were targeted a combined 33 times. Pretty staggering. They accounted for 270 of Brady's 364 passing yards.
And with injuries again inflicting their receiving group, the lack of a dynamic tight end will continue to be a major issue for them. With Gronk they survived games against the Broncos, Texans and Browns. Without Gronk, the Pats may be in a lot of trouble, with a difficult trip to Baltimore looming; the Ravens are excellent at home and they have had the formula to beat the Patriots in big games going back a few years now.
Extra points
• Miami defensive coordinator Kevin Coyle isn't getting nearly enough accolades for his work with this group. His ability to mix and match and disguise coverages against Brady at the end of the game in particular, with a short field and backed up deep, was critical in this win. All the years working under Mike Zimmer in Cincinnati paid off, and Coyle has been a true unsung hero in Miami, where the ability of this team to shrug off adversity and win against the odds has been one of the better subplots to the second half of this season.
• Am I really supposed to believe the Texans are considering Wade Phillips for the head coaching vacancy? Really? Why is that remotely viable and even worth discussing? His defense got shredded -- again -- on Sunday and the Houston team has given off the distinct air of relative indifference to their season. They look every bit the part of a team that has lost 12 in a row, and they didn't put up much of a fight against a vulnerable division rival, the Colts, on Sunday.
• Does Tom Coughlin really want to come back for another year of this? Is there really a quick fix for the Giants on both sides of the line? Even in the uber-crappy NFC Least, is this team close to being a factor? After another shutout loss and another pathetic performance by his quarterback and his offense, you have to at least wonder.
•Someone suggested this to me the other day, and it made a lot of sense. If the Texas Longhorns can't get one of the big-time coaches they are targeting for their opening, what if the school turned to Greg Schiano? The Glazer family might be willing -- perhaps even eager -- to let him out of his contract to go to Austin to offset, if not negate, what the team owes him. And the school could do worse than land a proven college coach with a strong recruiting background. Just food for thought.
Beckham got injured during the 2017 preseason and then fractured his ankle after just four...

The Eagles were one of the most aggressive teams in the NFL in 2017, and it helped them win...

The ex-Dolphins offensive lineman was detained over a threatening social media post
The Titans are getting ready to unveil a uniform that won't be 'anything close' to any other...

The NFL announced on Friday that 32 compensatory draft picks have been awarded to 15 teams