Spring Practice Primer: Kansas State Wildcats
College football never ends, and during the next few weeks teams will be getting ready for the 2013 season in their spring practice sessions. Here's a look at the Kansas State Wildcats and what they'll be working on this spring.
College football never ends, and during the next few weeks teams will be getting ready for the 2013 season in their spring practice sessions. Here's a look at the Kansas State Wildcats and what they'll be working on this spring.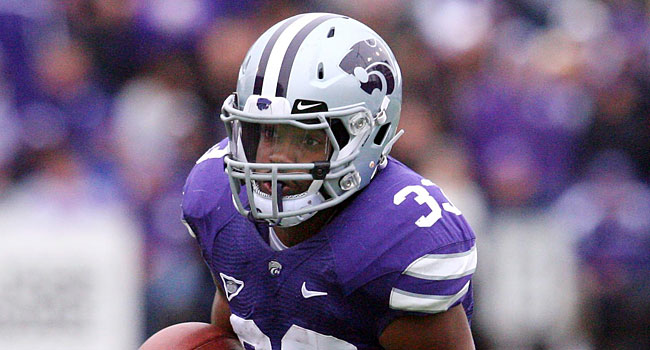 Spring practice began: April 3

Spring game: April 27

2012 record: 11-2 (8-1, Big 12)

Returning starters: eight (seven offense, one defense)
Undergoing a revival of sorts, Kansas State had one of its best seasons in program history last year under coach Bill Snyder. Before a November loss to Baylor, the Wildcats were the No. 1 team in the country and were on their way to playing for the BCS title. However, Kansas State's loss the Bears derailed those hopes, but the program did earn a Big 12 championship and make it to the Fiesta Bowl, where it lost to Oregon, 35-17. Much of the talent on last season's squad is gone, as Kansas State's eight returning starters is tied for third-fewest in all of college football. If the Wildcats are to repeat as conference champions, a strong showing in the spring will be essential and inexperienced players will have to step up in larger roles.

The Least You Should Know About Kansas State This Spring
-- With only one defensive starter returning, Kansas State will have an entirely new core of players and leaders. Starting with the lost production of Big 12 Defensive Player of the Year, linebacker Arthur Brown, the Wildcats don't have one returning starter in their front seven. For a unit that ranked 28th in the country in scoring defense (22.1 points per game), losing all that experience makes spring practice even more important in terms of getting players acclimated to the defense.
Besides the lone starter to return, safety Ty Zimmerman, Kansas State loses 517 tackles, 52 tackles for loss, 26 sacks and 12 interceptions. Those are just the statistics for the starters who have left the program. To help mitigate those departures, the Wildcats have nine mid-semester enrollees, six of whom are junior-college transfers. Among the most likely to contribute are four-star defensive end Devon Nash from Iowa Western Community College, three-star cornerback Nate Jackson from College of San Mateo and three-star outside linebacker Dakorey Johnson from Trinity Valley Community College.
Sophomore defensive end Ryan Mueller generated 14 tackles, three for a loss and two sacks in a reserve role and will be expected to step into a leadership role. Another player to look out for this spring is senior linebacker Tre Walker, who is one of the more experienced Wildcat players. However, with so many holes to fill on defense, a number of players will need to be more vocal and instill a standard of effort to assist defensive coordinator Tom Hayes, who will have his hands full this spring.
-- Kansas State needs to find a replacement for Heisman Trophy finalist Collin Klein. It's never easy replacing a three-year starter at quarterback. When that player is responsible for 68.2 percent of the team's total offensive yards and 39 touchdowns from the previous year, it's fair to say there will be a significant void the following season.
The favorite to take the starting job entering the spring is Daniel Sams, who played briefly in 2012 when Klein went out with an undisclosed injury. As a redshirt freshman, Sams registered 235 rushing yards and three touchdowns but completed only six of eight passes for 55 yards last season.
However, there might be some legitimate competition in Manhattan this spring, as junior-college transfer Jake Waters will be participating in practice after enrolling in January. Waters comes in with experience and a quality pedigree on the junior-college level after he broke the NJCAA record for completion percentage in 2012, converting on 73.3 percent of his passes. He also added 3,501 passing yards and 39 touchdowns with only three interceptions. As Nash's teammate at Iowa Western, Waters led the program to a 12-0 record and its first national championship.
Because Waters will have his chance to earn first-team reps, he might very well be the starting quarterback for Kansas State next fall. Where Sams has question marks about his arm strength and accuracy, Waters is the opposite. Expect this competition to go well into the fall, as the usually reticent Snyder is sure to keep his roster decisions away from the public.
-- No matter whom the starting quarterback is, running back John Hubert is going to be a key player in this offense. Although he was playing in Klein's shadow the past two seasons, Hubert has been a consistently solid player, rushing for 1,917 yards and 18 touchdowns in the past two seasons. The senior was largely efficient, averaging 4.9 yards per carry in the past two years.
Despite his 5-foot-7, 191-pound frame, Hubert has the ability to become the workhorse of the Kansas State offense. With the inexperience of whichever quarterback takes the reins of the offense, Hubert will be a key piece in relieving pressure and expectations. The good news is that Kansas State's offensive line is experienced and one of the team's strengths, with team captain B.J. Finney returning to lead the unit.
Follow Lorenzo Reyes @LReyesCBS
Florida's roster got a boost on Tuesday with the return of several key members of the prog...

Tom Hutton joins the ranks of former Aussie rules footballers joining the college football...

The freshman is already on Heisman lists after throwing the walk-off score in the national...
These seven teams should make the most noise down the homestretch towards signing day

Air Force was forced to cancel 11 athletic events because of the 69-hour government shutdo...

Olson has a lot of the tools offensive coordinators want in a quarterback