Week 9 Schedule Analysis
What's on tap for Fantasy Week 9? Brian Rutherford dives in to find the Fantasy nuggets.
It doesn't happen often, but every team in the league will play at least three tilts this week with busy days flip-flopping from Tuesday's and Thursday to Monday's, Wednesday's and of course the weekend days. So it's going to take quite a bit to wade through all the details and get to some of these trends, let's get started.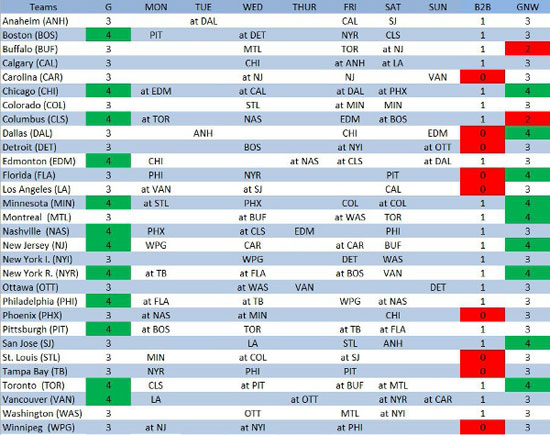 (*All b2b (back-to-back) occurrences are in bold)
Four Aces
This week's Four Aces are loaded with not only team's playing on b2b nights, but a special sub-section of teams with a broader idea.
At the rate Boston (PIT, at DET, NYR, CLS) is yielding goals, their schedule is favorable, especially against teams who have had a hard time finding the back of the net consistently. Although some on staff think Zdeno Chara's big body is winding down and settling in to this underwhelming offensive production, we think he's still got something in the tank. Hang in there Chara owners - he got a goal Saturday. Adam McQuaid could be nearing a return of his own.
Columbus (at TOR, NAS, EDM, at BOS) has an opportunity to turn things around in a busy week against three teams going through the very same growing pains and close it all out against the Bruins in Beantown. Matt Calvert scored in his first game back to the lineup and Nikita Nikitin is contributing at the moment.
Don't look now, but Edmonton (CHI, at NAS, at CLS, at DAL), the NHL's biggest disappointment this season, has won three in a row, albeit against the Flames, Jackets and Panthers. But that includes a seven-goal outburst and (14 shot) shutout by Devyn Dubnyk. As usual, any sign of true competition seems to get the Saskatchewan goalie moving. Regardless, the Oilers schedule gets a bit tougher this week, including a rematch with a likely ticked-off Jackets bunch. We see lots of penalties in that one.
While Nashville (PHX, at CLS, EDM, PHI) is not currently dead last in GF as a team, they just got beat 2-0 by a Rangers team that is tied for dead last. Of course this is nothing new. Preds fans have become accustomed to these facts. Marek Mazanec has allowed just six goals in his last four starts. Although neither Mike Smith nor Sergei Bobrovsky were worth a damn this weekend, you should expect bounce-back efforts. So, perhaps you could see a fang in the Nashville offense against the Oilers and Flyers' netminders. But it will likely need to so without Patric Hornqvist.
Philadelphia (at FLA, at TB, WPG, at NAS) plays three of four away from home, including an early week Florida swing, the Jets at home and off to Nashville. Claude Giroux and Matt Read owners are finally enjoying a slide in the right direction and Steve Mason is reaping the benefits.
Pittsburgh (at BOS, TOR, at TB, at FLA) looked like they were done treading water with a few Metro division wins last week, but a 3-2 loss at the hands of the surging Canadiens tells us they're still a sleeping giant. Nonetheless, James Neal is heating up and after Monday's tilt at the TD Bank Garden, they're very likely to win out the week in a big way. Beau Bennett owners in deeper leagues are still dealing with early career speed bumps. That's music to the ears of Matt D'Agostini.
After hosting the Kings, Vancouver (LA, at OTT, at NYR, at CAR) heads out on the road. A falter could happen in Ottawa as the Canucks have had their sights set on Saturday's game since this summer's "coaching trade" with the Rangers. Alexander Edler awoke from his slumber on Friday and then back to sleep on Saturday.
4x4
In 4x4 we break down the remaining five teams in the league not only playing four games this week, but eight games over the next two weeks. Be sure to note the home-and-home as well as long miles traveled on some of the b2b occurrences.
Chicago (at EDM, at CAL, at DAL, at PHX) is one of the five busiest teams with eight games over the next two weeks, starting with four games on the road this week. Either way, it's not likely Corey Crawford will continue his string of consecutive starts. Antti Raanta anyone? Michal Handzus was activated this weekend and will be deployed at some point during the road trip.
The goalie carousel continues for Minnesota (at STL, PHX, COL, at COL), who has one of the most difficult schedules this week. Niklas Backstrom returned from the IR, victorious no less, but league-leader Josh Harding is considered day-to-day. If Harding's injury is serious, Darcy Kuemper, who really dug a path between Minnesota and Des Moines (AHL) last week, may be fed to the wolves (Avalanche).
After ending a fairly successful trip out west with a 2-1 loss to San Jose, we're not sure what to think of New Jersey's (WPG, CAR, at CAR, BUF) week. Despite the three teams' underwhelming combined record of 23-39-10, the Devils are still looking for an offensive juggernaut to step up. While the Devils are hoping that will be summer offseason signing and river rivalry import Ryane Clowe, he's just now resumed skating. After Martin Brodeur's run in with Brent Burns on Saturday, Cory Schneider figures to get almost all of these starts, but four? A quick glance of Albany's (AHL) team stats suggests Keith Kinkaid could get the call. Kinkaid (7-2-1, 1.97) has certainly been better than Scott Wedgewood (4-4, 2.66).
As you can plainly see, it won't be easy for a slumping Rangers (at TB, at FLA, at BOS, VAN) offense whose only game at home will be the aforementioned and long-awaited matchup of former head coaches. Backup Cam Talbot, who enjoyed his second straight shutout on Saturday versus the Preds, is less likely to enjoy the Bruins as Henrik Lundqvist will likely draw the big grudge match at MSG on Saturday.
Toronto (CLS, at PIT, at BUF, at MTL) has an interesting semi-road trip after hosting the Blue Jackets on Monday. Though all three games will be played in white jerseys, all three are considered regional rivals, so you could see a tough Leafs team this week. Tyler Bozak (hamstring) nearing a return? David Clarkson has two goals in his last three affairs.
Back-To-Back Jacks
In the interest of saving time, with so many teams (21) playing on back-to-back nights, if you DON'T see your back-up goalie's team in Back-to-Back Jacks this week you'll likely not need his services as the number one goalie in town should get three starts.
Despite not being far removed from injury, we'll be interested to see if Carolina (at NJ, NJ, VAN) goes with Cam Ward the whole way as the Canes' schedule is spread evenly. Also, it appears Andrej Sekera is making waves?
It's not so clean in Dallas (ANH, CHI, EDM) as Kari Lehtonen was pulled in Saturday night's contest with St. Louis. Although Lehtonen is due for a slump (or injury), it's St. Louis and not many goalies are exempt from a beating, much less against the Blues offense. We were hesitant to commit to Ray Whitney returning last week, but we're almost positive he'll return to a line with Dustin Jeffrey and Shawn Horcoff this week. With that being said, we like the upside for Jeffrey.
Detroit's (BOS, at NYI, at OTT) Daniel Alfredsson, who had missed the last five games with a pulled groin, is due to return to action Sunday. Todd Bertuzzi's checkered career has truly hit a crossroad. He's hurting again and we're not talking about his goose eggs and minus-8 rating over the last six games. The Red Wings have bigger problems as Pavel Datsyuk finished Saturday's game, but could be undergoing some concussion tests this week.
Florida (PHI, NYR, PIT) really has no other options than Tim Thomas, so this is good news for Thomas owners. It's a week of three different career tales for Thomas as he's posted a hot career record (13-4-2) against the Flyers, poor against the Rangers (5-10-3) and modest (8-6-4) against the Pens. Scott Gomez returned on Friday for those desperate top-six assists fiends.
After winning four straight and six of their first eight to start the month, Los Angeles (at VAN, at SJ, CAL) has lost two consecutive games in OT. They'll look to end the month strong with three Pacific division games. Hopefully Ben Scrivens remains focused, as otherwise this month could end as poorly.
Phoenix (at NAS, at MIN, CHI) spends the week battling hockey's strongest division, the Central. Not good news for a team that could be without Martin Hanzal, although the Preds don't scare the Coyotes. No matter who's in goal for Minny and Chicago it's likely to be a tough matchup. Oliver Ekman-Larsson missed practice on Friday, but still managed an assist against Anaheim on Saturday. Rob Klinkhammer has come back down to earth the past three games and Zbynek Michalek's stay on the IR is still undetermined.
Winners of three in a row, St. Louis (MIN, at COL, at SJ) is like a machine, boasting a 16-3-3 record. The rich get richer as Patrik Berglund returned in Saturday's 6-1 win over Dallas to the tune of an assist.
Tampa Bay (NYR, PHI, PIT) hosts three Metro division opponents. After starting the month 5-0, Ben Bishop was outright pitiful on the team's most recent West Coast trip. But Bishop tightened things up against a tough Ducks team to end the trip on Friday night. Regardless of where Steve Stamkos is at for his rehab, how far the Lightning (five of their next 6 from home) go this week and all season depends on this kid fulfilling expectations.J.T. Brown is seeing more power play time and it's impacting his stat lines. We're picking him up in our deeper leagues.
The pride of Manitoba travels east as Winnipeg (at NJ, at NYI, at PHI) embarks on a six game road trip. But the Jets have a very winnable schedule, or do they? Your call. One thing we do know, if any of these games go to a shootout, clearly Ondrej Pavelec (5-2) is a pretty good bet.
Defensemen aren't Fantasy Hockey afterthoughts anymore. Here is how we rank them for 2017-...

You need to hit on some late-round picks to succeed in Fantasy, so here are a few to target...

Learn how to take advantage of the power play with our rundown of the best units in the le...
There aren't enough top-tier goaltenders to go around in Fantasy, so it makes sense to have...

Forwards are the backbone of any Fantasy roster, and we've got the best of the bunch ranked...

Where should Fantasy owners look for value? Often times they come from the victors in these...