Jon Gruden doesn't belong on college sidelines -- he's a myth
Jon Gruden hasn't coached football in five years, and hasn't been a college coach in nearly 25. So what's the fascination with him?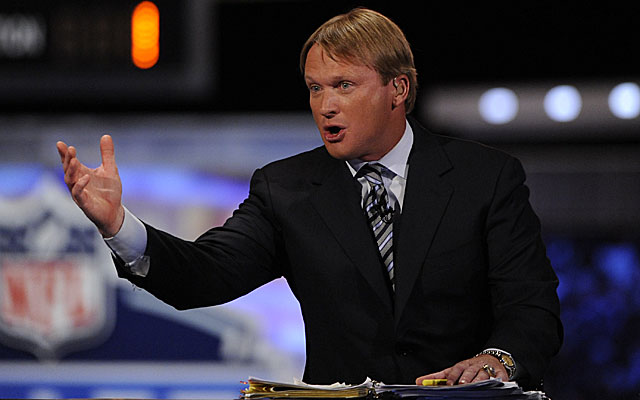 Let's address the latest Jon Gruden college football rumor -- and here I'm assuming Texas is the latest Jon Gruden rumor, though with this guy you never know. Have any great coaching jobs opened in the past few minutes? It can't just be a good opening, but a great one. If it is great? Rest assured his name will appear, linked magically by a "source" for the sole purpose of generating buzz about Jon Gruden, football's most fascinating myth.
In the past few years he has been a target -- real or imagined -- of Miami, Ohio State, Notre Dame, Southern California and Texas. At Notre Dame, Gruden is linked every time the job pops open. At USC, the Los Angeles Daily News had him atop Pat Haden's wish list last month. Before that, we here at CBSSports.com said Gruden wanted the Ohio State job that went to Urban Meyer. Before that? Miami actually interviewed Gruden in 2010.
Just Wednesday, the website that broke the news of Texas coach Mack Brown's resignation reported that a "high-level source" said Gruden is "open to hearing" from Texas.
Look at those schools: Texas, Notre Dame, Ohio State, USC, Miami. Five of the best college jobs in America, all linked to the man, the myth, the leg- -- well, the myth. And the Jon Gruden myth is so out of control, here are five quick facts that folks seem to have forgotten:
1. He hasn't coached in five years.
2. He was fired from that job.
3. One of his most recent jobs in college was in 1989.
4. When he was the receivers coach.
5. At the University of Pacific.
Those are five rather significant lines on the Jon Gruden résumé, but they've been overshadowed by some other lines on his résumé. He won 38 games in four seasons with the Raiders from 1998-2001. He won the Super Bowl with the Bucs in 2002.
And then in the six years after the Super Bowl, he went 45-51. Jon Gruden did. Before being fired in 2008. By the Bucs. Jon Gruden, we're talking about. Yes, him.
But this is the guy people find so fascinating as a coaching candidate. Why? Lots of reasons, starting with the TV thing, where Gruden is so damn likeable on Monday Night Football. He's expressive and telegenic and handsome, and he's so supportive of nearly every coach and player that, boy, wouldn't it be great to have a beer with Jon Gruden? And since that probably isn't possible, maybe my team could hire him as coach.
The TV thing is a powerful aphrodisiac for impressionable fans, but so is this: The longer Gruden goes without coaching a game, the smarter he gets. You know that football aphorism about the backup quarterback being one of the most popular guys in town? That's Gruden -- in pretty much every football town in America.
Sure wish he was coaching my team.
In the NFL, I get the fascination. His career record is 95-81. He had success in two cities where the NFL hasn't been all that successful in the past several decades. He won a Super Bowl. If I'm an NFL owner and Jon Gruden is interested in coaching my team, sure, I would take a long look at him.
But if I'm an athletic director at a big-time football school? Thanks, but no thanks. Not interested in a guy who hasn't coached in college in nearly 25 years. Make no mistake, Jon Gruden might be another monster coach in college. Maybe he's Pete Carroll 2.0, dropping down to the college ranks with all that charisma and NFL experience and crushing it. Maybe.
But if I'm the AD at Texas or Ohio State -- or Notre Dame or USC or Miami -- I'm not hiring a maybe. You know who hires a maybe? Kansas football hires a maybe. UConn football hires a maybe. A school that doesn't have the money to hire a "definitely" is a school that takes a chance on Jon Gruden. A school desperate to upgrade its football program, hoping to distract rich boosters and skilled recruits with something sizzling, hires the guy out of the Monday Night Football booth and hopes for the best.
A school like Texas? Like Ohio State? Schools like that don't hope for the best. Schools like that hire the best.
And with the exception of then-Miami AD Kirby Hocutt, who targeted Gruden back in 2010, ADs at big-time football schools know that. In the realm of Miami football, you know who would have been impressed in 2010 by the hiring of Jon Gruden? The most vapid boosters. The silliest high school recruits. Kirby Hocutt. And that's about it.
The point of this story isn't to scold schools like Ohio State and Notre Dame for pursuing Jon Gruden, because as far as I know, that never happened. The point of this story isn't to scold Jon Gruden for pursuing Texas, because as far as I know, that hasn't happened either. Gruden does have a way of being linked to every big-time opening in college football -- he was linked to Arkansas and Tennessee in 2012 -- but that's not necessarily his fault. Could be his agent, doing what agents often do and inventing leverage for a client. Could be anonymous sources, doing what anonymous sources often do and talking with authority about things they "hear" instead of things they "know." Could be reporters, doing what some reporters do and throwing crap against the wall and hoping it sticks.
Could be Jon Gruden, wanting his ego stroked.
Honestly, I don't know where these Gruden rumors come from. All I know is this: Every time the Gruden rumor happens, a certain portion of the fan base involved -- the impressionable portion, the kind that trusts information it reads from "respected posters" on the local message board -- gets fired up because they think Jon Gruden is a home run hire.
And he's not. He's the Loch Ness Monster of coaching, a distorted image assumed to be something fantastical, something it probably isn't.
Rowdy is the only driver in NASCAR history to accomplish the feat and he has now done it t...

Rowdy took to Twitter after winning Friday night's NASCAR Xfinity Series race

Rowdy will go for the sweep Saturday night after winning both the Xfinity and Truck races.
Truex's Furniture Row Racing teammate Erik Jones will lead to field to green on Saturday n...

Rowdy swept all three stages en route to his eighth NASCAR National Series victory of the...

NASCAR drivers had some fun with Kenny Wallace after he posted a 'crazy story' to his Twitter...