Best Halloween costume ideas for golfers
Halloween is almost here, so we give you our best ideas if you're looking for a golf theme.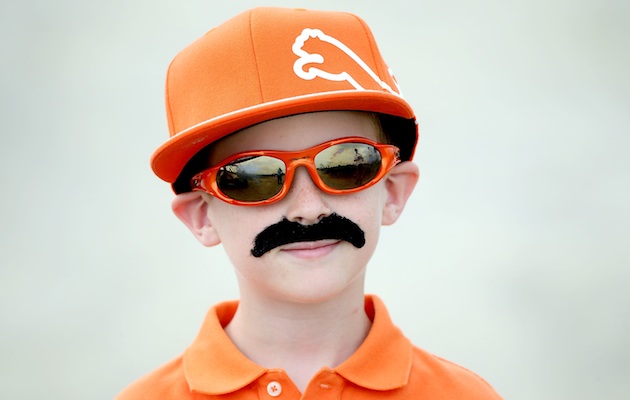 Rickie Fowler

. (Getty Images)
Halloween is just around the corner, but if you're anything like me, you haven't even thought of what your costume should be. Since you're a big golf fan, and everyone knows it, we give you our best ideas for what you can do to golf up your Halloween.
Henrik Stenson -- Strip down in just your tidy whities, carry a golf club, and make your wife/girlfriend wear a visor and be Fanny (his caddie at the time of said incident). If people ask what you're doing, simply saying you plan to play it where it lies.
Bubba Watson -- Everything you carry or use is pink; iPhone cover, keg cup, wallet, keychain. No matter the question, simply answer, "ur welcome." Added bonus: Make fun of France a lot.
Phil Mickelson -- Buy a bottle of bronzer and put that on your face. KPMG hat, floppy wig under it if your hair is short, and walk round with a goofy grin on your face the entire night. Added bonus. No handshakes, only fist pounds and thumbs up anytime you see a friend.
Keegan Bradley -- Visor, uncomfortably tight golf attire, constantly back off while pouring your beer/drink, spit a lot if outside, and make sure to look at things just a tad off center. Make sure to look as intense as possible when having a normal conversation. 
Jason Dufner -- Probably the easiest but best one; put a huge dip in all night, and continue to fall asleep wherever you are. Added bonus: Convince a really hot girl to come with you so you can really pull off the Dufner.
Johnny Miller -- This is a generation combo idea. Wear tight trousers, preferably bellbottoms, and a blonde, floppy wig. No matter what anyone says all night, just constantly remind them that what they're talking about is not nearly as cool as that time you shot 63 in the final round of the U.S. Open. Also, if anyone spills a drink/drops candy/falls out of character, expound on it for minutes on end.
Shaun Micheel -- Dress up us Shaun Micheel, bring around a fake Wanamaker Trophy, try to convince people at the party you really did win the PGA Championship once.
Adam Scott -- Really sharp, tailored golf outfit, 5 o'clock shadow, curly hair wig, Australian accent, and right when people are trying to figure you out, drink your 12 ounce beer out of one of those yardstick glasses they sell at Yardhouse.
If you have any to add to the list, put them below. 
With three months left before the first major, let's look at the field

Find out when and how to watch the 2018 Abu Dhabi Championship live this week

SportsLine simulated the 2018 CareerBuilder Challenge 10,000 times and has some surprising...
SportsLine's Mike McClure, a DFS pro with more than $1M in winnings, gives optimal lineup...

Paris is just nine months away, and it's not too early to start talking about

This week always feels like a big one on the European Tour, and this year is no different