Eye on Golf Equipment: The Oakley Cipher golf shoes
Our Eye on Golf Equipment reviews continue with the Oakley Cipher golf shoe, the lightest golf shoe on the market.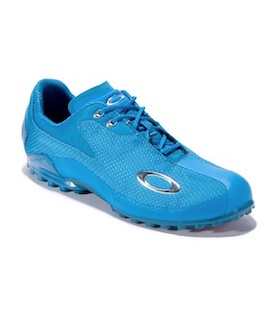 The Oakley Cipher is the lightest golf shoe in the game at just 260 grams.. (Oakley)
Golf is a sport with ever-changing tools. There are drivers, putters, balls, towels, bags, socks, grips and everything in between. Here at Eye on Golf, we're reviewing the latest in golf equipment each week in hopes our words will help you make a better decision on what's best for you. This week, we look at the lightweight Oakley Cipher golf shoes.

Summer is just around the corner. Your shorts are coming out of the closet, rain jackets are being boxed until October, and your golf game is slowly coming out of hibernation. But with summer comes a few things to help maintain yourself, and your game, on the golf course. You must hydrate more. You need snacks and shirts that don't suffocate you as the sun beats down. 
But what about your shoes? You still rocking those old clunky shoes that repel water and weigh more the "Steve Jobs" book? No good. It's summer and you need every advantage you can get.
That's why the Oakley Cipher golf shoes are exactly what you'd want to see as the thermostat starts rising. The lightest golf shoe in the world weighs in at an astonishing 260 grams, and is extremely comfortable for a shoe that doesn't have all the padding of a big, bulky golf shoe. 
How were they able to make it so light? By avoiding spikes in lieu of something called NanoSpike technology. What is NanoSpike? Well, think of an incredibly durable cross between a ping-pong paddle's surface and sandpaper. The bottoms of the shoes are made to literally stick to grass, and while it might seem at first glade that you won't get the grip you'd get from a shoe with thick spikes, it's surprisingly user-friendly on a golf course, especially in dry conditions. 
The good news for those questioning the NanoSpike is that the "pads" are replaceable, so if you wear them down to nearly nothing, you can rip them off and put new ones on the bottoms of the shoes. 
Also, who doesn't love wearing a shoe so light you don't even know it's on? I have enjoyed the color selections Oakley has come out with, with the Fluid Blue being featured up top, but with a larger range of colors (including a really cool red) hitting the market soon. 
If you are a golf shoe freak, and want something new and hip for the summer, pick up a pair. If nothing else, you'll get the foursome talking.
www.oakley.com, $130 (hint, they run a half size large, so if you're a 12, get 11.5) 
This season will fascinate as old stars converge with up-and-coming superstars

With a single golf lesson up for auction, Tiger Woods changed some lives forever in Texas this...

The Days have had a rough 2017 from beginning to end
Why in the world would a former FedEx Cup winner hop on 24 hours worth of flights this wee...

Following the debacle at the ANA Inspiration earlier in 2017, Thompson has some thoughts

Fowler is as good as it gets on the PGA Tour