Greg Norman: Tiger Woods is intimidated by Rory McIlroy
Talking about the state of the game, Greg Norman said he thinks Tiger Woods is intimidated by the young talent of Rory McIlroy.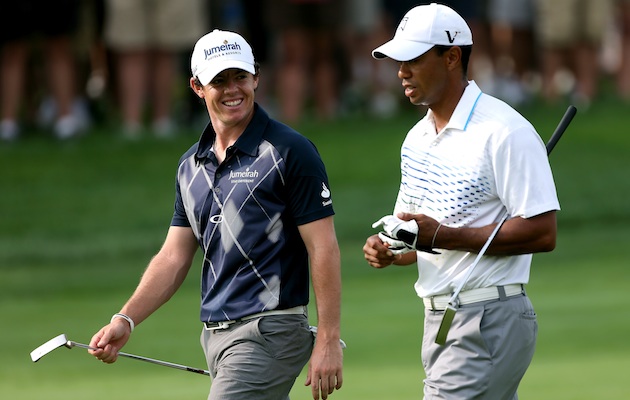 Rory McIlroy and Tiger Woods seem to enjoy being paired together during FedEx Cup play. (Getty Images)
Hardly a day passes without someone tossing in their thoughts on Tiger Woods. His golf game, his personal life, his attitude, his whatever ... if there is something to be said (or more importantly, nothing to be said), it'll come up.
So when Fox Sports sat down with Greg Norman and talked about all things golf, the idea of Tiger and his newfound relationship with Rory McIlroy was discussed.
Norman said he thinks Tiger actually is intimidated by McIlroy, thus the reason that he's let McIlroy into his circle so fast -- unlike any other professional golfer ever has (well, any other dominant professional golfer).
"What I'm seeing is that Tiger's really intimidated by Rory," Norman said. "When have you ever seen him intimidated by another player? Never.

"But I think he knows his time's up and that's normal; these things tend to go in 15-year cycles. Jack took it from Arnold (Palmer). I took it from Jack, Tiger from me and now it looks like Rory's taking it from Tiger."
Now, I won't even address the fact that Norman passed over about four worthy adversaries to Jack Nicklaus in his baton-passing analogy (Tom Watson? Lee Trevino? Seve?), but what I will say is that there might be something to the idea that Tiger is friendlier with McIlroy because he sees the sun setting on his dominant career (and make sure you read that I said "dominant career" and not career) and Rory's seems to be peaking.
McIlroy's golf game is currently in the place that a lot of us hoped it would be. He is the next big thing in golf and to see him winning big tournaments in bunches is great because sports are better when someone is dominating. Be honest, how fun was it with the carousel of No. 1s in the world? Not much.
Does this mean Tiger is necessarily "intimidated" by McIlroy? I don't think so. He could be jealous of where McIlroy is with his game or even with his career, but I don't know if I'd say he gets out on the golf course and wilts to McIlroy's dominance. I think that the buddy-ship between the two stems mostly from the fact that the two have so much in common (remember, even McIlroy has had to deal with some personal problems after he split with his ex-girlfriend).
Not many PGA Tour golfers can grasp what Tiger goes through on a daily basis. But McIlroyhas been under the microscope all his life and there is a kinship there from someone who has a small dose of what Tiger has been dealing with.
And face it, McIlroy is a likable kid. I've had a chance to hang with him for a few minutes and he's a nice, normal guy who happens to be incredible at golf. 
Do I disagree with Norman that the baton is being passed? Absolutely not. You'd have to be crazy not to think that it's happening before our eyes. But intimidation? I don't think so. I just think that for the first time in his career (and maybe in his life), Woods has found someone he can actually chat with about the day-to-day process of being who he is. And they can actually do it between the ropes while trying to kick the hell out of one another. 
Find out when and how to watch the 2019 RSM Classic live this week

Find out when and how to watch the 2019 World Tour Championship live this week

SportsLine simulated the 2019 RSM Classic 10,000 times and came up with a surprising leaderboard.
Tiger Woods had a pretty suitable replacement for the No. 1 player in the world

Matthews had a compassionate response after a fan yelled during his backswing

The European Tour's season concludes this weekend at Jumeirah Golf Estates