Winners and losers from the FedEx Cup
The FedEx Cup is over, and we take a look at who won and who lost during these four week playoffs.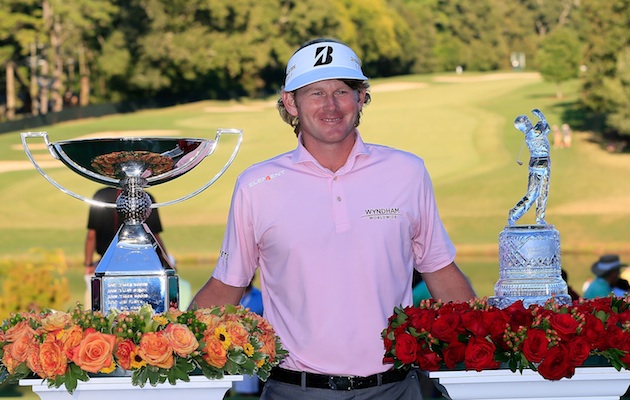 Brandt Snedeker leads our list of winners from this year's FedEx Cup playoffs. (Getty Images)
The FedEx Cup is over, and with it we have both a Tour Championship winner and a guy that gets to take home the $10 million bonus. There are plenty of people that had chances at the big prize and plenty that didn't, so with that we take a look at the winners and losers from this year's FedEx Cup Championship.
Winners
Brandt Snedeker -- The obvious winner who has more than 10 million reasons why, Snedeker took himself from good PGA Tour player to star with his effort these four weeks. His play at the Tour Championship was solid, but it shouldn't overshadow the fact that in four playoff tournaments, Snedeker finished in the top-6 three times. 
Rory McIlroy -- Two wins and another top-10 at the Tour Championship despite a 74 on Sunday, it was a good playoffs for the best golfer in the world and showed he's capable of absolute greatness. McIlroy had 11 straight rounds in the 60s during a stretch in these playoffs. 
Ryan Moore -- All things considered, it's been a rather forgettable year for Moore who had a couple of top-10s in the middle of his season but never really had anything going. That was until the playoffs started and Moore caught fire, finishing T-24 at the Barclays before reeling off three straight top-10s including his T-3 at East Lake. The only thing you could complain about with Moore was his three straight bogeys to finish his Sunday round, but all things considered, a solid playoffs for the amateur sensation. 
Phil Mickelson -- It had been a pretty terrible season for Phil Mickelson if you look past his win at Pebble Beach, and heading into the playoffs he looked to have about as much momentum as a stalled Corolla, but Lefty played solid for the most part these four weeks, including a T-4 at the Deutsche Bank and a T-2 at the BMW Championship. His T-15 at the Tour Championship wasn't his best stuff, but the playoffs at least gave Phil some life that was very much needed.
Losers
Tiger Woods -- It's hard to call the guy a "loser" for how he played in these playoffs, but Tiger is measured on wins, and he couldn't seem to close out a single tournament when he got himself in the hunt. His opening round 66 at the Tour Championship was a good example of how Tiger played towards the end of his season; great to start, but never much of a finish. Woods should have snagged at least one of these playoff events.
TOUR Championship
More Golf coverage
Kyle Stanley -- He was locked in to making the Tour Championship before the playoffs started but a missed cut at the Barclays, a T-42 at the Deutsche Bank and a T-34 at the BMW left him one spot out of the top-30 and thus another year with no free payday at East Lake.
Jim Furyk -- The American Ryder Cup captain's pick had a chance to prove something during these playoffs with a win and after his ninth place finish at the BMW it seemed he was set to do that, but a weekend struggle at the Tour Championship (the triple bogey on the 17th on Saturday sure hurt) showed he's still not ready to close out a tournament. Furyk is heading into Medinah as the biggest question mark for the Americans, and these playoff sure proved that.
Lee Westwood -- Talk about looking uninterested during the final leg of the playoffs, Westwood finished dead last at the Tour Championship after tying for second at the BMW. He's a great golfer, and should expect a ton out of his game, but no way should a guy like this finish with no rounds in the 60s at East Lake.
The next season of golf has a real chance to be one of the best any of us has ever seen

This season will fascinate as old stars converge with up-and-coming superstars

With a single golf lesson up for auction, Tiger Woods changed some lives forever in Texas this...
The Days have had a rough 2017 from beginning to end

Why in the world would a former FedEx Cup winner hop on 24 hours worth of flights this wee...

Following the debacle at the ANA Inspiration earlier in 2017, Thompson has some thoughts