CBSSports.com NLCS and ALCS predictions
CBSSports.com's baseball experts tell you who they think will go to the World Series.
by

Eye on Baseball staff

• 4 min read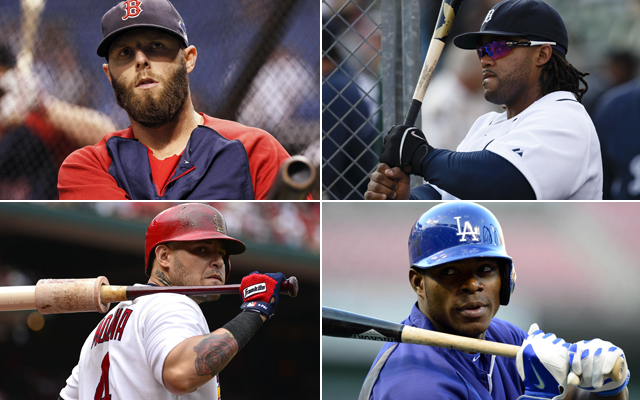 More: Playoff picks | Dodgers-Cardinals: Who has the edge? | Red Sox-Tigers
The matchups for the NLCS and ALCS are set as the Dodgers will face the Cardinals in the National League and the Red Sox and Tigers will battle it out in the American League. So without further ado, here are CBSSports.com's baseball experts' predictions on who will make the 2013 World Series.
ALCS - Red Sox in 7
It's Boston's year, and that's more a feeling than anything. The Red Sox have a great spirit about them, and it's hard to see a weakness. If you do, let me know.
NLCS - Dodgers in 7
The Dodgers have the most talent and the most rest. Hard to pick against the Cardinals in October, but harder to pick against a team that put together a 42-8 streak.
ALCS - Tigers in 7
The Red Sox have everything going for them, but if there's one team they really ought to fear, it's the team that can throw Max Scherzer and Justin Verlander at them twice each in a best-of-7 series (with Anibal Sanchez and Doug Fister splitting the other three games. A healthy David Ortiz is more dangerous than an injured Miguel Cabrera, but as Cabrera showed in Game 5 against the A's, you'd better not make a mistake. Tigers in 7 (with Verlander doing in Game 7 exactly what he did in Game 5 against the A's).
NLCS - Dodgers in 5
The Cardinals have everything going for them, but I picked the Dodgers when the month began because no other team had Clayton Kershaw and Zack Greinke. As much as I love watching Adam Wainwright, Michael Wacha and Joe Kelly, I'm still going with Kershaw and Greinke, who will start four of the possible seven games in this series. Dodgers in 5, with Greinke and Kershaw winning in St. Louis, and the Dodgers taking two of three at home.
ALCS - Tigers in 7
Best as we can tell, Justin Verlander and Miguel Cabrera are rounding back into some semblance of their MVP selves. This is not a good development for the Red Sox. Intriguing does not even begin to describe this heavyweight battle. One thing I like about Boston is that the Sox can beat you in any number of ways -- with power, with speed, by producing runs, and with pitching. But Detroit's pitching is so good, and I'm not sure Boston matches up well with the power arms of Verlander, Max Scherzer and Anibal Sanchez.
NLCS - Cardinals in 6
Could be five, if the Dodgers bring Tom Niedenfuer out of the bullpen. Kidding! Logic tells you that if Clayton Kershaw and Zack Greinke start four games (and possibly five), the Cardinals are going to have a very difficult time. But October is what St. Louis does, and does very well. The Cardinals are deep, well-rounded and battle-tested in the postseason. I think develop a pitching plan to slow down Hanley Ramirez and Yasiel Puig, and I think they get to the Los Angeles bullpen after Kershaw and Greinke depart. The Dodgers are more explosive, but the Cardinals are more consistent. Should be a great series.
ALCS - Tigers in 7
The Red Sox have looked pretty unbeatable in recent weeks, but the Tigers have two rotation titans (Max Scherzer and Justin Verlander) and the best player on either roster (Miguel Cabrera). Short postseason series tend to favor star power rather than depth, which Boston has in spades. Give me the Tigers in seven grueling games.
NLCS - Dodgers in 6
The Dodgers and Cardinals are pretty evenly matched on paper, with strong rotations and deep lineups, so the series could come down to Clayton Kershaw making two starts before Adam Wainwright can make his second. A healthy Andre Ethier would go a long way to helping Los Angeles, who has two offensively dynamos in Yasiel Puig and Hanley Ramirez. This might be the most evenly matched LCS in the long time, but I'll take the Dodgers in six.


ALCS - Tigers in 7
I'm a believer that Verlander's refined mechanics and measured workloads have returned him to vintage form. As such, it's the Detroit rotation that leads me to make this pick. As well, even a hobbled Miguel Cabrera should be able to hit in Fenway.
NLCS - Cardinals in 7
Perilously close series and one that's in essence a coin-flip. I'll narrowly side with the Cardinals mostly because of the way Wainwright and Wacha have been pitching of late. Also, Kershaw's about to hit 250 innings for the season, and you have to wonder about fatigue. 
ALCS - Tigers in 7
Now that the Tigers bats seem to have a bit of life, I'm no longer worried about them. Halfway through Game 4 of the ALDS against the A's, I would have laughed if anyone even suggested the Tigers could take down the mighty Red Sox. I still feel like with that offense, the Red Sox should be considered the favorite. Still, I believe the Tigers rotation has what it takes to limit the Boston offense just enough and that the Boston rotation is vulnerable. Gimme Tigers in seven, with Justin Verlander throwing another gem in a deciding game -- this time Game 7 in Fenway.
NLCS - Dodgers in 6
With Zack Greinke and Clayton Kershaw set to pitch four times in the first six games, the pitching matchups heavily favor L.A. here. There's no formula that is without flaws in the postseason, but picking the best starters is the closest thing to being tried and true, so that's where I am. I'm going with Dodgers in six. And they better do it in six if they want to win the series, because they aren't beating Adam Wainwright in Game 7 in Busch Stadium.
No, you're not imagining things. This MLB offseason has been very slow compared to the last...

Francesa will retire from radio next month, so he'll have plenty of free time next summer

Get your sports fans something that they'll wear all year
Get 15 percent off any order of more than $75 at CBS Sports Shop

The Twins need help in the rotation, and they may look to the trade market to find arms

Here are the bullet-points of what went down Tuesday regarding MLB and the Braves' punishm...