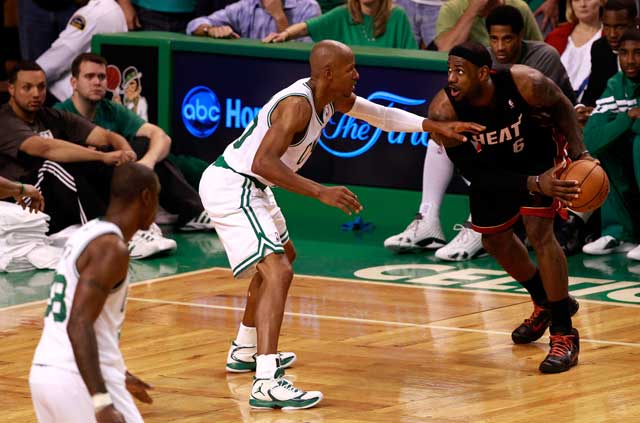 LeBron James and Ray Allen are now Heat teammates, making Miami one of this summer's biggest winners.
(Getty Images)
Most of the NBA's important free agency moves are now complete, just three weeks after teams and players were allowed to begin contact. Let's take a division-by-division look at the winners and losers of the 2012 NBA free agency period.
Southeast Division
Winner: Miami Heat. The 2012 NBA champs had a surgical, precise July, adding two veterans -- Ray Allen and Rashard Lewis -- for a combined $4 million per year. Allen is the major coup, a knockdown shooter with loads of playoff experience and a quick trigger. LeBron James just got another deadly weapon to create space for his drives. The added bonus, of course, is that Allen's addition is also a subtraction from their major rival, the Boston Celtics. Lewis, also known for his shooting as well as his versatility as a stretch forward, provides some extra size and talent to a thin frontline while fitting in seamlessly in the locker room. Together, Allen and Lewis offer some injury protection for All-Stars Dwyane Wade and Chris Bosh, who both missed time during the 2011-12 season and wound up skipping the 2012 London Olympics to get their bodies right.
To top all of that off, Miami didn't lose an important piece from their championship rotation. The Big 3 are all locked in, of course, as are Mario Chalmers and Shane Battier. This is known as loading up. Also known as the rich get richer. 
Loser: Orlando Magic. As of Friday, the Magic were still being held hostage by the ongoing Dwight Howard nightmare. It's been a rough few months for the organization: coach Stan Van Gundy fired, GM Otis Smith sent packing, pinks slips handed out to basketball operations staff members by new GM Rob Hennigan. The Magic, dealing with an ugly salary cap situation, opted to sign-and-trade promising young forward Ryan Anderson to the New Orleans Hornets, even though his contract offer was $36 million over four years, a reasonable figure for a forward who can stroke the three and crash the boards. Orlando at least salvaged Gustavo Ayon from the deal but that's still a net negative, especially when considering the Howard stasis.
Atlantic Division
Winner: Brooklyn Nets. As wild and insane as their spending and financial decisions have been, there's a decent chance no team improves by as many wins as Brooklyn from 2011-12 to 2012-13. No longer is this group just Deron Williams plus a scrap heap. Not only did Brooklyn re-sign Williams, they added an All-Star running mate for him in Joe Johnson, re-signed forwards Gerald Wallace and Kris Humphries and kept center Brook Lopez, who could have value as a player or a trade asset down the road. The role player additions -- C.J. Watson, Reggie Evans, etc. -- all seemed logical and came at the right price.
On paper, Miami is so far ahead of the rest of the Eastern Conference that it's unfair to write off Brooklyn's spending spree as a series of poor decisions because they still can't compete with the Heat. This is a group that hasn't made the playoffs since 2006-2007 and was on the precipice of total disaster if Williams had opted to sign with the Dallas Mavericks. This is a top-4 team in the East and one that established some buzz for its move to Brooklyn to boot.
Loser: New York Knicks. Who else could it be? The Knicks made the single worst -- and most surprising -- decision of the free agency, opting not to match a Houston Rockets offer made to restricted free agent point guard Jeremy Lin. The decision is simply indefensible given Lin's popularity, on-court ability, marketability and value as an asset. Individually, New York's other moves were defensible. Not matching a major offer to Landry Fields was the right move, getting J.R. Smith for less than $3 million per year was a bargain, bringing in Jason Kidd as a veteran reserve made sense, adding injury protection and depth behind Tyson Chandler by adding Marcus Camby and Kurt Thomas made sense, and the Knicks were often creative in how they pulled off the sign-and-trades needed to make it all happen. Even buying low on disgruntled point guard Raymond Felton has some degree of promise. 
But the whole loading up strategy looks a lot more random and desperate without Lin. He was, often, the straw that stirred the drink and the star that made the winning plays. From a standings perspective, the Knicks spent enough money to ensure they won't backslide. But they aren't positioned to make a real run and they sure won't be nearly as much fun.
Central Division
Winner: Indiana Pacers. The Pacers have had a nice run over the last few years, both in the draft and on the free agency market. After the December addition of David West, this summer was mostly about taking care of business so that the team's core, which posted the NBA's fifth best record in 2011-12, could be kept together as much as possible. The biggest move came in retaining Roy Hibbert, who returns on a 4-year maximum contract. An All-Star already, Hibbert isn't a truly dominant center, but he's durable, reliable, productive and fits well with the other frontline pieces. Indiana also did well to resolve their point guard question, inking George Hill to a long-term deal (they did overpay, though) while cashing in Darren Collison for Ian Mahinmi in a deal with the Mavericks. No other significant pieces were lost. Indiana enters 2012-13 with that priceless commodity of continuity.
Loser: Chicago Bulls. Not to be an alarmist, but the Bulls' failure to make any addition of significance doesn't bode well for their championship window. Chicago lost Derrick Rose to a serious knee injury, a devastating development that was compounded by the loss of reserve C.J. Watson in free agency. The Bulls also dumped Kyle Korver to the Atlanta Hawks while facing an expensive decision on whether to retain reserve center Omer Asik, a fairly important member of the frontline rotation. Carlos Boozer is still around and the Bulls are locked into big money through next summer. This summer is a classic example of a half-step backwards feeling like two or three steps backwards, relative to the competition. Rose can't return soon enough; he has a way of making things all better.
Pacific Division
Winner: Los Angeles Lakers. The Lakers reached a point this summer, after their second straight disappointing exit from the playoffs, where it was risk-taking time. The same group was getting older and simply wasn't going to advance out of a Western Conference that looks to be the Oklahoma City Thunder's to lose for the next 3-to-5 years. Full praise due to Lakers GM Mitch Kupchak, who found a way to shake the snowglobe without trading one of his team's three stars: Kobe Bryant, Pau Gasol and Andrew Bynum. The major move, of course, was to acquire All-Star guard Steve Nash from the Phoenix Suns in a sign-and-trade. L.A. paid a real price in Draft picks and assets to get it done but the Lakers haven't had much use for picks in recent years and cash grows on palm trees down in Southern California. Nash is not only one of the NBA's elite play-makers but also a knockdown-shooter that can make teams pay for over-committing to Kobe Bryant. He's got a soothing presence and an understanding of floor spacing that should help both Gasol and Bynum.
The Lakers are so far over the salary cap that loading up with Nash was likely far and away the best option on the board for them. L.A. got better and more entertaining this summer. What's not to like?
Loser: Phoenix Suns. It wasn't Nash's departure -- which was long expected -- that made Phoenix's summer so tough to swallow. Indeed, the best move the Suns made was signing Goran Dragic to a solid 4-year, $34 million contract. He seems ready to run his own show and the deal carries him through his mid-20s. Phoenix also made a fairly smart value play in claiming Luis Scola off of the amnesty waiver wire. The big problem, then, was the logic used to amnesty forward Josh Childress, allow veteran small forward Grant Hill to leave in free agency and to sign perennial knucklehead Michael Beasley to a 3-year, $18 million contract. Take those three moves together and you're looking at an expensive, unreliable and inefficient mess. Beasley, with a lengthy track record of poor decisions, bad behavior and careless shot selection, is never, ever the answer, no matter what the question. He's especially not a $6 million per year answer. His deal is in contention for one of the worst of the summer and makes Phoenix a loser by itself.
Southwest Division
Winner: Dallas Mavericks. Perhaps this comes as a surprise, given that Dallas lost out on the biggest free agent of the class (Deron Williams) and watched two incredibly important pieces of their 2011 title team (Jason Kidd and Jason Terry) leave via free agency. Still, this was a restrained, subtle, solid summer for Mavericks owner Mark Cuban. He replaced Kidd with Darren Collison, a starting caliber point guard with untapped upside. He replaced Terry with O.J. Mayo on a very affordable and flexible contract. He upgraded from Brendan Haywood to Chris Kaman with an assist from the amnesty wire and he used the amnesty process again to pick up Elton Brand, who can still offer valuable minutes. None of the moves was particularly sexy but all filled holes. The Mavericks may indeed be taking a step back next season but there's available flexibility going forward that will likely come in handy as franchise forward Dirk Nowitzki inches closer to the end of his Hall of Fame career.  
Loser: Houston Rockets. The old phrase is that smart executives play chess while others are left playing checkers, but Rockets GM Daryl Morey is playing his own game with imaginary friends and rules that change by the day. Houston followed up what has the potential to be a tantalizing Draft (Royce White, Terrence Jones, plus the arrival of 2011 pick Donatas Motiejunas) with a wild and wacky July. Gone is Houston's best big man, Luis Scola, for nothing in return so far. Gone are Houston's two solid point guards, Kyle Lowry and Goran Dragic, for scraps and a pick. Gone are Marcus Camby and Courtney Lee in sign-and-trades that brought back Toney Douglas and minor assets. The one addition -- Jeremy Lin -- comes in at a good price (3-year, $25 million) but with massive expectations and all sorts of question marks surrounding him on the roster. Is this the situation best suited to advance Lin's game? That's hard to say. All of the liquidating moves seemed aimed at landing a major star player -- possibly Dwight Howard -- in a monster package but we're all still waiting and waiting and waiting. 
Northwest Division
Winner: Denver Nuggets. With the Oklahoma City Thunder tied up with a roster that didn't need much tweaking, the Nuggets stood out from the rest of the pack for their ability to retain their current roster without being forced to overpay. While 4-years and $44 million seems like a lot for goofball center JaVale McGee, the figure is almost exactly right based on the market, and it came without any major free agency drama. Nuggets GM Masai Ujiri is pure business. Denver also retained veteran guard Andre Miller, a nice fit behind Ty Lawson and a great piece to help get the best out of McGee, while also shedding itself of a headache in Chris "Birdman" Andersen. There are many who doubted that Denver's ownership would ever swallow the amnesty pill on a player but dumping Andersen, considering is off-court issues and declining production, was addition by subtraction. The Nuggets also get a little credit here for extending forward Danilo Gallinari back in January. They certainly saved themselves some real money by getting him to agree to a 4-year, $42 million extension; it's possible he would have been in the "near max" category had he entered restricted free agency in July.
Loser: Portland Trail Blazers. It wasn't a disaster for Portland but things didn't fall particularly favorably either. Unlike Denver and Gallinari, the Blazers elected to let small forward Nicolas Batum enter restricted free agency rather than extending him in January. As a result, Batum inked a 4-year, $46.5 million offer sheet with the Minnesota Timberwolves, a deal Portland felt compelled to match given his status as the team's second-best player on its roster. It's better to overpay by 20 percent for a good player than to lose him, without question, but the team's overall series of moves lacked any game-changers. Their max offer to Roy Hibbert was a worthwhile gamble but it resulted in the anticipated match by the Pacers. Portland brought over two European players -- Joel Freeland and Victor Claver -- but neither is expected to be a real difference-maker. J.J. Hickson returns on a good value, one-year contract but youngsters will be expected to replace the likes of Jamal Crawford and Raymond Felton, who left in free agency, and Marcus Camby and Gerald Wallace, who were moved at the March trade deadline. In other words, it's going to be a certain rebuilding year for the Blazers.