2014 Offseason Report: Oklahoma City Thunder
The Thunder drafted Mitch McGary and signed Anthony Morrow. Is that enough?
• 6 min read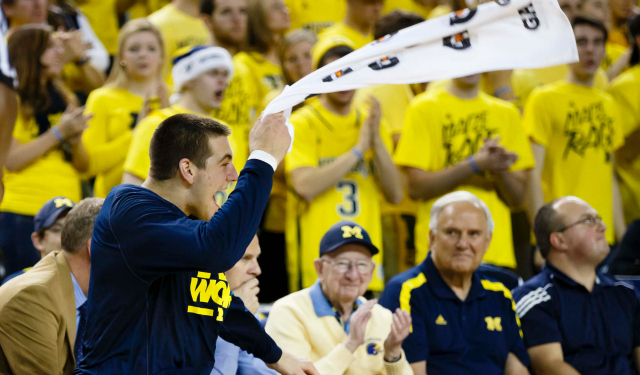 Offseason: Free Agency | Latest from Ken Berger | Rumors
CBSSports.com's Eye On Basketball is taking a team-by-team look at the 2014 NBA offseason. We continue with the Oklahoma City Thunder. Check out the rest of the offseason reports here.
How they finished 2014: The Thunder's season ended in an overtime loss in Game 6 of the Western Conference finals against the eventual champion San Antonio Spurs, who went on to demolish the Miami Heat in the NBA Finals. Oklahoma City was blown out three times by the Spurs, but two of those were without Serge Ibaka. For a team with title hopes, this was disappointing, and it's fair to wonder what would have happened if Ibaka hadn't suffered that calf injury.
Let's focus on what did happen, though. In that elimination game, the Thunder played the same five guys for the final 20 minutes: Russell Westbrook, Reggie Jackson, the current head coach of the New York Knicks, Kevin Durant and Ibaka. 
Caron Butler, who arrived at the beginning of March, got his first DNP-CD that night after shooting 32 percent from the field during the playoffs. Nick Collison and Thabo Sefolosha were bolted to the bench for the vast majority of the series because they didn't contribute on offense. Head coach Scott Brooks didn't trust sophomores Jeremy Lamb and Perry Jones, and was inconsistent in how he used rookie Steven Adams. While San Antonio head coach Gregg Popovich could seemingly make any substitution he wanted without his team missing a beat, Brooks was constantly searching for something that worked. 
Overall, Oklahoma City had a great year. It finished 59-23 despite Westbrook missing 36 regular-season games. It survived tough tests from the Memphis Grizzlies and Los Angeles Clippers in the postseason. Durant never stopped being brilliant on his way to his first MVP award. There were encouraging signs from the younger players. The Thunder just weren't good or balanced enough in the end, not against a team like the Spurs.
Offseason needs: They needed depth. They needed shooting. They needed two-way players. They needed to make sure that, if Brooks was to find himself in an elimination game again, he would have options. If there was a way to add another playmaker to take some pressure off their two superstars, that would help, too.
The writing was on the wall for Sefolosha's departure, and Derek Fisher had to deflect questions about his transition to coaching while he was still playing. Butler was headed to free agency as well, so there was the possibility that there would be a few holes in the rotation. The question was whether Oklahoma City would fill them with established players or rely on internal improvement.
The draft:  After missing most of his sophomore season because of back surgery and then testing positive for marijuana, Mitch McGary entered the NBA Draft rather than facing a one-year NCAA suspension. He only worked out for one team, the Milwaukee Bucks. On the strength of his freshman season, where the Michigan Wolverines went to the NCAA tournament's final game, the Thunder reportedly promised McGary that they would take him. At No. 21, they did.
McGary gives them another skilled front-court player, and he'll presumably battle Collison and Adams for minutes. The 22-year-old power forward was impressive at summer league, averaging 14.8 points and 5.8 rebounds while shooting 50 percent from the field. His lack of length means he won't be a rim protector, but that's not necessarily so bad when you have Ibaka and Adams. The hope is that defensively he'll be physical and quick on his feet, and that offensively he'll be a solid passer and finisher. The upside isn't huge, but he rebounds well and could crack Oklahoma City's rotation immediately.
With the No. 29 pick, the Thunder took Josh Huestis. The forward who spent four years at Stanford could become a solid 3-and-D guy -- think Landry Fields with a jump shot -- but he was reportedly picked with an agreement in place to spend his first professional season in the D-League rather than on Oklahoma City's roster. This has never been done before, and it has been a divisive issue. Regardless of your stance on it, he won't have an impact right away.
The Thunder also sent cash to the Charlotte Hornets in exchange for the No. 55 pick, which they used on Semaj Christon out of Xavier. He happens to be a former high school teammate of McGary's at Brewster Academy. Christon is a low-risk, high-reward selection with all the physical tools of a solid NBA point guard. If he can score efficiently and run an offense effectively, he could be a steal, but he'll probably require patience.
Free agency and trades: Oklahoma City went after Pau Gasol, who would have been a fantastic fit. He would have allowed Brooks to remove Kendrick Perkins from the starting lineup without throwing Adams in there so soon. He could have made plays from the high post and low post, helped the Thunder move the ball more and made them much more versatile. Durant and Westbrook made their pitch, but he wound up choosing Chicago, where he'll make much more money and compete in the weaker East. 
The Thunder also took a shot at Mike Miller for the second straight summer. Miller decided to go to Cleveland, though, so their biggest free-agent signing turned out to be Anthony Morrow for three years and $10 million. That's a fair price for one of the best shooters on the planet. Morrow made 45 percent of his 3-pointers last season for the Pelicans, and he's the type of guy coaches say to never, ever leave on the outside. Oklahoma City could have used someone like him the past few seasons, even with his struggles on defense.
Sebastian Telfair, who spent last season in China, also joined the team on a one-year, veteran-minimum contract. He might not play as much as Fisher did and he's not an acquisition the fanbase will get excited about, but he knows how to run a team.
Butler went to the Detroit Pistons for two years and $9 million -- good for him! --  and Oklahoma City got a $4 million trade exception by trading Sefolosha to the Atlanta Hawks.
Overall grade and accomplishments -- C-plus: The Thunder never do anything huge in free agency. Their entire championship-contending core is composed of guys they've drafted. While changing that to add Gasol would have been nice, it doesn't mean the offseason was a failure. It just means it wasn't a smashing success. No one wanted to take a discount to come to OKC, so the franchise will again look to grow from within.
The progress of Jackson, Adams, Jones and Lamb was a significant subplot last year in Oklahoma City, especially before the All-Star break. As the regular season came to a close, it was clear that half of that group had been lost in the shuffle. The Thunder have developed players better than almost any team in the league, but it can be tricky to do that in the thick of a tight race for the conference's best record. Their relative inactivity in the offseason means that they're betting on more playing time and experience for the new class bringing better results. This is risky, but each of them has a high ceiling. It could very well work out.
Jordan Bell had himself a night against Portland

The younger Ball brothers are heading to BC Prienai, but that could spell trouble

Not many games, but still plenty of action and intrigue Monday in the Association
SportsLine's advanced computer model simulated Tuesday night's Lakers-Knicks game 10,000 t...

The Reno Aces are concerned about the new WNBA franchise stealing their thunder

Hinkie parted ways with the 76ers in 2016 after drastically changing the direction of the...