2014 Offseason Report: Phoenix Suns
Phoenix made some nice moves, but still hasn't signed restricted free agent Eric Bledsoe.
• 5 min read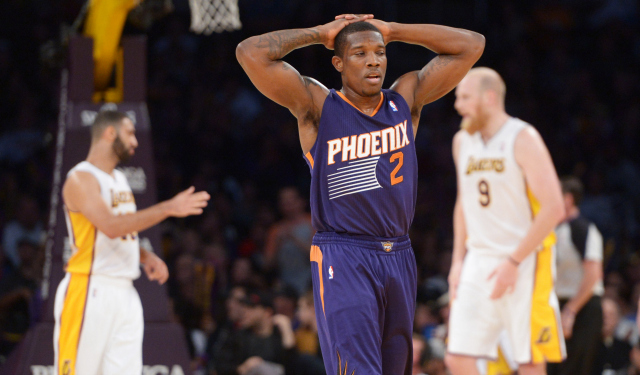 Offseason: Free Agency | Latest from Ken Berger | Rumors
CBSSports.com's Eye On Basketball is taking a team-by-team look at the 2014 NBA offseason. We continue with the Phoenix Suns. Check out the rest of the offseason reports here.
How they finished 2014: The Suns might have been the best non-playoff team in NBA history, which is amazing considering they were supposed to be tanking. New Phoenix general manager Ryan McDonough traded away veterans Marcin Gortat, Jared Dudley and Luis Scola before the season started, and few would have been surprised if Goran Dragic had gone next. It looked like his replacement, Eric Bledsoe, had already arrived, even if the Suns were saying all the right things about them coexisting.
Then they coexisted beautifully. Rookie head coach Jeff Hornacek freed Dragic and Bledsoe to push the pace and make plays. Channing Frye, who had missed the entire 2012-2013 season because of heart surgery, was their perfect pick-and-pop partner. Gerald Green regained the mojo that had escaped him in Indiana. It seemed like things might go off the rails when Bledsoe tore his meniscus at the end of the calendar year, but Dragic raised his game to all-NBA levels when he had to. Phoenix lost some close games at the end of the regular season and finished in ninth place, but reaching 48 wins in the West was a real accomplishment. Especially with a young, improving core.
Offseason needs: Bledsoe was a restricted free agent, and obviously the Suns had no intention of losing him. They also wanted to keep Frye and P.J. Tucker without overpaying them. Bench guards Ish Smith and Leandro Barbosa would be free agents, too, and Phoenix had to work out if it was worth keeping them around with Archie Goodwin waiting his turn. 
The biggest thing Phoenix wanted to add was more high-level talent. The surprising success early in the season reportedly turned the Suns into buyers around the trade deadline, but they ended up deciding to maintain their salary-cap flexibility. They could pitch superstars in free agency, and if that failed they could keep building with what they had, prepared to make a major move later. 
Obvious areas of need were rim protection, rebounding and passing. Really, though, Phoenix looked like it could go after anyone aside from another point guard. Which is a funny statement in retrospect.
The draft: Phoenix took T.J. Warren out of NC State with the No. 14 pick. You can think of him as a budget Jabari Parker -- he's strong, skilled and he scores. The problem is that his range doesn't go out to the 3-point line yet, and the Suns have a bunch of good-not-great players at the forward positions already. Warren has all sorts of moves in the midrange, though, and he lit up summer league.
At No. 18, Phoenix selected Tyler Ennis. The Syracuse point guard is an excellent game manager who almost never turned the ball over in college, and he slipped on draft night. He's great value at that point, but a weird fit for the Suns. They engaged in trade discussions with Ennis' hometown Toronto Raptors, but could not come to an agreement on a deal. 
Bogdan Bogdanovic, taken by Phoenix at No. 27, could be help out on the wing eventually. He just signed a contract with Fenerbahce, though, so he won't play for the Suns for at least a year. Alec Brown, selected at No. 50, dislocated his shoulder at summer league and is expected to play in Spain next season. He's a 7-foot-1 shooter who needs to develop his game overseas. 
Free agency and trades: Frye signed a four-year, $32 million deal with the Orlando Magic early in free agency. This was a reasonable deal for a player with his skill set, and Phoenix will miss him and the floor spacing he brings. It's also understandable that McDonough didn't want to commit that kind of money to a 31-year-old. 
It was cheaper, somehow, to acquire Isaiah Thomas, a restricted free agent for Sacramento, in a sign-and-trade. Thomas received a four-year, $27 million contract, and the Kings received the rights to Alex Oriakhi and a $7 million trade exception. Thomas is underpaid at that price, given how effective and efficient he is as a scorer and pick-and-roll threat. He'll fit right into Phoenix's up-and-down style. It was a great move as well as a perplexing one because the last thing the Suns needed was another point guard. 
To make up for the loss of Frye, Phoenix signed Anthony Tolliver to a two-year, $6 million deal. The second year is mostly unguaranteed. He made 41 percent of his 3s last season in Charlotte, so this was a nice, under-the-radar acquisition. Tucker, who re-signed for three years and $16.5 million, could also wind up playing a bit of stretch four. The third year of his deal only has $3.8 million guaranteed, so that's another solid signing.
The Bledsoe situation remains unresolved. His agent, Rich Paul, could not get another team to give him the maximum offer sheet he wanted. The Suns have offered him a reported four-year, $48 million deal, which is surely less lucrative than what he'd have gotten if he was unrestricted. Neither side wants him to accept the qualifying offer and become unrestricted a year from now, but they're at a stalemate for now.
Smith signed with Houston and Barbosa is still on the market. It would've been hard to imagine them coming back because of the presence of Thomas and Ennis.
Overall grade and accomplishments -- Incomplete: I'd give Phoenix an A if Bledsoe had re-signed by now. It's just impossible to judge this summer fairly without knowing what will happen with him. He's 24 years old, and he played like an All-Star when he was healthy last year. It would be dangerous not to lock him up, even with Thomas as insurance at his position. Let's not forget that Dragic can opt out of his deal at the end of next season, too.
Everything else, though, was pretty solid. The Suns drafted two guys who should at least be rotation players in the middle of the first round, and they recovered fine after losing Frye. While they didn't land a huge star -- they were actually one of the few teams to meet with Rich Paul about LeBron James, though, which was cool -- they got one of the best deals of the offseason in Thomas. If Bledsoe's back, the rotation will be trickier to manage, but there are a lot of good pieces here and not a single bad contract. Phoenix is in an enviable position, and McDonough can afford to be patient.
The Sixers big man got his first All-Star selection -- and maybe some revenge -- on Thursd...

It appears some players are not entirely taking the All-Star voting process seriously

We've got all the scores, highlights and news for Thursday night
There were some weird discrepancies between the fan, media and player votes

LeBron and Steph will be the captains for the 2018 NBA All-Star Game

Arron Afflalo was involved in an altercation with Timberwolves big man Nemanja Bjelica on...