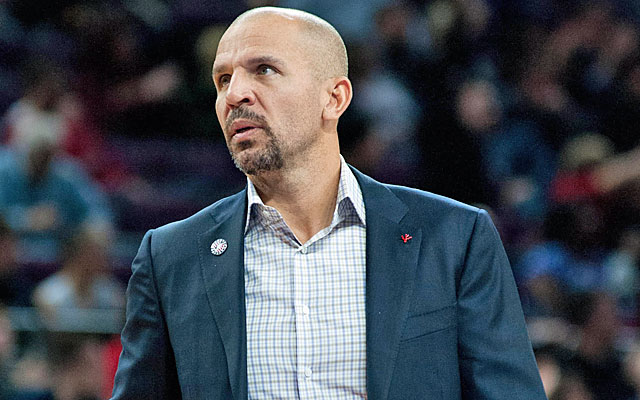 NEW YORK -- Much vitriol has been exchanged in the wake of Jason Kidd's clumsy exit from his job as coach of the Nets, a franchise that he led to consecutive NBA Finals as a Hall of Fame point guard -- and one that he left bewildered in his wake after one eventful season as its coach.
Nets owner Mikhail Prokhorov dropped that line about not letting the door hit you "where the good Lord split you." Kidd, now the coach of the Milwaukee Bucks, lobbed a terse reply as he feigned innocence and ignorance at the same time.
"They keep talking about it; I don't," Kidd said recently. "… I've been in hostile environments as a player, as a coach. It's part of the game."
On Wednesday night, Kidd returned to Brooklyn to face that hostile environment and scored a 122-118 victory for the Bucks in three overtimes. Amid the boos and heckling, the events surrounding Kidd's departure from the Nets have invited scrutiny from league power brokers concerned about how much influence some agents have carved out within franchises, league sources told CBSSports.com.
At issue is the role that Kidd's longtime agent during his playing career, Jeff Schwartz of Excel Sports Management, played in Kidd's attempt to achieve personnel authority with the Nets -- and, when the power play failed, his role in ultimately landing Kidd a handsome raise to supplant a coach, Larry Drew, who had not yet been fired in Milwaukee.
"The blatant disregard for people is unreal," one person involved in the NBA coaching business told CBSSports.com "I can't believe the way these people do business; it's amazing. They just think you can do whatever you want. It's like it's the wild West."
Under review is a rule in the National Basketball Players Association's Regulations Governing Player Agents, which has long forbidden certified player agents from representing coaches, general managers or "any other management representative who participates in the team's deliberations or decisions concerning what compensation is to be offered individual players." The rule has been on the books for decades to guard against the obvious conflicts of interest that would arise if an agent were operating on both sides of a player-management negotiation. The NBPA is the only one of the four major pro sports unions in North America that expressly outlaws the practice.
But under former union chief Billy Hunter's regime, and even before, the rule was rarely enforced, creating an environment in which agents have wielded unchecked power within certain organizations while allowing themselves to be placed in the ethical quagmire of representing players and their negotiating adversaries simultaneously.
"We can't allow the status quo to remain, i.e. people to act in defiance of the rule because the rule is the rule," Michele Roberts, executive director of the NBPA, told CBSSports.com Wednesday. "But I also want to try to do it in a way that makes sense for everyone. If it appears that the rule is not something that we can work around, then it's time to enforce it."
Roberts, elected in July to replace Hunter, has exhibited little hesitance to rattle sabers in her role as a formidable bargaining adversary to the owners. In this regard, she is not vastly different from her bombastic predecessor, Hunter, who was known for incendiary rhetoric. But unlike Hunter, who often kept agents at arm's length in union business, Roberts said she plans to include them in the discussions about reviewing the agent regulations, a task she described as "really high on the top of our list."
"One way to resolve it is to strictly enforce it or to figure out ways for the conflict to be mitigated," Roberts said. "We want to find a way to address this in a way that doesn't cause too much havoc in the industry."
However, havoc is exactly what years of NBPA neglect have wrought in the agent business, an often unseemly arena where rules put in place to protect the players' interests have been circumvented for decades.
Schwartz, a respected and powerful player agent with 36 clients totaling more than $200 million in salary this season, is hardly alone on the edge of the rules. But Schwartz's role in brokering Kidd's exit from Brooklyn, and Kidd's public disclosure of it, brought the widespread existence of such conflicts to the forefront.
Upon arriving in Milwaukee to take over as coach, Kidd and Bucks co-owner Marc Lasry matter-of-factly discussed Schwartz's role in the power play in a nationally televised news conference on July 2. To those familiar with the union's rules forbidding such behavior, and the steps taken by many in the industry to disguise it, such transparency was stunning.
"The process started when Jeff asked for permission, permission was granted and I talked to Wes [Edens, another Bucks co-owner] and Marc," Kidd said. "That's when the ball started rolling. I liked what I heard from Wes and Marc, and from there, it was taken out of my hands."
Kidd said Schwartz was involved in the negotiations among the Bucks' ownership; Prokhorov's top advisor, Dmitry Razumov; and Brooklyn GM Billy King on compensation the Nets received for letting Kidd out of his four-year, $10.5 million contract. The Bucks sent the Nets two future second-round picks, and the Nets hired Hollins, the former Memphis Grizzlies coach. Bucks GM John Hammond and assistant GM David Morway learned of the negotiations with Kidd in the news media.
"Jeff, Wes, Marc, Dmitry and Billy started talking and they found a way to strike a deal," Kidd said.
When free agency began July 1, Schwartz's agency represented several of the Nets' most important players, including point guard Deron Williams, forward Mirza Teletovic and two free agents who ultimately signed elsewhere -- Paul Pierce and Shaun Livingston. Two league sources familiar with the discussions said Schwartz had never tried to leverage Pierce's or Livingston's free agency in the Kidd negotiations. "They were kept separate," one of the people said. But Roberts said the rule is in place to prevent even the appearance of an agent's "undue influence over players because of his relationship with a coach. The problems are obvious."
Reached by phone, Schwartz declined to comment on the matter. As for whether Schwartz or other agents who've engaged in similar activity could be subject to discipline from the union, Roberts said, "Nothing is off the table," but added that her primary objective is to get "definitive answers going forward."
"I am concerned that the union has been as lax as it has been on this question," Roberts said. "… Whether or not we go back and punish people who we determine have been in violation of the rule, we haven't even gotten there yet."
Going back retroactively to punish agents -- who'd be subject to anything from a private reprimand to decertification under the rules -- would cast too wide a net and further inflame the distrust between agents and the NBPA that festered during Hunter's regime. In conversations with players, agents and her newly formed senior management team on this topic, Roberts has learned that the issue is far from unique to Schwartz and Excel. It's endemic to how NBA business is done.
At the very least, it dates back to a 2008 memo that Hunter sent informing agents that the dual representation rule would be strictly enforced in response to complaints about the late Joe Glass and his son Keith representing both players and coaches, such as longtime family friend Larry Brown. The elder Glass was decertified as a player agent, but Hunter never followed through on his threat to enforce the rule.
"They have a lot of work ahead of them if they're going to try to clean up any of this," Keith Glass said. "It's been going on for years. … Either sit down and address it and wipe it clean and put teeth into it or forget it."
With former players like Kidd and Derek Fisher going straight from their playing careers to coaching, the issue has become much more difficult to manage.
"I'm also mindful of the fact that there are players who've had terrific relationships with their agents for many years, and then after they retire, they go into coaching and they'd like to maintain that relationship," Roberts said. "I get that. However, there is the however, and so we need to either agree that the relationship has to come to an unhappy or happy end, or that there's a way to protect against the big evils that are associated with the implementation of the rule in the first place."
Longtime player agent David Falk represented Michael Jordan, Patrick Ewing, John Paxson and Danny Ferry as players but handed them over to non-player agents when they went into coaching or management.
"I want to help them, but there's a reason why there's a rule," Falk said. "… There's such a strong potential for abuse."
Of course, that doesn't mean Falk has never spoken with or advised his former clients once they entered the coaching or management fields. How does the union go about splitting hairs between friendships and agent-client relationships?
Agent Dan Fegan, who represents star players such as Dwight Howard, John Wall and Chandler Parsons, has advised coaches Vinny Del Negro (his client as a player) and Rick Carlisle (a longtime friend), but has never collected a fee from them, league sources said. In recalibrating the agent rules, how can Roberts distinguish between friendships and the arrangements between player agent Andy Miller and coaches Lawrence Frank and Drew? It is widely known in the NBA that Miller has long advised both during their coaching careers.
"I don't think it's realistic to force people into the shadows or make them hire somebody as a front to the guy you're really talking to," Glass said.
The real game changer has been the emergence of powerful sports agencies that didn't exist when the agent regulations were written -- agencies that have found ways to play both sides of the fence without directly violating NBPA rules. Wasserman Media Group, Creative Artists Agency, Priority Sports and Excel have created separate departments and assigned different agents to represent players and management, in compliance with union rules. The NBPA agent regulations apply to individual agents, not agencies, so this is not a violation. But is it still a conflict?
"My company's called FAME," Falk said. "Suppose I set up a separate company called FAME Coaches. I'd have one person working for me to do the coaches, and I'd do the players. I know I could do it, but I wouldn't do it because the reason for the rule is when I walk down the hall and say, 'Hey, let's talk about how much money you're asking for so and so,' you can't separate it out.
"What if the guy wants to be traded and the coach or GM doesn't want to trade him?" Falk said. "Who are you representing? … You can't represent people on both sides of the table without having a conflict."
Excel employs Hal Biagas, Hunter's nephew and a former NBPA deputy counsel who left his union job in 2009 to join Wasserman, headed by powerful player agent Arn Tellem. Biagas, who joined Schwartz's agency in 2012 to represent coaches and management, did, in fact, negotiate Kidd's four-year deal with Milwaukee paying him an average of $4 million a year, league sources told CBSSports.com. But in negotiations with the Nets and Bucks, as described by Kidd himself, Schwartz seemed to be acting as Kidd's agent while representing players on both teams. Roberts said such arrangements may not stand up to her scrutiny of the rules.
"If you've got a company where someone says this section of the company will only be engaged in representation of management and another section will only be engaged in the representation of players, and never the twain shall meet, does that work?" she said. "I don't know. It may or may not be sufficient to protect against the kinds of concerns we have."
Among the most troubling examples of agent influence within an organization has been the tale of the New York Knicks and CAA. At one point last season, various people and divisions of the Hollywood talent agency represented the team's biggest star, Carmelo Anthony; coach Mike Woodson; front office executives Allan Houston and Mark Warkentien; and the Knicks' controlling company, Madison Square Garden, in its arena naming rights negotiations.
"CAA is a highly first-class, professional organization," Falk said. "I think the world of them, and it's a great company. But do you tell Carmelo to stay because it'll increase the value of the naming rights? Do you tell Carmelo to go because it'll harm the value of the naming rights? Whose interests are you following?
"The fact that they work for the same company is irrelevant because it affects the company's bottom line," he said. "… It creates all sorts of questions that put someone in a position that they shouldn't be in. That's why the rule is there. And every lawyer who takes the bar knows that the rule is that a lawyer must avoid even the appearance of impropriety."
Before Miami faced the Nets in Brooklyn this week, a rematch of last season's playoff series, coach Erik Spoelstra was asked if it was surprising that Kidd had moved on after only one season on the Nets' bench.
"Unfortunately, no," Spoelstra said. "That's the part of this business I don't like."
But Spoelstra, represented by CAA, may very well have enjoyed a competitive advantage over other teams in the 2010 free-agent recruitment of LeBron James and Chris Bosh, who along with Dwyane Wade were represented by the same agency. James left Miami for Cleveland this past summer under the new representation of longtime friend Rich Paul, who left CAA and formed the company Klutch Sports. Wade and Bosh stayed.
"Does the fact that it's a company with separate divisions take away the damage if the same company that represents the guys running the team trying to keep the players has other people in the company that are trying to take the players away?" Falk said.
Soon after James returned to Cleveland, TNT's David Aldridge reported that former Warriors coach and current ABC/ESPN broadcaster Mark Jackson had signed with Paul's Klutch Sports agency, leading to speculation that Jackson was angling to take over the Cavaliers' head coaching job in the future. Cavs coach David Blatt is represented by former New York Jets general manager Mike Tannenbaum, who heads up the coaching and broadcasting division of player agent Mark Bartelstein's Chicago-based Priority Sports. But with Jackson, a viable future replacement, sharing an agent (or at least an agency) with James, the potential for Paul's influence to grow in the Cleveland organization is vast.
"It's one thing for an agent to have power because he represents a lot of players," Falk said. "At least they're all on the same side of the table."
In a 2012 issue of the Arizona State University Sports and Entertainment Journal, sports attorneys Darren Heitner and Jason Belzer questioned whether such entanglements violate the Model Rules of Professional Conduct set forth by the American Bar Association. Even this line is blurry, as NBPA certified agents are not required to be lawyers.
"The purpose is to protect the integrity of the league and make sure that it doesn't look like people are self-dealing," Falk said. "I think it makes the league look bad to have these situations."
An NBA spokesman declined to comment on the dual representation issue because agent conduct is governed by the union, not the league. But one GM suggested that the NBA could step in and require coaches and executives to disclose who their agents are. The NFLPA requires player agents to disclose the names of any coaches and executives they represent in their representation agreements with players. The NBPA has no such disclosure provision.
"I'm not dictating what information the NBA might require of their own personnel; I think that would be inappropriate," Roberts said. "The discipline belongs in this shop."
Roberts, on the job since Sept. 22, said she has already been meeting with players and agents on this and other issues and will continue to do so. But in a curious move, she has appointed former player Roger Mason, who last month was hired as part of Roberts' senior management team, to serve as the point man on a review of agent regulations. 
Mason's appointment as the union's director of player relations, after serving on the executive committee under Hunter and championing Roberts' candidacy to replace him, has some agents seething about what they view as the same kind of conflict that led to Hunter's ouster in the first place. Cleaning up agent and union business, it turns out, is a complicated job.
"It's like putting your finger in a dike," Glass said. "It's going to pop out somewhere else."