Carmelo Anthony officially announces return to Knicks
Melo returns to New York on a new website, thisismelo.com.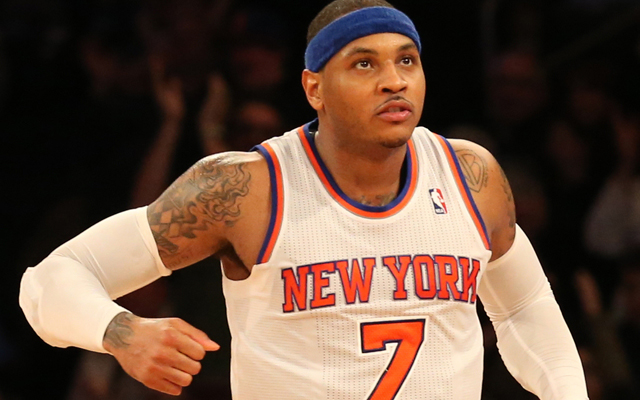 Carmelo Anthony formally announced his intention to return to the New York Knicks Sunday on his new website ThisIsMelo.com.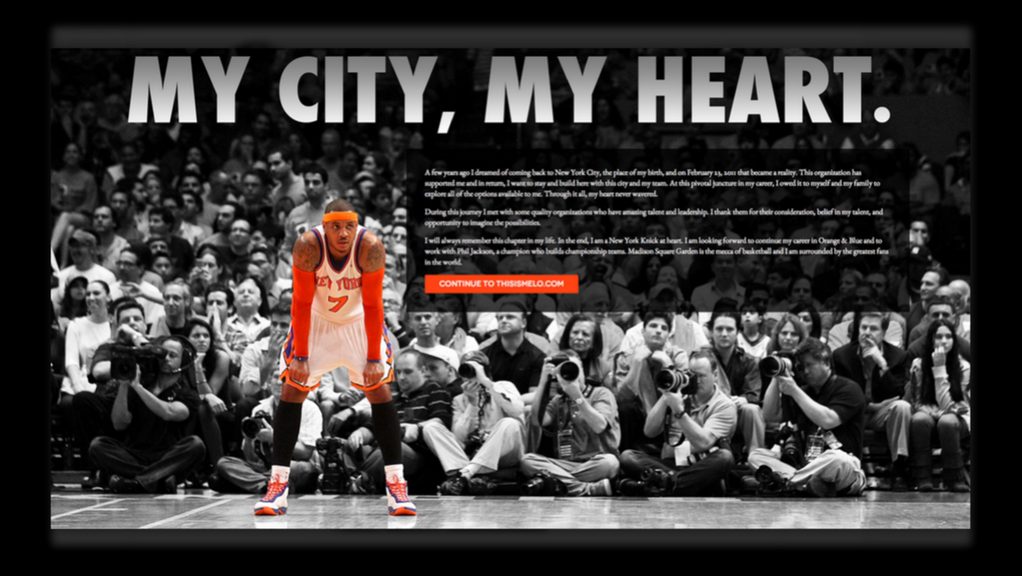 Ken Berger of CBSSports.com confirmed reports Saturday that Anthony planned to re-sign with New York. From the website announcement: 
A few years ago I dreamed of coming back to New York City, the place of my birth, and on February 23, 2011 that became a reality. This organization has supported me and in return, I want to stay and build here with this city and my team. At this pivotal juncture in my career, I owed it to myself and my family to explore all of the options available to me. Through it all, my heart never wavered.

During this journey I met with some quality organizations who have amazing talent and leadership. I thank them for their consideration, belief in my talent, and opportunity to imagine the possibilities.

I will always remember this chapter in my life. In the end, I am a New York Knick at heart. I am looking forward to continue my career in Orange & Blue and to work with Phil Jackson, a champion who builds championship teams. Madison Square Garden is the mecca of basketball and I am surrounded by the greatest fans in the world.
via Official Website of Carmelo Anthony.
Anthony will reportedly not take the full $129 million max contract, taking a slight paycut. 
I'm told Melo will not take the full $129 million from the Knicks. Don't have exact figures but it's north of $122 million

— Chris Broussard (@Chris_Broussard) July 12, 2014
So that's roughly a $1.4 million paycut per season over a five-year deal. The deal gives Phil Jackson a superstar to build around... and a massive contract to try and configure the team around. 
Anthony is back, after what turned out to be a fairly pointless free agency tour in which he saw teams he would have much better chances of winning a title with. The lure of 'home' matters, as this offseason shows, as does, you know, $122 million dollars. 
Cousins finished with 44 points, 24 rebounds, and 10 assists

Love left Saturday's game, which the Cavs lost 148-124, due to illness

Kidd was fired by the Bucks on Monday afternoon
We've got all the scores, highlights and news from an NBA Monday

Leonard was recently shut down again to rehab the nagging quad injury

Durant, who joined the Warriors, says that Capela, the league's most efficient player, has...