Carmelo Anthony sets new Knicks franchise record with 62
Carmelo Anthony had a special night at the Garden, dropping a career-high 62.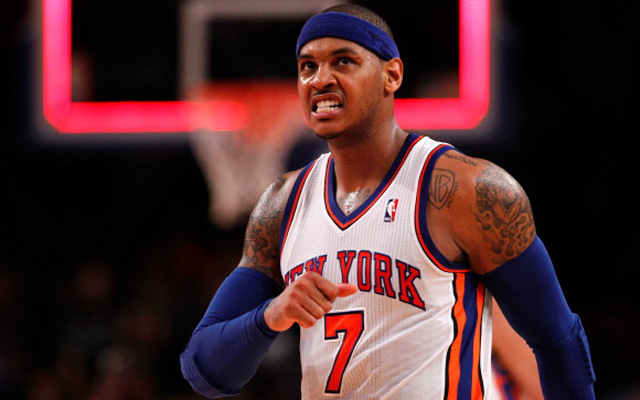 The Knicks haven't had much to feel good about this season, but Friday at the Garden, Carmelo Anthony did something special.
Sixty. Two. Points. 
Two things he accomplished: 1) He retook the Madison Square Garden scoring record from Kobe Bryant, who had 61 in 2009 and 2) he now owns the franchise scoring record, taking it from Bernard King who had 60 on Christmas in 1984. 
Melo went 23-35 from the field, hit 6-11 from 3 and 10-10 from the free throw line. Oh, and he added 13 rebounds to go with it and the Knicks beat the Bobcats, 125-96.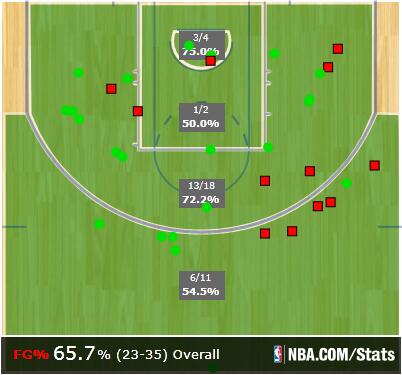 Crazy thing about that shot chart: Anthony had only four makes in the paint. Four! Melo went 13-18 from midrange, which is just wild. 
And another thing: Melo had 56 through three quarters, and only played the first five minutes of the fourth, checking out almost immediately after hitting a jumper to give him 62 and the records. Fun fact: In Kobe Bryant's 81-point game, he had 53 after three quarters. So if the game would've been closer, Anthony might've given that a run. 
In the past 10 seasons, only Kobe has scored more points in a game than Melo (81 in 2006, 65 in 2007). 
Melo's 62 tops Kevin Durant's 54-point performance from last week against the Warriors as the NBA season high. It raised his scoring average to 27.0, which has him second to Durant who is at 31.0. 
It was an incredible individual night, and a nice Knicks win, but a bit of sobering reality: The Knicks are still two games behind the Bobcats for the eight-seed in the East.
Cuban weighed in on the ongoing feud between the basketball dad and the POTUS

Embiid has taken his trash-talk game to the next level this season, but he's not scared

Last year Durant said returning to his old home was 'never going to be a regular game'
The All-Star forward injured his wrist during Sunday's loss to the Lakers

Steven Adams believes he's the problem with the Thunder struggles in the clutch

LaVar claims that Luke Walton has been 'soft' on Lonzo so far