Chris Bosh: LeBron's exit 'revitalized' my attitude as a player
Heat forward likes having the chip on his shoulder as Heat try and stay championship competitive after James bolts back to Ohio.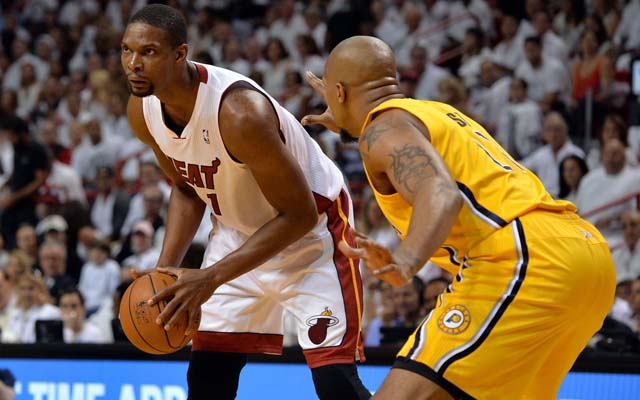 Offseason: Free Agency | Latest from Ken Berger | Rumors
In a Miami radio interview, transcription via ESPN, Miami Heat forward Chris Bosh said he has been "revitalized" by the departure of LeBron James, now that the Heat have a chip on their shoulder. 
"I think we have a very good team," Bosh told The Ticket. "Looking at the guys we're bringing in, we have a chance to be very good. I know we don't have the best player in the world; that's an obvious thing. But teamwise, if we come together we can do a bunch of special things. We're still going to be competitive. It gives us an opportunity to play with a chip on our shoulder. It has revitalized my attitude towards basketball a little bit. And I'm really excited."
via Chris Bosh says he was close to leaving Miami Heat - ESPN.
It says a lot about the mental drain the Heat faced last season while trying to threepeat. Bosh essentially admits he's more motivated without James than with him. But it's a common refrain from players facing a stiff challenge. And while it sounds trite, there's likely some truth to it. Athletes respond to challenges above all else, and trying to compete after the loss of James is certainly a challenge. 
With the additions of Luol Deng and Josh McRoberts, and with Bosh still in his prime along with whatever Dwyane Wade can give, is that enough for a top-four seed and homecourt in the first round? Is a second-round appearance a reasonable goal for Miami? Are we underrating what they can accomplish with that remaining talent; are they actually an Eastern Conference contender? It's a captivating question, and one that will factor heavily into next season's Eastern Conference playoff race. 
We've got all the scores, highlights and news for Thursday night

The Sixers big man got his first All-Star selection -- and maybe some revenge -- on Thursd...

It appears some players are not entirely taking the All-Star voting process seriously
There were some weird discrepancies between the fan, media and player votes

LeBron and Steph will be the captains for the 2018 NBA All-Star Game

Arron Afflalo was involved in an altercation with Timberwolves big man Nemanja Bjelica on...