Court Vision 5.7.14: Pacers even it up
What we learned in the NBA playoffs on Wednesday, May 7th as the Pacers evened it up with the Wizards.
by

Eye on Basketball staff

• 4 min read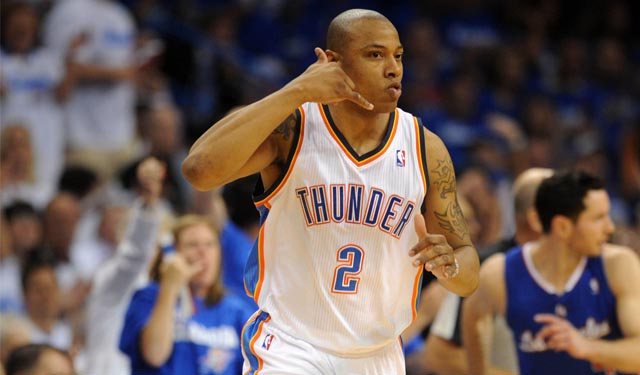 More postseason coverage: Playoff schedule, results | Latest news, notes
Here's what we learned in the NBA Playoffs on Wednesday, May 7, 2014 as the Pacers evened the series with the Washington Wizards and the Clippers and Thunder battled. 
With both home teams needing a victory to avoid an 0-2 hole as they head to the road for the next two, they played the way they needed to play and earned those necessary victories. One team rode an improbable performance by a slumping big man who seemed disconnected from the environment he is playing in and the other team rode their two stars to incredible heights in a big performance. 
Oklahoma City Thunder 112, Los Angeles Clippers 101: Series tied at 1-1
• We learned you can ride your two stars to victory when they give the type of performances that Russell Westbrook and Kevin Durant gave. Westbrook was gifted a triple-double on a curious 10th assist, tallying 31 points and 10 rebounds while making 13-of-22 from the field and playing stellar defense most of the night. Durant had 32 points on 10-of-22 shooting to go with 12 rebounds and nine assists. Durant celebrated his MVP in style and Westbrook showed everybody Durant has an MVP-capable teammate. 
• In Game 1, Chris Paul led a Clippers' offense that took an incredible amount of uncontested shots, according to the SportsVu Player Tracking data available in box scores on NBA.com. 58 of the Clippers' shot attempts in Game 1 came without a defender within four feet of the shot. That number didn't really go down much in the Game 2 loss with the Clippers taking 55 uncontested shots. The big difference is the Clippers made six fewer uncontested shots in Game 2 than they did in Game 1 and they happened to lose by 11 points.
• CP3 was still excellent in this game, scoring 17 points and dishing out 11 assists. He went 2-of-5 from three after going 8-of-9 in the Game 1 win. If he's not going to be dominant like we saw last game, Blake Griffin has to step up and be better than 15 points on 5-of-13 shooting with six rebounds and two assists.
• The Thunder were fairly sloppy with the ball. They had 16 turnovers on the game with Durant and Westbrook each turning it over four times. But the Thunder didn't give up points off of those turnovers. They allowed just 10 points on 16 turnovers, lessening the impact of those mistakes. 
• We had this little collision late in the game, which caused a lot of people to start freaking out. 
Paul went up for a 3-point shot but had his feet on the sideline. Steven Adams jumped into the air to contest the shot, but as he's in the air the whistle blew for the violation by CP3's feet. Then Adams came down hard on Paul, which was a bit reckless, but it certainly wasn't a dirty play. He didn't hit him with the elbow and the laws of physics didn't allow him to avoid the collision. Nothing more and nothing less to the play.
• Westbrook was 10-of-15 on contested field goal attempts. He was just unreal in this game. 
Indiana Pacers 86, Washington Wizards 82: Series tied at 1-1
• We learned that Roy Hibbert's not dead. Hibbert exploded for 28 points and nine rebounds. He was active in the post and on the glass, found open looks under the basket and went smoothly into scoring plays, and played with much better energy. No matter what it was, David West's pep talk, Paul George sticking up for him publicly, or Andrew Bynum leaving the team, Hibbert responded when the team needed him. 
• And it's a good thing he did. The rest of the Pacers were not good, offensively. Paul George 5-of-13, David West 3-of-8, Lance Stephenson 3-of-12. The question is whether the Pacers' offensive struggles were saved by Hibbert's dominance, or caused by them. You can argue that forcing the ball to Hibbert messed with the Pacers' spacing and movement, but late in the game, the Pacers found quality looks on account of the way the Wizards were forced inside. 
• And still, the Wizards had a chance to steal this game. They couldn't hit from the outside (their 10-16 performance in Game 1 was never going to hold), but they were lights out from mid-range, especially Nene. Hibbert got better at covering him as the night went no, but no one else really can. 
• Meanwhile, Bradley Beal is emerging as a legitimate star, with 17 points, five rebounds, and seven assists. Beal is honestly more of a playmaker in this series than Wall is. Wall struggled mightily, with a 2-of-13 shooting performance. He had eight assists, many of them key, but he still had difficulty with decision making. The Pacers switched up their looks they threw at him and it seemed to catch him off-guard. 
• Beal on the other hand, is smooth as icing. He just has tremendous shot selection and understanding of the offense right now. 
• Marcin Gortat was also big. And I mean, big: 
• The Wizards had a poor night from Trevor Ariza and Wall, and still only lost by four. That has to give them confidence going back to D.C., especially since you can't believe Hibbert will score 28 points again... like, ever. 
•  Neither bench did anything. 
• George Hill was the other quiet story for the Pacers. He played patient and took advantage of looks he was given. Wall's defense continues to hound him, but he pulled away with a good game. 
•  This game was more Indy's style. 
Philly and Boston are matching up again after the Sixers' second-half collapse in London

Kris Dunn somehow took a chunk of the Bulls court out with his teeth, but didn't lose any in...

The fallout from the Rockets-Clippers tussle continues; no Clippers were disciplined
DH12 is picked for free throws after a teammate gets ejected. He makes both, and lets Scott...

Bell was injured defending a Robin Lopez dunk and had to be taken off the floor in a wheel...

Trevor Ariza and Gerald Green are reportedly both suspended two games