Delonte West's future in Dallas remains uncertain
After being suspended twice this preseason, Delonte West was expected to be released when the team acquired Eddy Curry. West remains with the team, his future as a Maverick uncertain.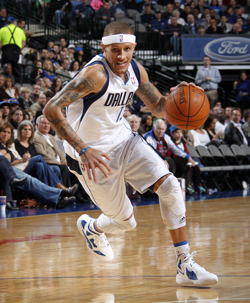 West's situation with the Mavericks still hasn't been resolved.
(Getty Images)
After reports that the Dallas Mavericks would be releasing Delonte West to make room on the 15-man roster for newly acquired Eddy Curry, Mark Cuban is now saying there hasn't been a decision made on West's future with the organization.
West has been suspended twice this preseason for conduct detrimental to the team. This was allegedly stemming from an incident in the locker room, after which West took to Twitter to semi-cryptically voice his frustrations. And with Curry being claimed off waivers despite the Mavs already having 15 players under contract, it was speculated that West would be the odd man out.
Cuban says not so fast (via AP):
Cuban said he will make the final call on whether West could return to the Mavericks after he was suspended indefinitely Thursday for conduct detrimental to the team.

''The best way to sum it up is no decisions have been made one way or the other,'' Cuban said.

''There's been no decision to waive him or anything like that,'' Cuban said. ''It could go either way. I haven't made any decisions.''
At this point, something has to happen with the roster. The Mavericks have 16 players with Curry and there are three players who would be the most likely candidates to leave. West, Brandan Wright, and Bernard James have contracts worth under $1 million dollars. James' deal runs through 2015 but is only fully guaranteed this season.
Wright and West both have just this season on their contracts. Considering the Mavericks just claimed Curry because of a lack of depth inside, it's unlikely they'd turn around and get rid of Wright and James because of a numbers game. This makes West seemingly the odd man out.
Technically, they could just get rid of Curry like he never signed, but a lot of that decision probably would be based on the severity of Chris Kaman's injury. Kaman strained his Achilles, presumably prompting the Mavericks to find a replacement big man for the short term. If Kaman is healthy enough to play this coming week, the Mavericks could keep West and pretend this whole thing never happened.
Durant, who joined the Warriors, says that Capela, the league's most efficient player, has...

Jason Kidd's firing gets the celebratory balloon treatment on Milwaukee's Twitter page

Milwaukee has parted ways with its coach in the middle of his fourth season
Larry Hartstein has his finger on the pulse of the Clippers and locked in a play for Monday's...

Our advanced computer model simulated Monday's Heat-Rockets game 10,000 times

Portland is among a few teams that have reportedly tried to engage in talks for the Clippers...