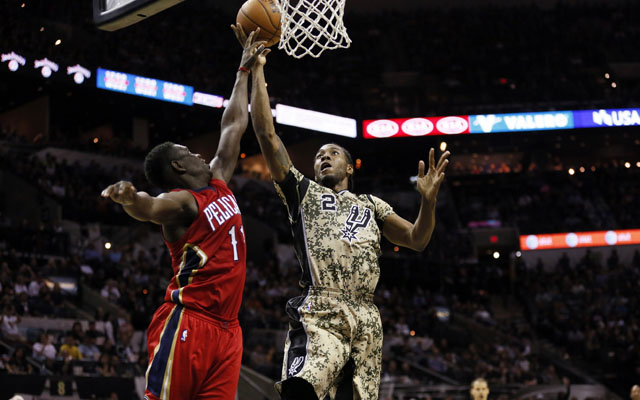 San Antonio Spurs forward Kawhi Leonard missed the first few games of the season and most of the preseason with an eye infection. Since he returned, he's off to a 12-for-39 start this season, and the Spurs have fallen to 2-3 (same record as those Cavaliers who are in so much trouble). 
Leonard told reporters Saturday that his eye is still not right, and that's likely affecting his shot. 
"My right eye, the vision's not all the way back yet," Leonard said. "Hopefully I can heal up soon. I've just got to keep competing so I can get used to it and get my rhythm going."

The MVP of last season's Finals, Leonard says his right eye still goes cloudy from time to time. He is still trying to work through the problem. Doctors have told them there is little else they can do for him, but the issue should correct itself over time.

"It just has to run its course," Leonard said. The doctor (team eye specialist Dr. Ed Rashid) said there were some military guys who had it for weeks and some for months."
via Leonard says right eye still blurry - Spurs Nation.
I had pink eye in both eyes at one point last year (young people, if you ever have toddlers, buy hand sanitizer by the gallon). It was miserable and since my job is watching sports for a living, things kind of got difficult. And that's nothing compared to trying to make shots with Anthony Davis closing out on you and sweat in your eyes. 
Leonard will probably be fine, but the wear and tear from consecutive trips to the NBA Finals probably has worn on him a bit, too. He missed Team USA to let his body recover. We'll see how long it takes for him to get back on track.