Mike Tyson thinks what Dennis Rodman has done is 'treason'
Because really, when you have an already crazy story, you want to add a little Mike Tyson to the mix.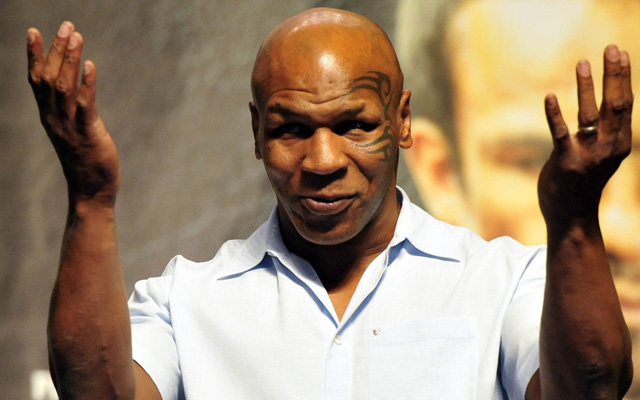 Because this whole Dennis Rodman-North Korea story wasn't crazy enough, let's add some Mike Tyson, how about? 
After Rodman apologized for his comments  regarding Kenneth Bae and for flipping out at a CNN anchor this week, the former heavyweight boxing champ has decided to weigh in with his thoughts. He's not a fan of Rodman, if you were wondering. From CBS Philly: 
"[Rodman] lost it. They'll probably arrest him when he gets back in this country. When you see [former NBA player] Charles Smith, who you know is a decent person. I could not believe that Charles Smith would be involved with that, unless it was something advantageous for him," Tyson said.  "But I couldn't believe, Dennis Rodman, who's leading the way. Man, it's such a disappointing factor. It just wasn't good. And it didn't help the cause. Look, nobody can stop me from making a fool of myself, but that was some really, some really bad stuff. It wasn't even funny. It was like, a [fictional] scene. You couldn't even believe that's real. If I would have woke up in the middle of that, I would have thought it was a sketch or something. It was really some bad stuff, when you look at it. And he put those other guys in a bad predicament too. They may never get a job to work with, to be involved with the NBA again, for life."

"It's treason. It's treason, 100 percent. Look, I'm not politically incarnate or anything, but when you examine what treason is, it's treason," Tyson said. "He's in another land, that's an enemy of our land, and he's talking [expletive] on us. He's talking really bad to our guys over there."

"And he's defending [North Korea]. And plus they've got one of our guys over there in prison, and he's defending them, saying 'do you know what that guy did?' Well you don't either," Tyson said.  "You become his lackey. He must have paid them with money, I'm sure he's getting paid. I'm sure Dennis is not doing this out of the kindness of his heart."
via Mike Tyson: 'Dennis Rodman Is Guilty Of Treason' « CBS Philly.
Rodman was in North Korea this week visiting his friend Kim Jong-Un, whom he sang happy birthday to while hosting a series of basketball camps with other former NBA players. Rodman has been an outspoken advocate in favor of North Korea and urging the US to ease its diplomatic tensions with the country.
Let's be clear on this, when Mike Tyson is telling you you've gone too far and is acting like the voice of relative reason? You're in a bad place. 
Pretty sure Rodman's not going to be held on treason charges, however, what with this country's feelings on free speech ... despite the comments having been made on foreign soil. This situation has reached epic-crazy proportions and adding Mike Tyson to the mix only makes it that much more guano insane. 
Let's get Lindsey Lohan and Miley Cyrus to weigh on this issue next. Can we, please? 
20 teams have reportedly inquired about Irving's availability, with six already making off...

A year after his own high-profile franchise switch, Kevin Durant chimes in on Kyrie Irving

Miami is on Irving's list, but this package still wouldn't be enough to get a deal done
Some teams want to fight the Warriors, others want to 'fight' for the right to draft Michael...

Oklahoma City has reportedly offered the MVP a five-year extension worth over $200 million

The big man was a big part of the Warriors' championship run last season