Pistons' Andre Drummond: 'I'm not shooting free throws underhand'
Detroit Pistons' center Andre Drummond responds to a free throw suggestion by saying he won't be shooting free throws underhanded.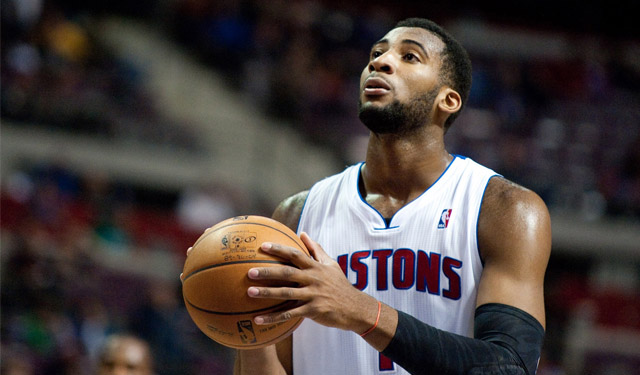 Detroit Pistons center Andre Drummond is a part of an exclusive club. There aren't many people his size in the world (roughly 7 feet tall and 280 lbs.) and of those people, there aren't many that can move the way he does and destroy a team at the rim on both sides of the floor the way he does. Drummond's rookie year was spectacular and frustrating all at the same time. He made incredible plays on both ends of the floor, but suffered a back injury that limited his time on the court (missed 22 games).
There's also another exclusive club Drummond is in. Of the thousands of players who have played in the NBA, only five have ever shot more than 150 free throws in a season while making 38.0 percent from the line or less. Along with Wilt Chamberlain, Ben Wallace, Brendan Haywood, and Chris Dudley, Andre Drummond joined that club in his rookie season with 157 attempts and an accuracy rate of just 37.1 percent. He's working on improving his accuracy, but don't ask him if he's going to shoot free throws underhanded.
Let me make this clear.... I'm not shooting free throws underhand.. #Relax

— Andre Drummond (@DRE_DRUMMOND_) August 17, 2013
Drummond's tweet is a response to the open letter Ethan Sherwood Strauss penned (typed?) to the Pistons' center on ESPN's TrueHoop on Friday.
In it, Strauss made it pretty clear that while Drummond's style of play is appreciated and his unique personality as an athlete is refreshing, it might behoove him to attempt a less aesthetically pleasing but possibly more fruitful free throw shooting motion by copying Hall of Fame guard Rick Barry, who is currently the third most accurate free throw shooter in NBA history at 89.98 percent from the charity stripe.
If your free throw shooting doesn't improve like Joe Dumars hopes it will, please consider shooting them underhand. 

Of all the players who have been in this position, you're uniquely suited to the dramatic style change. 

Shaq couldn't handle it because he thought the form looked goofy. Though O'Neal was an all-timer, his teams lost games in eight playoff series in which average free throw shooting from O'Neal would have made up the difference. Imagine how great Shaq would have been had he succeeded with the underhand style. With, say, 80 percent free throw shooting from the line, Shaq easily could have been the best player ever. Hall of Famer Rick Barry even espoused that Shaq was perfect for underhand free throws on account of his large hands, but Shaq just couldn't subject himself to looking goofy.
Strauss added, "If you adopt something as retro-cool as the underhand free throw, fans will love you for it. Make it your signature."
We've seen historically bad free throw shooters decline such an awkward looking style of shooting free throws before, and it seems like in the past Rick Barry has begged NBA players to let him coach them on how to use the motion and stop themselves from being a road block to offensive success at the line. It looks "dumb" to shoot with that motion, but if you're doubling your free throw percentage in the process when you're shooting under 40 percent from the line, would it look as funny as a free throw percentage that makes you the target of fouls that aren't within the flow of the game?
Drummond has undoubtedly been working on his free throw stroke, but as of the Orlando summer league, it hadn't yielded any positive results. He made just 33.3 percent of his summer league freebies (6 of 18), which is somewhere near the middle of his rookie percentage and his freshman percentage at Connecticut when he made just 29.5 percent.
It's extremely possible Drummond gets comfortable at the line and stops setting the wrong kind of history there, but we know it's not going to come with an underhanded approach.
We've got all the scores, top plays and news from a busy NBA Friday

Butler didn't put any pressure on his right leg as he was helped to the locker room on Fri...

Our advanced computer model simulated Saturday's Magic vs. 76ers game 10,000 times
Several playoff contenders could use the services of Ilyasova, who's nearing a buyout agre...

Durant says he probably wouldn't have gone to college because he 'needed the money'

Ball, who has missed the last 15 games with a sprained MCL, will be on a minutes restricti...