Report: Bobcats 'finalizing' deal with free agent guard Sessions
Ramon Sessions will sign with the Charlotte Bobcats, according to reports.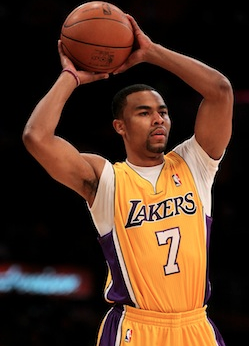 Ramon Sessions is reportedly headed to Charlotte. (Getty Images)
From backing up the Rookie of the Year to the difference-maker on the Los Angeles Lakers to the Charlotte Bobcats. Yeah, it's been a bit of a weird six months for Ramon Sessions. But it looks like he'll know where he's going to be for a while. 
Yahoo Sports reports and the Charlotte Observer confirms that the Bobcats are in the stages of "finalizing' a deal for the free agent point guard. 
The move seems indicative of a confirmation regarding reports from Wednesday that the Bobcats were in talks to send starting point guard D.J. Augustin to Indiana. 
Sessions is comparable with Augustin, though Augustin is a better perimeter shooter. It gives the Bobcats a starter to help continue Kemba Walker's development, if that development is headed anywhere, and does improve the team. 
Sessions was sent to the Lakers at the trade deadline this year and made a positive impact on the offense before falling off a cliff in the playoffs. With the Lakers acquiring Steve Nash in a sign-and-trade, they clearly weren't going to pay the price for Sessions. Sessions has been looking for his first major contract for years, and wants a starting job that is locked in. He'll have one in Charlotte. 
The Kings' big man says he was wrongfully arrested in August for possessing marijuana with...

George appeared to show some frustration with the Pacers following the trade to OKC

It's worth wondering whether or not Wade will be in the Cavs' starting lineup
Nurkic is confident Portland will be a tough team to beat, and says it must begin on defen...

Wade, recently bought out by the Bulls, could finalize decision as early as Wednesday

James said nothing has changed from 2014 when he said he'd retire a Cav