Report: Magic not expected to be aggressive in free agency
Rebuilding team likely to be conservative in spending based on long-term growth goals.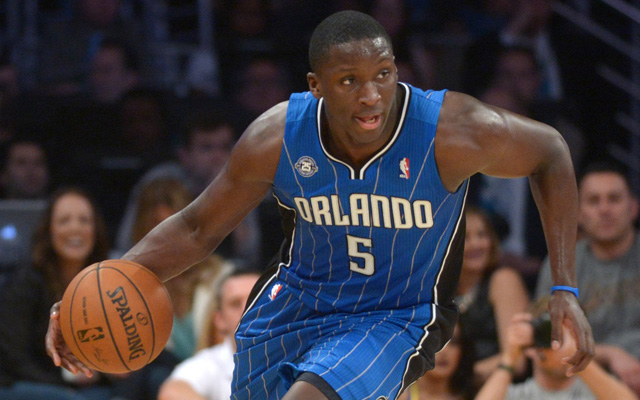 More Offseason Analysis: Coaching changes, news | Free Agency | Draft
The Orlando Sentinel reports that the Magic won't be overly aggressive in free agency, due to where they are at in their rebuilding process and the available caliber of players. 
The Orlando Magic could have as much as $22.7 million in available salary cap space to use this summer in free agency.

But you shouldn't expect the Magic to make a major free-agent splash.

After wading into the "kiddie pool" last summer, the team will be more aggressive this July. But it almost certainly won't go after a maximum-salary free agent. Put it this way: If the worst available free agent this summer would rate as a "1" and LeBron James would rate as a "10," then the Magic likely will go after a 5 or a 6.

The summer of 2014 just isn't an optimal time for a rebuilding team to go on a spending spree.
via Magic could have as much as $22.7 million in cap space - Orlando Sentinel.
This is a good sign for the franchise, honestly. Teams can get themselves in major trouble by trying to skip steps in the rebuilding process through free agency. The Cavaliers didn't want to be patient with their process and it came back to bite them pretty significantly. 
The Magic tried to bring in a veteran last season in Jason Maxiell and Maxiell wound up barely playing. They're better off focusing on their young talent and improving with continuity and development. 
Fergie: 'I'm a risk taker artistically, but clearly this rendition didn't strike the intended...

Victor Oladipo had a successful R&B album over the offseason and Jamie Foxx is a fan

Klay Thompson makes sure he stands out during All-Star Weekend
There's no shortage of moments to choose from

The Trail Blazers almost traded for Charles Barkley, but when they didn't, it put them in debt...

The self-proclaimed ASG snub Williams may be bitter about Butler requesting to sit out Sun...