Team USA misses Dwight Howard for the first time
Team USA finds it misses Dwight Howard protecting the rim in close win over Argentina.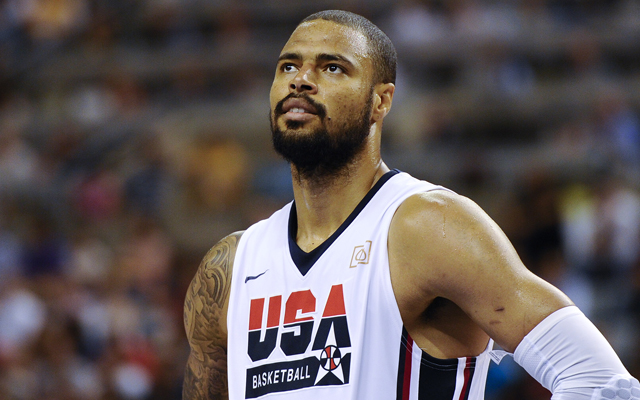 Tyson Chandler is awful lonely as a defensive presence at the rim for Team USA.
(Getty Images)
Through their first three exhibitions, Team USA hasn't been challenged. As a result, they haven't had to look at their weaknesses. As a result, they haven't had to look at the players missing due to injury. As a result, they havent realized how much they miss Dwight Howard. 
Yes, even here in international competition he isn't even playing in, Dwight Howard is the story. Tyson Chandler was huge for Team USA, as his defense at the rim allowed the perimeter defenders to extend further to defend Argentina's endless barrage of threes. Chandler was +24 in just 13:25 of play. 
But with Howard out after back surgery, Team USA is forced into playing small ball, and the dropoff defensively is obvious. They need another shot blocker, and with Anthony Davis not yet ready in Coach K's mind, the U.S. is without options. 
Howard's style of play is often a bad fit for international competition, but his sheer size and mobility is of benefit against teams like Argentina who used the pick and roll to spring their shooters. Some of the shots Argentina hit were indefensible (NBA-er Carlos Delfino nailed several contested step-back threes, not much you can do on that end), but you'd rather live with those than allowing the offense to spring itself and get Team USA having to rotate constantly. The lack of a center beyond Chandler does that. 
The situation was most dire late in the game as Manu Ginobili routinely sliced inside to create mayhem for a gassed (and not very motivated, I might add) Team USA. Rebounding wasn't the issue, Team USA did a decent job on the glass, particularly LeBron James. But on nights when their jumpers aren't falling at a crazy rate, they need that force at the rim to discourage and intimidate. Howard provides that. 
Howard's also a very capable pick-and-roll defender, something that the U.S.A. needed very badly on Sunday. Carmelo Anthony and the other Team USA forwards struggled to contain. Davis is unready to face that kind of assault and Kevin Love doesn't have the foot speed to keep up. Howard does. He's an elite defender in that set. Team USA needed Howard on multiple levels. 
But he's not there. He's in the states, recovering from back surgery and dealing with the ongoing drama. For as much as media and fans are sick of hearing about Howard, Team USA sure could use him as London looms in the distance. 
Is this rock bottom for the Cavaliers because it sure feels like it is

Wade, as he's done so many times in his career, threw it up to LeBron for the thunderous f...

The Warriors coach added there should be no shame in being picked last since everyone's an...
We've got all the scores, highlights and news from all of Saturday's games

The two teams have reportedly not had any substantial discussions to this point

Oladipo may be getting most of the shine, but this second-year big man has been phenomenal...