Ten potentially regrettable free agency moves
A free agency period is almost wrapped up, meaning a lot of money has been spent on a lot of players. Which ones might we be looking back on in a few years and wondering what in the world happened?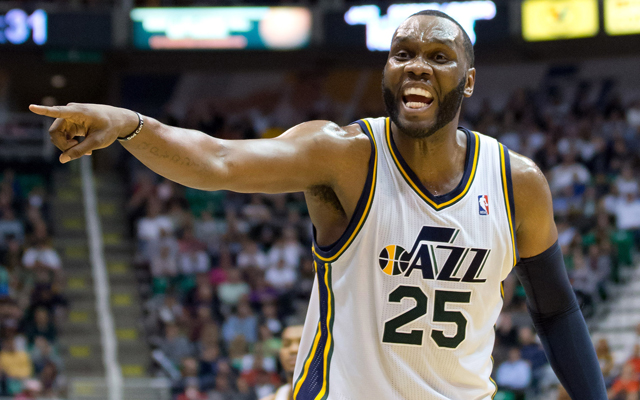 There are only 11 players in the entire NBA still eligible to be amnestied. And there are only seven teams that still possess the provision. 
The lesson there: Teams mess up signing players. A lot. 
The idea of the amnesty is to cut ties with a bad, bloated contract with a player that's not contributing so that you can free cap space. It's a way of life in professional sports. Players get big contracts, and a lot of times, they backfire. 
Sometimes we can all see them coming. For example: Charlie Villanueva got $35 million over five years and Ben Gordon got $50 million over five years from the Pistons in 2009. 
But then there are deals like Kendrick Perkins' extension in Oklahoma City that looked like a solid deal at the time, but has eroded away and become one of the league's uglier contracts. 
We already highlighted the steals, but what about the other side of the story? With free agency essentially wrapped up, what are some potentially regrettable deals from this summer? And I say "potentially regrettable" because you never know what could happen. A player that signed for $15 million per and seemed to be way overpaid may earn every penny of it over the next four years. 
Charlotte Bobcats signing Al Jefferson to a three-year $41 million deal
The Bobcats basically blew all of their available cap space on Jefferson, giving him close to $14 million a year. The reason for it is pretty obvious: They're the Bobcats, and they have to overpay to get players to sign with them. 
And they're trying to change their culture and turn the corner from young rebuilding team to mediocre mid-tier team. It's a tough step to take. 
Jefferson is one of the most skilled, talented big men in the game, but he's 28 and has dealt with two major knee surgeries. He played 78 games for Utah last season, so he's put a lot of those health issues behind him, but the question is if that will change as he edges into his 30s.
The Bobcats spent big on a solid player and now have limited flexibility for the upcoming season. And are they really all that much better? Two years from now, is it hard to picture Al Jefferson's Expiring Contract being a much-talked about trade deadline piece?
Cleveland Cavaliers signing Andrew Bynum to a two-year, $24 million deal
Bynum's deal fits very well into the "potentially" regrettable category. Because the Cavs did a smart thing only guaranteeing $6 million of it. If Bynum's knees remain a problem and he's unproductive, they can cut ties and just be out the $6 million and forget all about it. 
It's a pretty solid low-risk, potentially high-reward move. 
At the same time, any time you bring that kind of money in with Bynum, there's a good chance of regret possible. The Cavs have an elite, but oft-injured center already in Anderson Varejao and they're a little logjammed up front with new No. 1 overall pick Anthony Bennett and Tristan Thompson. Bynum is a decent fit, but something will probably have to give, and they might've been better served spending some of that cap space on a better small forward option than Earl Clark. 
Brooklyn Nets trading for Paul Pierce, Kevin Garnett and Jason Terry
The Nets are going all in for right now, and throwing the future aside for later. They're looking at a payroll of somewhere around $102 million next season, with about an $80 million tax bill to come with it. 
No bother for Mikhail Prokhorov who just made that money back while I typed this sentence. 
The issue with the move is that the Nets are banking on a 35-year-old Pierce and a 37-year-old Garnett to make big enough of a difference to push them over the top in the East. To get them, they let go of three first round draft picks (2014, 2016, 2018), basically announcing that now is all they care about. The Nets appear to be better this season than last, but their success might be very short lived. Prokhorov's plan is most likely to just throw his checkbook at everything, so draft picks might not be the way of life for the Nets. Still, it's a gamble and could backfire. 
Dallas Mavericks signing Jose Calderon to a four-year, $28 million deal
Calderon is 31 years old, and while he's a better-than-you-think point guard, is he really a $7 million per player? 
And at that many years, that takes a big number off the Mavs' cap number for the next few seasons. They're pretty much all-in on trying to piece something back together with Dirk Nowitzki rather than blow up and rebuild. But inking Calderon for a big number for long years is a bit surprising. I would imagine when his agent got the call with the offer, it didn't take long to say yes. 
Dallas Mavericks signing Monta Ellis to a three-year, $25 million deal
I asked this in my free agency steals piece, and I'll repeat it here: Would you rather have Ellis at those years and that number, or Nate Robinson at two years, $4 million? 
Ellis is a scorer, and scorers command big money. He probably signed for less than his market value because he opted out of a deal paying him more than $10 million to become an unrestricted free agent. And obviously, he's getting less than that. The Mavs were desperate for help after missing out on Chris Paul and Dwight Howard, so they basically just picked up the scraps left on the market. Ellis had other suitors, but committing $53 million over the next four years to a Calderon-Ellis backcourt feels a bit iffy to me. 
New York Knicks signing J.R. Smith to a four-year, $24 million deal; trading for Andrea Bargnani 
It's always a gamble when J.R. Smith is involved, but he earned his money. He won Sixth Man of the Year and the last three months of the season, played really solid, kind of disciplined basketball. 
Problem here is, he underwent knee surgery five days after he inked this deal and will miss 8-12 weeks because of it. All of a sudden, that deal looks shaky. 
And to add to it, the Knicks took on Bargnani's $27 million over the next two years. Basically, think of it as a two-year deal at $13.5 per for a jumpshooting, no defense, no rebounding big man who doesn't really make the Knicks a whole lot better. 
Boston Celtics trading for Gerald Wallace
The trade to move Kevin Garnett, Paul Pierce and Jason Terry was necessary and needed. It hurt to pull the plug on ubuntu, but it had to be done. And the deal Danny Ainge got in return was mostly solid, with future picks and a bit of financial flexibility. 
Except for the fact that Wallace's remaining three years, $30.3 million contract came along with it. I would assume Ainge expects to be able to unload Wallace's deal to a contender at some point, or just eat it for a couple of years and open up cap space down the line. But for now, having a player like him eat away about $10 million per season off your cap number as you rebuild only delays the process. 
Minnesota Timberwolves signing Kevin Martin to a four-year, $28 million deal
Anyone that's paid much attention to the NBA the past six or seven years knows that you associate the name Kevin Martin with efficiency. And reuniting him with Rick Adelman will probably bring out the best in him again. Martin spent a season in Oklahoma City playing third and sometimes fourth banana, struggling to find much of a rhythm as a sixth man for the Thunder. 
He's 30, though, and when his deal finishes, he'll be 34. For a player that has a funky shooting motion and relies a lot on first-step quickness and space to get his shot off, it's a question of what Martin might look like in the last years of that contract. The Wolves desperately needed a shooting guard scorer, but paying Martin $7 million per is pretty heavy. 
New Orleans Pelicans signing Tyreke Evans to a four-year, $44 million deal
After winning Rookie of the Year with an impressive season in 2010, Evans steadily declined, seeing his scoring average drop the next three seasons. He battled plantar fascitiis problems and hasn't played more than 72 games in a season yet in his four-year career. 
But the Pelicans are banking on him rediscovering his talent now that he's been able to get out of the dysfunctional environment he's been in the past four years with the Kings. At $11 million per, the Pelicans are going to be handing a big number to a player likely to be coming off their bench. Their backcourt is getting a bit crowded with Jrue Holiday, Eric Gordon and Austin Rivers. Maybe they're looking to deal someone to make room, but for Evans, he really didn't earn the $44 million he got. It's more about the potential he has, and that's always risky. 
Detroit Pistons signing Josh Smith to a four-year, $54 million deal
Getting Smith for less than the max feels like a steal. And the Pistons are intending to return him to small forward to have a supercharge frontline of Smith, Greg Monroe and Andre Drummond. 
The risk here is that Smith takes this as a license to hover on the perimeter and not use his unique skillset to attack the rim and dominate the with his size and athleticism. What helps in Smith's contract is that it should be highly tradeable if the Pistons need to pull the plug. But this is a team that hoarded cap space the past few seasons and decided to splurge on it mostly with Smith. Again, just four years ago they committed about $80 million to Ben Gordon and Charlie Villanueva. I don't think they'll regret this one, but if Smith isn't a piece in taking them to another level, and if he gets in the way of the development of Monroe and Drummond, it might be something Joe Dumars regrets, again. 
Porzingis is questionable for Carmelo Anthony's return to MSG on Saturday

The Spurs and Rockets will renew their in-state rivalry on Friday night

Anthony will play at Madison Square Garden on Saturday for the first time since being trad...
SportsLine's Mike McClure, a DFS pro with more than $1M in winnings, gives optimal lineup...

The Cavaliers won the much-anticipated matchup, 121-112

Two of the league's most interesting teams will meet on national TV on Friday night