2013 NFL season preview: Denver Broncos
As long as Peyton Manning remains healthy and as long as they weather the early part of their schedule, the Broncos should dominate in 2013. Here's a preview of Denver's season.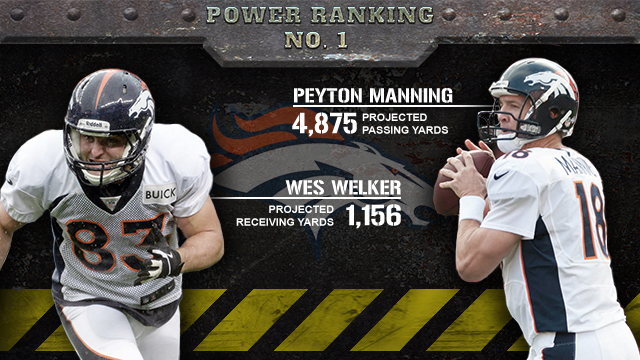 It seems like years ago that the Denver Broncos were down 24-0 at halftime to the Chargers, facing 2-4 in the face as they entered the bye doesn't it? That actually happened last year, although the 11-game winning streak to close out the 2012 season tends to mask Denver's struggles early in the season.
Early-season struggles could be a theme again in 2013 as the Broncos, who looked to be having one of the better offseasons in the NFL, trended downwards the last few months. It all culminated with Von Miller , the team's defensive star and second-best player, receiving a six-game suspension.
Miller's suspension serves as a not-so-nice bookend for the Broncos offseason slide, as their first huge mistake was failing to file fax paperwork that allowed Elvis Dumervil to end up on the Ravens. In the middle of that, Denver lost a couple centers ( Dan Koppen most notably), their best pass-blocking back (Willis McGahee) and possibly a cornerback for a few weeks ( Champ Bailey ). Fortunately for the Broncos they've got the best dermatologist in the league in Peyton Manning , a quarterback who for years has masked the pimpliest of roster problems for whatever team he played on.
Offense:
Broncos' Rivals: AFC West


2013 Preview • Schedule
Chiefs @ Broncos: 11/17 (4:05 p.m. ET)
Broncos @ Chiefs: 12/1 (1 p.m. ET)


2013 Preview • Schedule
Raiders @ Broncos: 9/23 (8:40 p.m. ET)
Broncos @ Raiders: 12/29 (4:25 p.m. ET)


2013 Preview • Schedule
Chargers @ Broncos: 12/12 (8:25 p.m. ET)
Broncos @ Chargers: 11/10 (4:25 p.m. ET)
Much like 2012, Denver's offense should be straight fire. Manning is under center and he's healthy and that will mean big passing stats. Having another year growing with Demaryius Thomas and Eric Decker will equate to improved efficiency in the passing game and the addition of Wes Welker as a slot receiver replacing Brandon Stokely will only crank up the fireworks. This is, simply, one of the most dangerous passing attacks in the league.
Everything isn't sunshine and roses though. The loss of McGahee leaves the undersized Ronnie Hillman , rookie Monte Ball, the other ball Lance Ball and the for-some-reason-hated Knowshon Moreno on the running back depth chart. That combination of dudes can definitely run, no question about it, but there's plenty of justifiable concern when it comes to pass protection. Keeping rushers off your quarterback is important in any offense, but pass-blocking backs are critical in Manning's offense. Moreno's top of the line when it comes to blocking, which is why he's my sleeper to end up getting the most snaps.
Fortunately whoever's in charge will get help from a strong offensive line. The Broncos had to coax Manny Ramirez out of retirement to replace Koppen and J.D. Walton , but having Ryan Clady / Zane Beadles on the left side and the newly-acquired Louis Vasquez and Orlando Franklin on the right will be nice protection for Manning. Joel Dreessen 's a sleeper for decent yardage, and don't forget that Jacob Tamme is the lynchpin for Manning's offensive decisions.
Defense:
Here's where things get hairy. A year after having a very impressive defense (No. 2 in Football Outsiders' weighted DVOA, fifth overall), the Broncos could struggle some in 2013. Miller will miss six games, although I've maintained Denver will be just fine during that stretch thanks to a combination of schedule, division and Peyton. Bailey could be out for a few games, forcing the depth chart to shift. Fortunately the addition of Dominique Rodgers-Cromartie and the emergence of Chris Harris should leave the Broncos in pretty good position.
Drafting Sylvester Williams and signing Terrance Knighton were smart moves in the first place, but they look particularly smart after a tough, scary injury to Derek Wolfe . (Wolfe thinks he could be back by the start of the season but, man, pushing it with a spinal injury doesn't seem like the particularly prudent play.) Wesley Woodyward, Nate Irving and Shaun Phillips will have to fill in at linebacker thanks to the Miller suspension and the wrist injury Stewart Bradley suffered. Woodyard is solid, I'm confident Irving will surprise as a thumper and general playmaker but Phillips, at 32, can't possibly replicate Miller's production or, frankly, anything close.
Final thoughts:
The good news for the Broncos is they just have to survive the early portion of their schedule in order to put themselves in position for another strong late-season surge. As you can tell, I think they do that and, honestly, 10 wins is the floor for this team as long as Manning stays healthy. (This is honestly realistic: he's lost more than six games in a season exactly twice in his 14 full seasons of playing in the NFL. The last time was 2001. That's bananas.)
They've got to figure out the pass blocking from the running back spot and there's some fine tuning to be done. But they've suffered personnel losses early and most of them aren't completely devastating. That's critical, especially for a team that's got a 75-plus percent chance of making the playoffs . Making it into the postseason for the Broncos, Vegas prohibitive Super Bowl favorites at this point, won't be good enough. The only thing that would be considered a success is a Super Bowl victory for Denver. They're completely capable of it too.
More 2013 NFL season previews: Select a team
AFC North
AFC South
AFC East
AFC West
NFC North
NFC South
NFC East
NFC West
Plus Christian McCaffrey looks awesome, Mariota delivers and more from Saturday's preseason...

The second-year quarterback already looks fantastic for the Cowboys

If you're an NFL team and you want Phillip Dorsett, just give the Colts a call
Carolina's offense featured McCaffrey in a multitude of ways on Saturday

This is why you should only eat dinner alone

The Kaepernick situation is slowly turning into a black eye for the NFL