2013 NFL season preview: Houston Texans
Making the playoffs is no longer a problem for Houston, but as talent increases, so do expectations. Can the Texans reach the Super Bowl? Here's a preview of their season.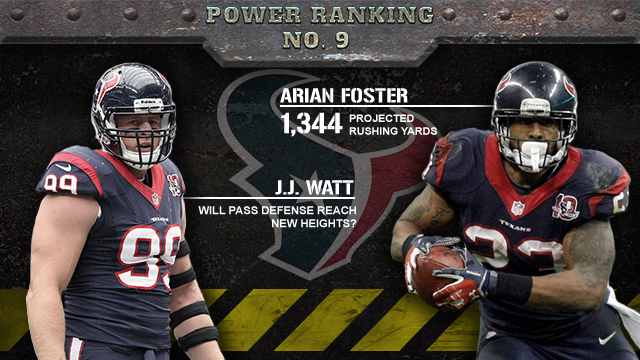 Two years after making the playoffs for the first time in team history, it has become habit-forming for the Texans.
We've gone from wondering if coach Gary Kubiak is on the hot seat to celebrating back-to-back 10- and 12-win seasons, division titles, and postseason appearances. Next up: Getting to the Super Bowl.
Offense:
Quarterback Matt Schaub is sometimes criticized for not being able to get the Texans over the hump, but the reality is that he's a perfect fit for Kubiak's West Coast scheme. One area that causes legitimate concern, however, is along the offensive line. Generally considered one of the league's best units in recent years, left guard Wade Smith is sidelined with a bone bruise, and right tackle is still unsettled with Derek Newton coming off knee surgery after starting much of last season.
Texans' Rivals: AFC South


2013 Preview • Schedule
Colts @ Texans: 11/3 (8:30 p.m. ET)
Texans @ Colts: 12/15 (1 p.m. ET)


2013 Preview • Schedule
Jaguars @ Texans: 11/24 (1 p.m. ET)
Texans @ Jaguars: 12/5 (8:25 p.m. ET)


2013 Preview • Schedule
Titans @ Texans: 9/15 (1 p.m. ET)
Texans @ Titans: 12/29 (1 p.m. ET)
In terms of playmakers, running back Arian Foster is expected to be ready for the start of the regular season, and the team's biggest need heading into the offseason was at wide receiver. They need a scoring threat there not only to make things easier for Andre Johnson, but to also open things up for a running game that sputtered at times last season.
To that end, the Texans selected wide receiver DeAndre Hopkins in the first round. Entering the draft, the knock against Hopkins was that he wasn't a burner. But he doesn't need to be in Houston's precision West Coast scheme. His size (6-1, 215) and his ability to catch anything thrown in his direction fits exactly what the Texans' need, which explains why he'll enter training camp as a starter.
Defense:
A year ago, without inside linebacker Brian Cushing, this unit ranked third in Football Outsiders' defensive efficiency metric. Gone are linebacker Connor Barwin and safety Glover Quin, but Cushing's back, Barwin will be replaced by outside linebackers Whitney Mercilus and Brooks Reed (former first- and second-round picks), and the Texans' new(old) safety is future Hall of Famer Ed Reed. The team also drafted Reed's eventual replacement, hard-hitting safety D.J. Swearinger in the second round of the April draft.
Of course, Ed Reed has yet step on the field -- he's recovering from hip surgery -- but he'll provide veteran leadership to a young, athletic secondary that includes cornerbacks Johnathan Joseph and Kareem Jackson.
Up front, there's arguably the NFL's best player, defensive end J.J. Watt. The fact that he will require double- and sometimes triple-teams will open things up for the rest of the front-seven, and even if Watt doesn't have 20.5 sacks like he did a year ago, there's no offensive game plan that can keep him from knocking passes down at the line of scrimmage, something he did 16 times last season.
Final thoughts:
It's probably a stretch to say that anything short of a trip to the Super Bowl would be a disappointment, but it's close. The Texans have issues along the offensive line, but every team in the league has holes. The good ones know how to manage those weaknesses, something Houston has done well with in previous postseasons. Now, it's a question of whether Schaub can lead this team beyond a home playoff win.
More 2013 NFL season previews: Select a team
AFC North
AFC South
AFC East
AFC West
NFC North
NFC South
NFC East
NFC West
The government shutdown has come at a horrible time for NFL fans in the U.S. military

Bengals owner Mike Brown seems to be a huge fan of continuity

The people of Philadelphia now have two reasons to root for the Eagles this week
You might not recognize the Patriots' defensive coordinator without his beard

T.O. definitely isn't a fan of the Cowboys head coach

R.J. White, who nearly won the Vegas SuperContest, locks in his pick for the AFC Championship...