2013 NFL season preview: Indianapolis Colts
Andrew Luck should be better in 2013, as should the Indianapolis defense. But a tough schedule could even things out for the Colts. Here's a preview of their season.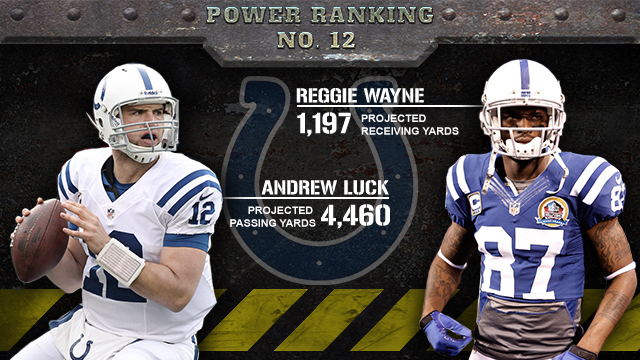 Last offseason, the Indianapolis Colts were fresh off a 2-14 season, Peyton Manning had just been released, and Andrew Luck was the new franchise quarterback. The front office and coaching staff were also dumped, the roster overhauled with young, unproven talent (save Reggie Wayne , who signed a modest deal to stay in Indianapolis), and a team with virtually no expectations won 11 games and made the playoffs.
Now that it appears Rome has been built in a day, the Colts hope to improve on their 2012 successes. But once you get past the 11-5 record and just how good Luck is -- and will be -- questions remain.
According to FootballOutsiders.com's metrics, Indianapolis ranked 18th in the league in offense and 31st in defense. Though Luck flourished in Bruce Arians' scheme, he was sacked 41 times. Arians is now the head coach in Arizona and Luck has been reunited with his college OC, Pep Hamilton.
Offense:
Colts' Rivals: AFC South


2013 Preview • Schedule
Texans @ Colts: 12/15 (1 p.m. ET)
Colts @ Texans: 11/3 (8:30 p.m. ET)


2013 Preview • Schedule
Jaguars @ Colts: 12/29 (1 p.m. ET)
Colts @ Jaguars: 9/29 (1 p.m. ET)


2013 Preview • Schedule
Titans @ Colts: 12/1 (1 p.m. ET)
Colts @ Titans: 11/14 (8:25 p.m. ET)
Whomever's calling plays or whatever the scheme, the basic tenet of protecting the quarterback remains. Which is why general manager Ryan Grigson wasted little time signing former Lions first-round pick Gosder Cherilus and making him the starting right tackle. The team also used its second- and third-round picks in April's NFL Draft to take guard Hugh Thornton and center Khaled Holmes . The theme: Protect the face of the franchise.
And while the Colts might not reach 11 wins this season, it won't be because of Luck, who by December, could be considered one of the NFL's best quarterbacks. Put another way: Luck can have a Pro Bowl season and Indy could find themselves with nine or eight -- or even seven -- wins when the dust settles. That's the nature of the NFL, especially for a young team that exceeded even the rosiest outlook a year ago. But this is a passing league and all things are possible when you have a legit franchise quarterback.
The ageless Wayne returns, and second-year wideout T.Y. Hilton is poised to have a huge year. Offseason addition Darrius Heyward-Bey is hoping to revitalize a career that stalled (like so many do) in Oakland. Young tight ends Coby Fleener and Dwayne Allen provide middle-of-the-field targets, and Vick Ballard , Donald Brown and Ahmad Bradshaw will share carries coming out of the backfield. But it all comes back to the o-line; if they can keep Luck upright, the Colts will always have a chance to win.
Defense:
Coach Chuck Pagano arrived in Indy last offseason with the defensive chops this unit needed to go from the bend-and-occasionally-break Cover-2 scheme that had become known for to a menacing 3-4 team that generated pressure and created turnovers. It didn't happen in Year 1, but the makeover continues.
Grigson gave former Packers linebacker Erik Walden a four-year, $16 million contract this spring and he'll replace Dwight Freeney on the depth chart. Freeney's bookend, Robert Mathis , returns after racking up eight sacks in '12. The team also used its first-round pick on Florida State defensive end Bjoern Werner , who is -- you guessed it -- currently transitioning to outside linebacker, though he has struggled with the move during training camp and preseason.
In the secondary, cornerback Jerraud Powers is gone (he's now with the Cardinals) and the Colts signed underrated Greg Toler (formerly of the Cardinals), whom CBSSports.com's Pete Prisco identified as one of the top under-the-radar free agents. The Colts gave former Jets safety LaRon Landry $24 million, which seems like a lot of money to devote to a player who struggles with injuries and man coverage. Still, the plan is that he'll become the defense's enforcer, something that was lacking a season ago.
Final thoughts:
The schedule and, well, reality will make it difficult for the Colts to repeat their 11-5 mark from a season ago. But Andrew Luck will be better, as will the defense. Now it's just a matter of if Indy gets the breaks it did in 2012 when almost everything that could go right did go right for an outfit that won just two games in 2011.
More 2013 NFL season previews: Select a team
AFC North
AFC South
AFC East
AFC West
NFC North
NFC South
NFC East
NFC West
An example of how not to use social media

Mike McClure, a DFS pro with more than $1M in winnings, gives optimal DraftKings and FanDuel...

Let's check in on the Giants a day after their loss to the Lions
Mike McClure has made over $1 million playing DFS and gives his best daily fantasy football...

The veteran linebacker is the franchise's all-time leader in sacks

It's unclear when Timmons, a free-agent signing in the offseason, will make his Dolphins d...